Prizemoney increase announced for Magic Millions Adelaide Classic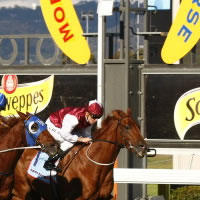 The South Australian Thoroughbred Industry has received another boost with news that Australia's number one thoroughbred sales company is doubling the value of the Magic Millions Adelaide 2YO Classic from 2016.
The race, which boasts an honour roll of winners including Toorak Toff, Augusta Proud, Oratorio, Ferocity and January's million dollar Magic Millions Guineas winner Deiheros, is an integral part of the national Magic Millions Race Series.
Buyers at the upcoming Adelaide Yearling Sale will have the opportunity to purchase a yearling to run in the $200,000 Magic Millions Adelaide 2YO Classic as well as 18 other races in the series which runs across six states including Australia's richest raceday next January.
"Following on from the recent announcement from Thoroughbred Racing SA regarded the significant prizemoney increases across the state we are excited to announce extra funding to stage South Australia's richest juvenile race," Magic Millions Managing Director Vin Cox announced.

"We have a long and proud history with all parts of the South Australian industry and it is great to see the recent positive investment to provide the state with the boost it deserves given the quality results achieved by the state's breeders, owners and trainers at the elite level," Cox added.
The increase in prizemoney for the Magic Millions Adelaide 2YO was welcomed by South Australian Jockey Club CEO Brenton Wilkinson.
"We are delighted to have the opportunity to build on our relationship with Magic Millions and we look forward to working with them to help build on the profile of this key feature race on Adelaide Cup Day," Wilkinson said.
The news was also embraced by Thoroughbred Racing SA CEO Jim Watters.
"Thoroughbred Racing SA is also delighted that Magic Millions has doubled the prizemoney for the 2016 Magic Millions Adelaide 2YO Classic," Watters stated.

"The Adelaide Magic Millions Sale is an important event on the racing calendar in SA and the news that the 2016 Magic Millions Adelaide 2YO Classic will be run for $200,000 is an exciting boost for owners and trainers who support the Adelaide Magic Millions Sales."

"Magic Millions' prizemoney increase, follows on the heels of TRSA's recent $3.84m per annum prizemoney increase announcement, so there has never been a better time to buy and race a horse in South Australia."
As well as the boost to the 2016 prizemoney, this year's Magic Millions Adelaide 2YO Classic will carry a $10,000 bonus for the winning trainer to be used on a yearling purchase at next month's Morphettville sale.
Entries for the $100,000 Magic Millions Adelaide 2YO Classic, to be run on Monday, March 9, close on March 2 at 12pm (ACDT).
The Magic Millions 2015 Adelaide Yearling Sale will be held at the Morphettville Sales Complex from March 9 to 11 with Book 1 commencing at 6pm following the Monday raceday which features the Magic Millions Classic and Adelaide Cup.