Dundeel Colt tops 2019 Gold Coast National Yearling Sale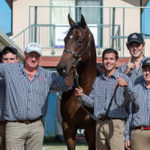 The colt from Santa Rocks created a bidding frenzy and in the end it was Hawkes Racing who secured the prized youngster from the Arrowfield Stud draft.
The $850,000 sale price is the highest ever for the yearling section of the National Sale beating the previous record of $500,000 that was equalled yesterday.
"He was the best horse in the sale," co-trainer Wayne Hawkes said.

"Unfortunately when you come to Magic Millions you have to pay for them – they don't give them out at the front door!"

"We really liked him. We think he will be a real classic three-year-old type horse and we thought he was the best Dundeel of the year to be totally honest."

"We hadn't seen one that we'd really fallen in love with by Dundeel – this was the first one this year, so we made sure we got him."

"You know when you break a record it's dear," Hawkes added.

"I think John Moore might have been the underbidder and they obviously wanted him too."

"If he's a good horse he will be cheap – it's as simple as that."
Three of the top four sellers on Day Two were presented by Arrowfield Stud, with their Not a Single Doubt brother to Stronger among the stars when selling to Muskoka Farms (HK) for $430,000.
Catalogued as Lot 2303, the bay colt is the third foal of the winning Starcraft mare Star Pupil – a mare who has produced two foals – both winners and both stakes performers.
The colt's full brother Stronger is a high class two-year-old who at his most recent start won the Group Three Ken Russell Memorial Classic a stone's throw away at the Gold Coast Turf Club.
He is currently spelling for the Snowden stable.
The other $430,000 seller on the day produced another record when the Rich Enuff-Tanzanite colt sold to George Moore Bloodstock.
It's the highest price ever for Woodside Park Stud's young sire Rich Enuff.
The result was an emotional one for the team from Fernrigg Farm including Rae-Louise Farmer who foaled down the colt and prepared him for a good client and friend.
"Nobby as he's known at home was the first foal born on Fernrigg," Farmer said. "Bernie Howlett (the breeder) is a good friend of ours and he sent us mares in the first season."

"He had a bit of a setback earlier on and missed another sale and I was so happy when Bernie rang and asked if we would prepare him for this sale."

"We loved him from the day he was born. He was the first horse I foaled on my own, I was a nervous wreck. I grew attached to him from the first day I laid my eyes on him."

"To bring him up here and get that result for Bernie was huge," she added.
The sale gross for the National Yearling Sale at the conclusion of Book One has passed $12.5 million – well up on last year's $9.9 million.
The average price was well up, to $52,556, and the clearance rate is just shy of 70 per cent.
"I'm really pleased on the whole," Magic Millions Managing Director Barry Bowditch said.

"The clearance rate is obviously a little bit disappointing but the average has climbed from $43,000 to $52,000 – that's a considerable increase."

"We had some awesome bidding duels with the $850,000 colt and the two other $430,000 sellers in particular. It goes to show if you bring the right article here you can get a huge result."

"It's the Book Two sale of yearlings tomorrow where I think a lot of value will be found," Bowditch added.

"And then we will move onto the National Racehorse Sale featuring the Godolphin horses – they are always a drawcard at our racehorse sales."
To view the sales results of the National Yearling Sale click here.
BOOK ONE SALE STATISTICS
(2018 in brackets)
Lots Catalogued: 384 (385)
Lots Sold: 239 (230)
Lots Withdrawn: 39 (60)
Lots Passed in: 106 (94)
Top Price: $850,000 ($250,000)
Average Price: $52,556 ($43,172)
Median Price: $30,000 ($30,000)
Sale Gross: $12,561,000 ($9,929,500)
Sold %: 69.3 (70.9)
DAY TWO TOP SELLERS
$850,000 – Dundeel-Santa Rocks bay colt (Lot 2267)
Vendor: Arrowfield Stud (As Agent) / Buyer: Hawkes Racing (NSW)
$430,000 – Not a Single Doubt-Star Pupil colt (Lot 2303)
Arrowfield Stud (As Agent) / Muskoka Farm HK Limited (HK)
$430,000 – Rich Enuff-Tanzanite colt (Lot 2319)
Fernrigg Farm (As Agent) / George Moore Bloodstock (HK)
$330,000 – Redoute's Choice-National Colour colt (Lot 2207)
Arrowfield Stud (As Agent) / Hawkes Racing (NSW)
$250,000 – Snitzel-Quaintly colt (Lot 2240)
Highgrove Stud / Aquis Farm (Qld)
Bandipur on Top as Successful National Sale Concludes
Caulfield winner Bandipur topped the final day's selling at the 2019 Magic Millions National Sale this afternoon when he proved the star of the National Racehorse Sale.
Mike Crooks bid $260,000 to secure the stakes winning son of Commands and he will continue his racing career in Queensland for the Mishani Enterprises operation.
Almost $1 million was traded on 29 lots sold at the National Racehorse Sale boasting an average price of over $32,500.
After 10 days of selling across almost three weeks, the National Sale series grossed a record $147,959,000 for 1640 lots sold.
The average price across all horses was also a record, $90,191.
In six years the National Sale gross has grown over $90 million – from $57.2 million in 2013 to $147.9 million in 2019.
"To sell in excess of $350 million in our newly refurbished auditorium this selling season is an unbelievable achievement and is testament to the support of our vendors and buyers," Magic Millions Managing Director Barry Bowditch said.

"The National Breeding Stock Sale has once again proven itself as the number one sale of its kind in the Southern Hemisphere."

"It's been a massive three weeks and congratulations to everyone from the vendors and their staff, to the buyers."

"To the Magic Millions team – they've worked hard on this sale for months – a lot of long hours, a lot of long days and so much effort put in over the last three weeks which is fantastic."

"There's a lot of cogs in the wheel from the catering staff to the drivers to the logistics and float companies – it's an awesome effort from everyone and I'm very proud of what we've achieved," Bowditch added.
The Gold Coast Sales Complex will next host the Magic Millions 2YOs in Training Sale with breeze ups around Australia in September before the sale on October 15 and 16.
To view the sale results of the National Yearling Sale and to make an offer on a passed in lot click here.
Media courtesy of Magic Millions.