Racehorse Shares
Buying affordable racehorse shares is a great way to get involved in horse racing ownership to enjoy the complete raceday experience as an owner.
Owners receive free admission, members' passes and parking whenever the horse runs, along with complimentary racebooks and on course owner facilities.
All registered owners in Victoria are issued with a Victorian Racehorse Owners' Gold Card once they own a share in a racehorse.
Horse racing promoters offer 5% and 10% shares on average, but you can negotiate for higher or lower percentages on most offerings.
Benefits of 5% and 10% Shares
Twenty names go into the racebook in Victoria, including all owner variances.
You'll need 5% ownership (or more) to get your name in the racebook, and to enjoy the benefits when your horse runs, such as mounting yard tickets.
It's worth noting race clubs allocate mounting yard passes to owners via the race day ticket office. Field size, mounting yard area and owner totals on the day dictate owner distribution for the horse.
Mounting Yard Tickets for Owners
All race clubs provide mounting yard passes and they vary at each track due to size and requirements.
For example, Flemington owner privileges allow 320 mounting yard passes available for each race.
Fields of 10, 16, 20, and 24 runners would receive the following allocation per horse.
10 runners – 320 / 10 = 32 tickets
16 runners – 320 / 16 = 20 tickets
20 runners – 320 / 20 = 16 tickets
24 runners – 320 / 24 = 13 tickets
If there's over 50 owners expecting tickets then you can appreciate the dilemma faced by both promoters and race clubs.
All parties endeavour to please everyone, but sometimes unlucky owners will miss out.
Shares Have Benefits On Raceday
The ability to own 5% or more in a racehorse affords you a better chance to receive passes on raceday, as opposed to someone part of a 20 person syndicate group.
When tickets are allocated, it's easier to find a pass for one person than it is for 20 people.
Promoters that race horses with you, such as Australian Thoroughbred Bloodstock and Bennett Racing, manage their own horses and organise all race day ticketing.
Owners turn up in all their finery to enjoy a fantastic day at the races while they take care of everything for you.
If you own a share, there's a fair chance you'll experience the mounting yard more often.
Horse Racing Owner Types
Thoroughbred racing ownership types include Sole Owner, Part Owner, Syndicate Owner and Lease Owner.
Sole Owner
A sole owner owns 100% of the horse and pays all associated costs, while receiving all prize money accrued. The sole owner make all decisions during the career of the horse. Things such as naming the horse,  jockey silks, trainer, jockey, and anything else that pops up along the way.
The sole owner owns a horse outright.
Part Owner
A Part Owner owns a percentage of the horse less than full ownership. It's the best way to own shares in a racehorse if you want to avoid being in a syndicate. Part owning a horse is akin to sole ownership, except it's much more affordable.
A part owner allows you to own 5%, 10% or more of a racehorse.
Syndicate Owner
Horse racing syndicates allow multiple people to part own a horse together.
A 10% syndicate for example may comprise ten people at 1% each (or five people at 2% each) and accrues all costs and prizemoney within the syndicate. This is the ideal way to buy cheap racehorse shares at an affordable price.
The syndicate owner races with other people in a group at a fraction of the cost.
Learn more about racehorse syndication and how to start your own horse racing syndicates.
Lease Owner
A lease owner allows you to become a racehorse owner without the need to purchase an initial share. The owner leases a percentage of the horse to race and you pay all associated costs while it races. They receive a share of the prizemoney, often around 25%, for you to enjoy that privilege.
Consider leasing a racehorse if you want to enjoy ownership without spending too much money.
A lease owner allows you to race a horse without buying shares.
There are several costs to set up ownership in a racehorse including Racing Victoria owner registration and syndicate fees.
Visit the Racing Victoria Ownership Forms to learn more.
What's the Best Horse Racing Ownership?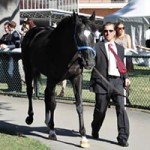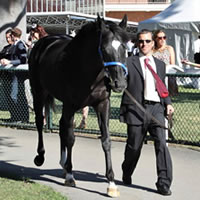 When we first got involved as owners, we joined 5% and 10% syndicates with family and friends. We met many like-minded people and made many good friends along the way.
You meet many wonderful people in racing, one of the rarely mentioned benefits of owning racehorses.
It's a fantastic way to spend a day at the races, enjoying the thrills and excitement of thoroughbred racing with good friends.
Beware though, that first win will hook you for life! There's no going back once you taste your first ever winner, it will fuel you for life.
Buy Racehorse Shares or Join a Syndicate?
Nowadays we buy a 5% share in colts and 10% share in fillies.
We've found many colts end up becoming geldings, which is not ideal for them, and reduces their value for us. Fillies often become valuable broodmares, so there's method to the madness.
So, shares or syndicate?
Buy 5% shares if you want your name in book and best owner privileges, knowing that you pay all costs and keep all prizemoney.
Join a syndicate to race 5% with family or friends and share in the ongoing costs and any prizemoney.
Yearly horse costs are around $45,000 to $60,000, and this figure is conservative.
Our advice. Start small, outlay only what you can afford to lose, and have fun.
Start Small and Enjoy the Ride
Prizemoney increases in recent years helps offset the rising owner bills each month, along with the excellent owner schemes in each state.
If you're lucky enough to get a fast one, upgrade once you earn some decent return on investment.
One word of warning, don't go chasing or over commit yourself to too many horses, unless in a small syndicate.
The ongoing bills will eat your bank balance alive if you get into too many slow ones.
If you can afford a 5% share, consider getting 1% in five syndicates in five different horses with friends. Race five horses for the price of one.
It will cost a tad more to set up, but you can enjoy more pieces of the racing pie.
Something to ponder!
How to Buy Shares in a Racehorse?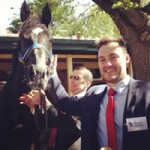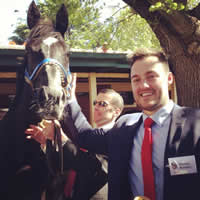 The process of buying shares in a racehorse is a simple one, once you find a promoter and horse that appeals to you.
A licensed promoter is an essential part of the equation and Racing Victoria has a list of registered promoters offering racehorses for sale.
Trainers also offer cheap horse racing shares via their websites or social media.
Consider cheap as affordable, as most trainers offer well-bred young horses for purchase.
Trainer Racehorse Shares For Sale
David Hayes Syndications always has horses available where you can buy shares to suit your budget. We've raced horses with the Hayes & Dabernig team and they run a top class operation.
You can visit their outstanding Lindsay Park Racing complex at Euroa by appointment and see how it all works for yourself.
Another trainer worth considering is Tony McEvoy Racing, who have stables in Melbourne, Adelaide, and have expanded to Ballarat in Western Victoria.
The McEvoy stable do a fantastic job on the racing and owning front. We've raced with Tony too and encourage you to check out their offerings.
Do your due diligence when looking for a racehorse and ensure the promoter ticks all boxes.
Help to Buy Horse Shares
If you stumble during your search, or unsure which way to proceed, you're welcome to contact us for advice.
We don't have all the answers, but we'll find someone who does, and attempt to answer it for you.
After racing many horses over the years, we know from experience the answers to most questions.
For transparency, we receive no renumeration for any horse racing promoters or syndicates we recommend.
We enjoy racing horses and are happy to promote those who make that possible.
In the racing game, as in life, you learn from your mistakes. Experience is a great teacher.
We've made many and learned plenty along the way.