Horse Racing Shares
Someone once said, "How do I buy horse racing shares in a racehorse?"
After pondering for a moment, we replied with…
"Well, the quick answer is – you find a racehorse, get involved through syndication, then find a second job to pay for its upkeep."
Our initial response gathered mild amusement. So we quickly added…
"The long answer is, you do your due diligence and tap into someone you know and respect who has been through it all before, successfully."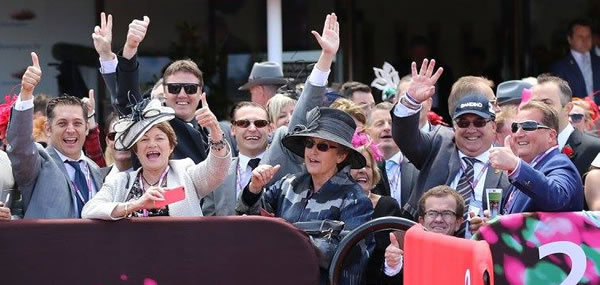 Further explanation into racehorse syndication would help answer their question.
First and foremost, it's imperative to deal with only licensed syndicators who can provide a Product Disclosure Statement (PDS) and partnership agreements.
How do you Syndicate a Horse?
Owning a racehorse outright is a huge expense, beyond the realms of most people.
For those lucky enough to afford 100% of a racehorse, they also have the privilege of receiving 100% of each monthly bill, so don't be too envious of them.
Many racehorses never make it to the track, while a good number fail to earn enough prizemoney to pay for their upkeep.
So, when considering investing in racehorses, outlaying a huge amount of money in an untried racehorse is a foolhardy exercise.
A smart operator would invest in a smaller share and get involved with like-minded folks in a horse racing syndicate with reputable syndicators.
What is a Horse Racing Syndicate?
Simply put, it's a way to become a racehorse owner at a fraction of the cost.
Racehorse syndicators purchase young unraced or tried horses at sales such as Inglis or Magic Millions and advertise their purchases for syndication.
Common offerings include 5 and 10 percent shares. These are popular with many owners because it means your name goes in the race book on race day and you're entitled to race day owner privileges.
Smaller shares are often available on request if applicable.
A 10 percent share could go anywhere from $2000 to $20,000, depending on the syndicator and the purchase cost of the horse. A five percent share is half that amount.
Join a Syndicate
This is where a syndicate comes into fruition, as syndicators can break racehorse shares up into smaller percentages to allow more owners to enjoy the ride.
For example, ten people could purchase one percent each to form a 10% percent syndication.
Each syndicate member is responsible for their one percent ownership, paying one percent of any costs and receiving one percent of any prizemoney earned.
For what it's worth, anyone looking to get into a racehorse should consider just one percent, because you're still an owner.
Unless you have a horse like Winx, who was a freak, most owners will spend more money as an owner than they'll ever earn.
Now, where do we find those reputable syndicators?
Who are the best Racehorse Syndicators?
Great question, but who do you ask? Guaranteed if you ask any syndicator they'll tell you what you want to hear to get you buying horse racing shares in their operation.
The good operators stand the test of time. The honest, hard working ones even longer. There are some unscrupulous operators out there, but they get weeded out in due course.
This is where the due diligence comes in.
During our time in racing we've raced around 90% of racehorses in syndications with Darren and Liz Dance at Australian Thoroughbred Bloodstock (ATB).
We consider them the best operators in the country and we're happy to tell you why.
Racing Experiences
They've given us lucky owners more rewarding racing experiences than one could ever imagine.
From the pomp and ceremony of Royal Ascot and the Dubai World Cup, to the outer ends of the universe at places like Adelaide River in the NT.
You can't put a price on the joys you receive in racing, especially the unexpected ones, and they continue to flow to this day.
They win, You win!
Darren and Liz race with you in all their horses. They put their money where their mouth is, and when they win, you win!
Planning on getting involved in a racehorse? Ensure you hook up with a syndicator who wants to win as much as you do.
Syndicating is Hard Work
ATB are the hardest working syndicators out there in our humble opinion.
Darren drives long hours every week moving his horses because they are like family. Who wouldn't race a horse with a family man?
Don't take our word for it. Do your due diligence and ask around.
Due Diligence in Racehorse Ownership
ATB have been so good to us over many years. So much so, we've never considered another syndicator. We've even got involved with the breeding side of ATB, which is a much better money making exercise than racing horses.
When someone once said to us, "How do I buy horse racing shares in a racehorse?" We should have replied, "Don't! Buy shares in a broodmare instead, that's where the money is."
Now, if you ask us who the second best syndicator we know is, w'd instantly tell you it is Nathan Bennett from Bennett Racing.
How do we know that? Well, we met Nathan through ATB and the exciting Dandino campaign during the 2013 Melbourne spring carnival where the planets aligned for a multitude of fortunate owners.
We shared a Caulfield Cup and Melbourne Cup runner that spring. Lifelong personal dreams realised thanks to ATB. Wow, what a time to be alive!
Lifelong friendships also formed that spring. That's something you never envisage when first buying into a horse.
The most rewarding aspect of owning racehorses for us is all the great people you meet along the way. Nathan is one of those people.
From Owner to Syndicator
Nathan Bennett had a dream to become a syndicator and realised that dream in 2016 when he formed Bennett Racing.
He teamed up with knowledgeable racing folk in Phil and Rick Wells from Shadwell Farm, to create a formidable trio.
Bennett Racing captured their first group winner when She Shao Fly won the 2019 SA Sires Produce Stakes in Adelaide.
We were lucky enough to be with Bennett Racing when they landed their first ever horse for syndication, a striking filly who later became Goldifox.
Just like Darren & Liz Dance, Nathan is an honest, hard working operator.
These are the people you want to invest your time and money with, if becoming an owner is a dream of yours.
Are Horse Racing Syndicates a sound investment?
In our experience, the short and long answer is a resounding "No!"
A sound investment grows your money over time, not haemorrhage it with ongoing costs that would put some Superannuation funds to shame.
Having said that, after the initial syndication and purchase of a horse, most horse racing syndicates accrue costs are via external sources.
These include the trainer, agistment, pre-training, race training, racing fees, vets, medicine, and that magnificent money maker, floating.
External costs ensure syndicators must be prudent when placing their horses for education and racing.
Ensuring the right environment and education for your racehorse is an important component for success, as is luck.
Racehorse owner schemes reward owners of consistent, well placed horses with bonus prize money.
Success is only a good horse away
A successful racehorse may end up a sound investment if lady luck smiles upon you.
A well bred colt who can win a Group 1 race may become hot property for a potential stud farm to fill their roster as a young sire. The residual value for a filly winning a stakes race affords syndicate owners a return on investment at the end of her racing career.
Since becoming involved in the breeding side of racing we've decided to only purchase shares in fillies, the more regally bred the better.
In our experience, colts, much like the young teenage humans, are more concerned about the glamourous fillies getting around, than focusing on the job at hand.
Someone once said, "Behind every good foal, there was a good mare."
It stands to reason a good filly has the potential to be a good mare. A great one is the desired outcome.
A horse racing syndicate is a sound investment if you outlay what you can afford at the time of purchase, and the expected average costs won't break your bank.
Owning a racehorse is all about enjoying the thrills of racing with like-minded people. When your horse crosses the finish line a winner, it provides an adrenaline rush that will hook you for life.
So, what's it going to cost you to own a racehorse? To that we answer, "How long is a piece of string?"
How much does it cost to Own a Racehorse?
Rising costs are the bane of all owners, and they've risen substantially in recent times.
Having been in racing syndications for quite a while, it's easy to determine where owners are being slugged.
So what has changed?
Racing expenses have grown somewhat in the past two years. Treatments, floating, staff expenses and much more. You name it, owners pay for it. The only thing we don't have to pay for is the horse's air to breathe.
We should count ourselves lucky!
Sundries are another killer for owners with track fees, gallop fees, racing plates, more treatments, vets, drugs, and the floating again.
A trip to the races for your horse can cost owners anywhere between $200 and $500 for that day alone.
Add public holiday levies, syndication management fees (where applicable), race nominations etc and you get the drift.
One doesn't have to be a mathematician to realise you'll need a fast, well-placed horse if you're in it to make money.
Winning feature races is a great place to start!
Full disclosure is essential once you make the decision to enter into a racehorse agreement. Knowing all costs and markups before you buy, along with how to exit the syndicate if required.
A smaller piece of the pie tastes just as good
Everybody wants a piece of the pie and its owners who foot the bill. In time, people will wise up to the exorbitant costs of owning a racehorse and will drive participants away. Or perhaps they'll develop a penchant for breeding.
The smaller the share, the lower the bills. Go along for a cheap ride and enjoy the excitement it provides you.
If you get a fast one and allows you to earn more than you outlay during its career, then smile knowing you're one of the lucky ones.
One thing is for certain, since our time in racing, racehorse ownership has never cost so much, and syndicators racing horses with you also face the same problem.
Another alternative is to find a syndicator who offers a flat fee each month to race horses. This model has pros and cons both ways, but at least it budgets your ongoing costs along the way.
That's why doing your homework is essential when buying a racehorse.
Find an Edge with G1 Goldmine
Racehorse breeding software such as G1 Goldmine provides an edge for anyone interested in stakes winning breeding patterns.
This unique breeding analysis tool is designed to find stallion and mare crosses that perform successfully over time, while alerting you to those that fail to meet expectations.
Be careful though, you'll spend hours mixing and matching your favourite crosses.
It's great fun though, and the ideal way to find the best stallion match for your mare.
How do I start a Racehorse Syndicate?
Looking to start a horse racing syndicate to buy racehorse shares with your family or friends?
Then you will need to determine how many people will join the syndicate so you can work out initial costs for setting up and registering your syndicate.
At this point in time we would budget for around $45,000 in yearly expenses to cover all costs.
When we first got into horses, it was around $30,000 to $35,000 per year, quite the rise since then.
A 10% share will amount to around $3,750 per year, or $313 per month. This figure will vary, depending on how often the horse is in work or spelling.
We've received racing bills in recent years ranging between $450 and $968 per month when in training, while spelling costs range anywhere between $100 and $120 to laze in a paddock and recuperate from the rigours of racing.
Bear in mind, syndicated horses go to a trainer after purchase and breaking in, and those trainers bill owners separately for their costs. This is where all of your major expenses will accrue.
Racehorse Syndication Cost
The initial cost to set up a horse racing syndicate is a one-off fee of $275 per syndicate, with an annual renewal fee of $55 to maintain your syndicate.
Use the following guide for syndicates up to 20 people, and for 5% & 10% shares. Assume the following costs are based on $45,000 per year for 100%.
20 Person
20 Person Syndicate
Each member of the 20 person syndicate is responsible for 0.5% of the ongoing monthly costs.
Training prices vary from trainer to trainer. In our experience, especially in recent times, the bigger the stable, the more you pay per month.
Approximate ongoing costs for 10% Share
Yearly: $4,500 per year ($225 per year per person)
Monthly: $375 per month ($19 per month per person)
10 Person
10 Person Syndicate
Each member of the 10 person syndicate is responsible for 1% of the ongoing monthly costs.
Approximate ongoing costs for 10% Share
Yearly: $4,500 per year ($450 per year per person)
Monthly: $375 per month ($38 per month per person)
5 Person
5 Person Syndicate
Each member of the 5 person syndicate is responsible for 2% of the ongoing monthly costs.
Approximate ongoing costs for 10% Share
Yearly: $4,500 per year ($900 per year per person)
Monthly: $375 per month ($76 per month per person)
5% & 10% Shares
5% & 10% Shares
Single shares of 5% or more do not require a syndicate and can be purchased outright.
All 5% & 10% share owners get their owner's name in the racebook on race day plus associated owner's privileges, and are responsible for the full ongoing monthly share costs.
Approximate ongoing costs:
5% share: $2250 per year ($188 per month)
10% share: $4500 per year ($375 per month)
We've barely touched the surface of the ins and outs of horse racing shares, suffice to say, it's an ongoing journey.
Surround yourself with good racing people and good things will happen. Just like life!
Visit our Australian Racing Links to find race club websites and social media links for metropolitan and provincial racing in each state.