G1 Goldmine
G1 Goldmine is the world's leading Pedigree System for breeders
G1 Goldmine is a unique mating service that provides a breeder with the ability to identify other high class racehorses that have a similar pedigree to the one they are considering.
No more guessing when breeding racehorses, with G1 Goldmine you can find the perfect stallion for your mare with a proven pedigree cross.
Stallion Match
The Stallion Match provides a hypothetical mating that shows Graded Stakes Winners from around the world that have a similar pedigree to your proposed mating. Based on the concept of "Dig for Gold where Gold has been found before", it makes sense that your breeding plans should look to replicate pedigrees of champion runners and the analysis should look at the entire pedigree.
Results List Columns CSI, or Common Similarity Index, is a measure of how close the pedigree of the Graded Stakes Winner matches the hypo-mating. In general, values above 18 indicate a strong similarity.
As a rule of thumb, if the results list shows 4 or more horses with CSI of 18 or above, it is usually a good mating. If it shows 2 or more horses with CSI above 20, it is usually an exceptional mating.
The Stallion Match also shows what age and distance your hypo mating is likely to peak, according to previous results of Graded Stakes Winners with the same pedigree cross.
A 20/20 Mating
A 20/20 mating occurs when a pattern has two or more Graded Stakes Winners with CSI values above 20. This indicates that this pedigree is exceptional as there are at least two superior horses with a very similar pattern. In most cases the stud farm will offer special incentives for the breeder to send their mare to the selected stallion.
20/20 Broodmare Analysis
The 20/20 Broodmare Analysis report matches your mare against a set of stallions in specified regions and fee range and includes Stallion Match analysis, Aptitude Profile, 4X4 profile and more.
All 12 Month subscriptions include one complimentary 20/20 Mare Analysis Report.
Pedigree Search
G1 Goldmine allows you to research pedigree patterns that repeat themselves in superior racehorses around the world. For example, how many Graded Stakes winners have Fastnet Rock crossing with Woodman sired mares?
Check any manner of stallion and broodmare crosses to find a proven winning pedigree.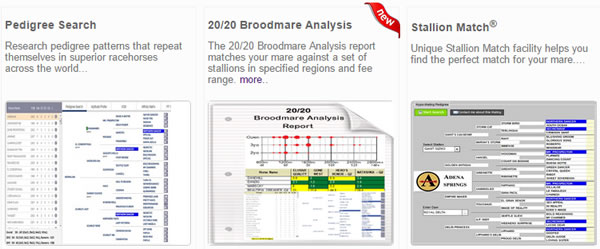 G1 Goldmine 10% Discount
A G1 Goldmine subscription includes unlimited access to Pedigree Search, Stallion Match, Horse and Race information and can be purchased for 3, 6 or 12 month subscriptions.
3 months – US $55
6 months – US $95
12 months – US $175
>>> Visit G1 Goldmine to purchase a subscription
Click the 'Other' drop down box and enter 'Horse Racing Shares' in the text box (as shown below) when registering your details to receive a 10% discount upon purchase of a subscription.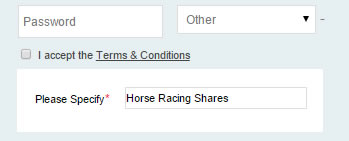 Horse Racing Shares highly recommend G1 Goldmine for superior pedigree analysis.