Racehorse Syndication
Want to Own a Racehorse or join a Horse Racing Syndicate?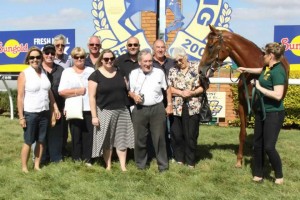 Owning your own racehorse has become very affordable for racing enthusiasts nowadays and racehorse syndication makes it possible for a group of people to get together and buy a racehorse to become horse racing owners.
Setting up a racehorse syndicate to race horses with your family and friends can be done in no time at all, but first you have to find a horse.
We race a number of horses with leading racehorse syndicator Australian Thoroughbred Bloodstock and can tell you first hand what a huge thrill it is to race horses with Darren & Liz Dance and their hard working, enthusiastic team.
If you plan to get involved in thoroughbred horse racing then start racing the ATB way to receive fantastic value for money and a win or two along the way!
Visit our racehorse shares to see the latest ATB offerings available for racehorse syndication.
Get involved in Racehorse Syndication
Starting a racehorse syndicate with your family & friends is very easy to do and once you work out how many people want to join you in your exciting new adventure then here's what your initial costs will be.
Setting up a new syndicate is a one-time cost of $275 per syndicate and also comes with an annual renewal fee of $55 per syndicate.
Example of a 10 person Syndicate
If 10 people formed a syndicate and purchased a 10% share in a racehorse, then each member of the syndicate would be up for 1% of purchase price, syndicate costs, and all ongoing costs.
Initial costs
Share Price: Using $5000 as an example ($500 per person for 10 person syndicate)
Syndicate setup fee: $275 ($27.50 per person for 10 person syndicate)
Ongoing costs
Approximately $300 per month when in training ($30 per month per person for 10 person Syndicate)
Approximately $90 per month when spelling ($9 per month per person for 10 person Syndicate)
If you managed a syndicate of 10 people and each person paid $30 per month into a dedicated account in the name of the syndicate then that would generally be plenty for the ongoing costs of the horse, especially once the horse is racing and earning prizemoney.
All ATB horses spell at Darren Dance's Manningtree Park complex at minimal cost to owners.
If your horse is good enough to win a few races then the extra money saved can pay for photos and days to the races for the syndicate.
ATB do not charge any Admin fees and there are no hidden charges whatsoever. What you see is what you get!
Check out the latest Australian Thoroughbred Bloodstock racehorse syndications now.