Racehorse Syndication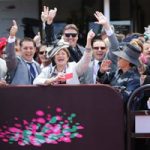 Australian racehorse syndication is the best and most affordable way to own and race thoroughbreds with like-minded racing enthusiasts.
Syndicators and promoters gather people together to enjoy the thrills and excitement of racing and they have a range of offerings to suit most budgets.
Getting racing folk to the races is what they do. Some much better than others.
Before going any further, the best piece of advice we can give you is to ensure you always deal with a licenced operator.
Any syndicated racehorse should come complete with a Product Disclosure Statement (PDS) and required partnership agreements.
Failure to produce these documents on request signals a red flag.
A licensed syndicator, especially one with your best interests at heart, will supply all the correct documentation.
All registered Victorian syndicators have an Australian Financial Services Licence (AFSL) with their PDS inspected and approved by Racing Victoria.
So how do you become a racehorse owner and join a racing syndicate?
How to own a racehorse?
When we first had the idea to get involved in horse racing syndicates, we sought the counsel of racing folk we knew who'd owned horses themselves.
We were fortunate enough to know a knowledgeable chap in the racing industry who put us on to Darren Dance at Australian Thoroughbred Bloodstock, or ATB, as we know them.
Darren's passion for what he was doing shone through in our first dealings with him.
He explained the syndication process to us and we found out we could get a share in a horse by creating a syndicate together to become part of the ownership.
So we did! In fact, we've created many syndicates with Darren over the years and introduced several people to the highs and lows of racing.
Forming a racehorse syndicate is an easy process for owners. Not so easy for the syndicator's though, as it is a lot of work on their end.
Many charge an admin fee to their syndicate owners, fortunately, ATB charges no admin fees.
Personally, we prefer syndicators with no admin fees, as owners pay enough already to race the horse.
How to Form a Racing Syndicate?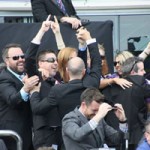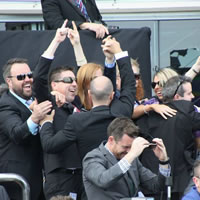 To form a racing syndicate in Victoria costs $275 initially, along with a $55 yearly fee to race the syndicate name.
A syndicate can comprise up to 20 people with one member managing the horse on behalf of the other syndicate members.
All syndicators operate differently with how their syndication model works.
We can only share the way it has worked for us during our time in racing.
A 10 Person Horse Racing Syndicate
Assume ten people want to form a syndicate to buy a 10% share in a racehorse.
Each member becomes a 1% part owner of the horse and pays 1% of all ongoing bills during its racing career.
Racing Victoria distributes 1% prizemoney to each member, along with any Super Vobis or VOBIS Gold bonuses accrued along the way, if applicable.
A syndicate requires a name and manager to kick things off.
Assume members chose 'Winners Are Grinners' as the syndicate name and 'Joe Blow' elected as the collective group's manager.
In Victoria, as we race horses in this state, Racing Victoria requires all ten members in a Register a Syndicate (To a maximum of 10 members) form as syndicate owners numbered 1 to 10.
Member 1 is the syndicate manager and Joe Blow assumes that responsibility.
In the racebook owner section under the racehorse's name, it will appear as 'Winners Are Grinners (Mr. J. Blow)', or something similar.
The newly formed 10% syndicate will form part of the overall 100% of the horse. Of which, the other 90% comprises 5% or 10% outright shares or other syndications at various percentages.
Any reputable, caring syndicator will organise this whole procedure for you and assist with any raising issues.
If you want as few as 5 or as many as 20 members in your syndicate, then you'll require a 5 person syndicate form or a 20 person syndicate form.
Horse Racing Syndicate Names
Once the syndicate has signed the forms, paid all fees, and received Racing Victoria approval, then you're ready to buy a share in a racehorse.
Please be aware syndicate names must be unique, and they also must pass Racing Victoria approval.
Any name considered offensive or against the best interests of racing will face rejection, so choose wisely.
Humourous is good, offensive is not.
Once you form your syndicate and find yourself in a horse, then you'll be receiving regular bills for that pleasure. If your horse is fast enough, it might bring in some prizemoney along the way.
How do Racehorse Syndicator Bills Work?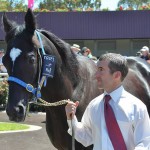 As far as ongoing bills go, they'll vary with each syndicator.
We can only speak from our experience and they've all been monthly.
Syndicators bill you each month with all internal expenses incurred by the horse under their model.
These can be for agistment, vet, medical treatment, farrier, floating, welfare and whatever else.
If set up like ATB, each member of the syndicate will receive a bill each month for their percentage owing.
Scrutinise bills to ensure they're correct before forking out your hard earned.
Most bills get sent out correctly, however, they occasionally make mistakes.
These are easy to rectify with direct communication by email or phone. We prefer email because it leaves a written trail for both parties.
If there's a dispute, then a third party can resolve the issue, but that's a whole other article.
Syndicators Have Many Responsibilities
Horse racing promoter's responsibilities include caring for their horses and owners.
Horses require education before going to a trainer.
Make sure your syndication promoter has an excellent education and pre-training program for your racehorse.
If they're in good shape before they go to the racing stables, then trainers can focus on getting the horse ready for racing.
Pre-trainers also bill you directly for their services.
Owners require education and ongoing care too.
Any promoter worth his salt will explain everything to you and notify you regularly about your racehorse.
Anything less is simply not good enough.
Unexpected Racehorse Bills
Unexpected expenses you need to know include acts of nature such as injury or illness.
Horses, like humans, are susceptible to freak accidents or unknown medical conditions.
If it's a life-threatening issue requiring a quick response, then someone has to contact a vet immediately to arrest the situation.
Call outs and operations mean time and money, and worse case scenario, loss of the horse.
Consider insurance to protect your investment.
In our experience, you'll be fine without insurance until you get a valuable horse.
These types of issues happen now and then, but not that often, unless you're unlucky.
Our ATB horses usually spell at their Manningtree Park property at Beremboke at minimal cost to owners.
This has the added benefit of knowing our racehorses receive top care and in excellent hands at all times.
We've had occasions where our horses had unexpected problems that resulted in high and low outcomes.
Thankfully, in our case, Darren was quickly on hand to assess the situation and make the right decision for both horse and owner.
Syndication is an Investment Both Ways
Syndicators invest heavily in their horses, both monetarily and emotionally.
In ATB's case, their horses are like family and treated better than most humans.
Whenever you do due diligence on a racing syndication to become an owner, ensure you check where the horse stables when it's spelling. Welfare away from the track is just as important as welfare when in work.
A good stable environment is essential for a happy horse.
How do you earn Prizemoney owning Racehorses?
Assuming your happy horse gets to the races, you'll be hoping to earn some prizemoney along the way.
A typical Saturday metropolitan race may break down as below.
Racing Victoria distributes prize money totalling 2% to jockey and equine welfare prior to distribution
If your horse finishes first after correct weight then owners earn $68,750 prizemoney, less 2% for jockey and equine welfare prior to distribution.
A 10% syndicate will earn ten percent of that total distribution amount, less 10% for trainer and 5% for jockey.
Owners receive 85% of all prizemoney after distribution, along with any Super VOBIS or VOBIS Gold bonuses.
Any prize money or bonuses earned get paid directly into owners' nominated bank accounts each month by Racing Victoria.
As with your syndication bills, check your prizemoney remittance to ensure it is correct.
Check out how Victorian racing prize money payments are distributed by Racing Victoria.
How do you pay Racehorse Trainer Bills?
In all of our racing experiences the trainer has always billed us separately to the syndicator.
We class these as external bills.
We've raced with many trainers over the years and bills arrive around the same time each month for each trainer.
Bills include itemised costs, total amount, any overdue amounts and a due date for payment.
Racing costs have exploded in recent years and this is where you'll spend the most money after purchasing your share.
Here's an example of one month's training costs for a 10% share.
TRAINING
 $105 x 30 days
$3,150.00
CHARGES
Shoe Replacement
$50.00
Pre Race Drip
$65.00
Full Bloods
$110.00
Sputolysin (X2)
$240.00
Race Plates
$180.00
Meloxicam (X2)
$80.00
Gastrozol
$210.00
Lasix (X2)
$30.00
Hyla Motion
$120.00
Butasyl (X2)
$15.00
Technyflex
$100.00
Physio/Massage
$100.00
Pentosan (X2)
$130.00
Accupuncture
$110.00
Tryptophan (X2)
$40.00
Veterinary
$196.62
Track Gallop (X3)
$72.00
RACING
Noms
$80.00
Float
$285.00
Noms
$250.00
Attendant
$175.00
TOTAL COSTS
COST
$5,788.62
GST
$578.62
TOTAL (Inc GST)
$6,367.24
10%
$636.72
1%
$63.67
That's one bill for one horse in training who had just one city race that month.
Floating and horse attendant for the day cost $460. Ten races per year under similar circumstances and it's just shy of $5000 for transport and handling alone.
In our humble opinion, floating fees fleece owners. And, why owners have to pay for trainer staff is beyond us.
It's just something you need to know and consider. Costs will go up further over time, not down.
Racing Costs Have Risen Over Time
When we first raced horses with ATB, you could set your budget to $300 per month for a 10% share and $150 per month for a 5% share. It was around $35,000 per year on average across the board.
Nowadays, you're looking at around $45,000 to $50,000 per year in overall costs for a racehorse.
How do we know? We own racehorses and pay their bills.
Racing costs are a necessary evil to own and race a horse.
Prizemoney has increased over the past few years which offsets the ongoing running costs. A good trainer will place your horse to be competitive in the right class and pick up some earnings along the way.
Racehorse Owner Privileges on Race Day
Once your syndicate forms and you become official registered owners, you will they will issue you with an Owners' Gold Card and unique Owner ID Number.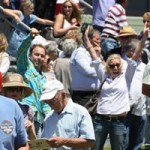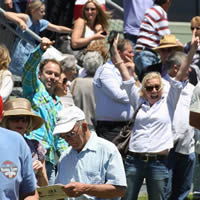 The Owners' card gets you free entry to the races any time your is racing and added benefits include a free race book, drink voucher, member privileges and parking.
Learn about the Victorian Racehorse Owners' Gold Card privileges here.
Most syndicators, especially the good ones, book a table on course to get owners together on race day to enjoy a fabulous day at the races.
ATB went to great lengths to organise the Dandino Bar for a bevy owners when the 'Black Beast' contested the 2013 Caulfield Cup.
All had a fantastic day when Dandino stormed home from near last to run second in the feature race.
The legendary 'Fluro Man' even dropped into the Dandino Bar to delight the masses.
This is what racehorse syndication is all about.
Uniting like-minded people to share enjoyable racing moments together.
We've shared many memorable racing moments with Australian Thoroughbred Bloodstock.
It's more than syndication when you become an owner, it's an experience.
Make sure when deciding to own a racehorse you buy into an experience.
What happens once you buy a Racehorse?
After sales service is an important part of the syndication game.
Keeping owners abreast of their horse's progress is essential to keeping happy owners.
Syndicators need to be in tune with their pre-trainers, trainers, vets, and anyone who deals with the horse.
We have horses with both ATB and Bennett Racing and each provides excellent communication.
Once you purchase an unraced horse from a sale, it will probably spell in its new surroundings to grow accustomed to its new life.
Initial breaking in and education will take place in due course, maybe 6 weeks, before heading to the trainer for further education.
Once they've had enough, they'll go back to the paddock before repeating the process until ready for racing.
Some are ready to race as two-year-olds, some go shin sore, some may require patience.
It's all a guessing game until the horse shows what it can do.
Syndicators organise regular progress reports, including trial videos and trainer interviews, and send to owners directly.
Trainers and pre-trainers may also send you progress reports regards how the horse is going in its preparation.
As the horse gets to the races you'll receive nominations, acceptances, and pre and post race reports.
Get involved in Racehorse Syndication
Starting a horse racing syndicate with your family & friends is very easy to do.
Once you work out how many people want to join you in your exciting new adventure, then here's what your initial costs will be.
Setting up a new syndicate is a one-time cost of $275 per syndicate and also comes with an annual renewal fee of $55 per syndicate.
Example of a 10 person Syndicate
If 10 people formed a syndicate and purchased a 10% share in a racehorse, then each member of the syndicate would be up for 1% of purchase price, syndicate costs, and all ongoing costs.
Initial Syndication Costs
Assuming a $50,000 syndication with a 10% share valued at $5,000.
Share Price: $500 per person for 10 person syndicate
Syndicate setup fee: $275 ($27.50 per person for 10 person syndicate)
Ongoing Syndication Costs
Assuming yearly total for all costs are $45,000.

$4500 per year (10% Syndicate)
$375 per month (10 person Syndicate)
$38 per month (per person per 1%)
$9.50 per week (per person per 1%)
If you managed a syndicate of 10 people and each person paid $40 per month into a dedicated account in the name of the syndicate, then that would be plenty for the ongoing costs.
Prize money earned goes into the account and if you're lucky, you might get a fast one who pays its way.
If your horse is good enough to win a few races, then the extra money saved can pay for photos and syndicate race days, or perhaps another horse.
Conclusion
Owning a racehorse is a costly exercise for all involved.
At the end of the day the most important thing is that you spend what you can afford to lose,  and any profits made along the way are a bonus!
Learn more about horse racing syndicates and find out whether they're a sound investment or not.