Feature Races
2018 Melbourne Autumn Racing Carnival
The 2018 Melbourne autumn racing carnival is highlighted by feature racing at Flemington, Caulfield and Moonee Valley racetracks in Melbourne.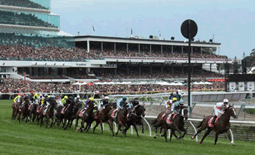 Group racing kicks off on on Saturday 11th February 2018 at Caulfield with the running of the $400,000 Group 1 C.F. Orr Stakes. Caulfield is home to the Melbourne Racing Club (MRC) which also hosts the $1,000,000 Group 1 Blue Diamond Stakes at Caulfield on Saturday 24th February 2018.
The $1,000,000 Group 1 Australian Cup and $1,000,000 Group 1 Newmarket Handicap highlight Super Saturday at Flemington on Saturday 10th March 2018, with the $400,000 Group 1 William Reid Stakes at Moonee Valley on Friday 24th March 2018 the final group one race of the Melbourne autumn.
We highly recommend online bookmakers Sportsbet and CrownBet for all your autumn feature race betting.
Melbourne Autumn Carnival Dates 2018
Below you will find feature race dates for all Group 1, Group 2 & Group 3 races in Melbourne during the autumn, courtesy of premier feature race website Horse Racing Info.
Caulfield – Saturday 10th February 2018
Group 1 CF Orr Stakes $400,000 1400m
Group 2 Autumn Stakes $200,000 1400m
Group 2 Rubiton Stakes $200,000 1100m
Group 2 Blue Diamond Prelude (F) $200,000 1100m
Group 3 Blue Diamond Prelude (C) $150,000 1100m
Group 3 Carlyon Cup $150,000 1600m
Group 3 Boronia Stakes $150,000 1200m
Group 3 Geoffrey Belmaine Stakes $150,000 1200m Flemington
Flemington – Saturday 17th February 2018
Group 1 Lightning Stakes $500,000 1000m
Group 3 The Vanity Stakes $150,000 1400m
Group 3 CS Hayes Stakes $150,000 1400m
Moonee Valley – Friday 23rd February 2018
Group 3 Typhoon Tracy Stakes $120,000 1200m
Caulfield – Saturday 24th February 2018
Group 1 Blue Diamond Stakes $1,000,000 1200m
Group 1 Futurity Stakes $500,000 1400m
Group 1 Oakleigh Plate $400,000 1100m
Group 2 Autumn Classic $200,000 1800m
Group 2 St George Stakes $200,000 1800m
Group 2 Angus Armanasco Stakes $200,000 1400m
Group 3 Mannerism Stakes $150,000 1400m
Group 3 Zeditave Stakes $150,000 1200m
Flemington – Saturday 3rd March 2018
Group 1 Australian Guineas $500,000 1600m
Group 3 Frances Tressady Stakes $150,000 1400m
Group 3 Shaftesbury Avenue Hcp $120,000 1400m
Flemington – Saturday 10th March 2018
Group 1 Newmarket Handicap $1,000,000 1200m
Group 1 Australian Cup $1,000,000 2000m
Group 2 VRC Sires Produce Stakes $200,000 1400m
Group 2 Kewney Stakes $200,000 1400m
Group 2 Blamey Stakes $200,000 1600m
Group 3 Thoroughbred Breeders Stakes $150,000 1200m
Group 3 Matron Stakes $150,000 1600m
Moonee Valley – Friday 16th March 2018
Group 2 Alister Clark Stakes $220,000 2040m
Moonee Valley – Friday 23rd March 2018
Group 1 William Reid Stakes $400,000 1200m
Group 2 Sunline Stakes $200,000 1600m
Caulfield – Saturday 31st March April 2018
Group 3 Victoria Handicap $150,000 1400m
Group 3 Easter Cup $150,000 2000m