Million Dollar Fastnet Rock colt tops Day One of 2018 Gold Coast Sales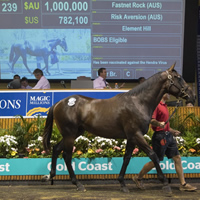 A cracking Queensland bred colt by Fastnet Rock has sold for $1 million and topped the opening day of the 2018 Magic Millions Gold Coast Yearling Sale.
Presented by the Hutchins family's Element Hill late in the day, the colt from stakes winner Risk Aversion attracted strong interest from prospective buyers before selling to Tom Magnier in partnership with trainer John O'Shea.
"It's all about the type," O'Shea said. "This colt is a real athlete and that's why I was drawn to him."

"For me he is a great horse by a champion sire in Fastnet and it's exciting to have him."

"It's outstanding to have a horse in partnership with Coolmore and congratulations to the Hutchins family for breeding him and it's great for a group of my clients who have taken a share in the horse," O'Shea added.
Catalogued as Lot 239 the bay or brown colt is the second foal of the Encosta de Lago mare Risk Aversion, a winner of five races including the listed Juanmo Stakes in Brisbane.
Earlier in the day Lot 52, Arrowfield Stud's Snitzel x Madame Andree brown colt starred when selling to leading Sydney based bloodstock agent James Harron for $900,000.
"First and foremost he's just a super type," Harron said. "He has a really great way about him."

"He walks super, has a lovely shape shape, great hip and a lovely girth. He's a really beautiful athlete."

"He has a great head on his shoulders and has handled the sale really well. He ticked a lot of boxes."
The colt is the the third foal for the unraced War Emblem mare Madame Andree. The colt's second dam is by Sunday Silence and hails from a strong international family.
First season sires starred during the day and the top seller among this group was the Deep Field colt from Reggae (Lot 231) who was offered by Kia Ora Stud and purchased by Justin Bahen for Orbis Bloodstock.
"It's a lot of money," Bahen said. "But we had him highly marked from day one when we saw him. He took our eye and we went back to see him again and again."

"We've bought some really nice colts at the sale so far, but he's our favourite. He's got a huge hindquarter – plenty of power about him, a fluent walk – everything you want to see from a horse who will hopefully be back here for the race (Magic Millions 2YO Classic) next year," Bahen added.
Deep Field wasn't the only freshman sire to impress on the day. Former Gold Coast Yearling Sale graduate Dissident rounded out the day as leading First Season Sire by average.
During Day One a total of 182 lots were sold for a gross of $39.17 million and average price of $215,220 – a record opening day average in the history of the Gold Coast Yearling Sale.
The clearance rate improved during the afternoon and rounded out at 81 per cent.
"It's been a very good start," Magic Millions Managing Director Vin Cox said. "We're very happy with where we're sitting now."

"The momentum picked up – particularly late in the day. We look forward to Day Two with some outstanding prospects to go through the ring."
For the full list of results and to make an offer on a passed in lot click here.
Day Two of the 2018 Magic Millions Gold Coast Yearling Sale will commence at 10am (Qld time) on Thursday 11th January.
DAY ONE STATISTICS
(2017 in bracket)
Lots Catalogued: 252 (240)
Lots Sold: 182 (187)
Lots Passed In: 43 (31)
Lots Withdrawn: 26 (21)
Sale Gross: $39,170,000 ($35,907,000)
Top Price: $1,000,000 ($900,000)
Average Price: $215,220 ($192,016)
Median Price: $170,000 ($150,000)
Sold %: 81 (85)
DAY ONE TOP SELLERS
$1,000,000 – Fastnet Rock-Risk Aversion colt (Lot 239)
Vendor: Element Hill / Buyer: Tom Magnier/John O'Shea (NSW)
$900,000 – Snitzel-Madame Andree colt (Lot 52)
Arrowfield Stud (As Agent) / James Harron Bloodstock (NSW)
$675,000 – Deep Field-Reggae colt (Lot 231)
Kia Ora Stud / Orbis Bloodstock (HK)
$650,000 – Redoute's Choice-Madam Tracy filly (Lot 51)
Element Hill / Peachester Lodge (Qld)
$650,000 – Fastnet Rock-Radharcnafarraige colt (Lot 215)
Segenhoe Stud (As Agent) / Asian Bloodstock Services (HK)
$625,000 – I Am Invincible-Octavia filly (Lot 145)
Yarraman Park Stud (As Agent) / Reg Inglis/Jon Kelly/Paul Frampton (NSW)
$600,000 – Written Tycoon-Noondie colt (Lot 127)
Mill Park Stud (As Agent) / Bruce Perry Bloodstock (NZ)
$600,000 – Exceed and Excel-Oasis Rose colt (Lot 142)
Bhima Thoroughbreds (As Agent) / James Harron Bloodstock (NSW)
$550,000 – Pierro-Pure Purrfection filly (Lot 203)
Eureka Stud / Boomer Bloodstock P/L (Qld)
$525,000 – Dissident-Prompt colt (Lot 200)
Newgate Farm (As Agent) / George Moore Bloodstock (HK)
LEADING SIRES
(ranked by average – 3 or more sold)
$458,889 – Fastnet Rock – 9 sold
$450,000 – Snitzel – 7 sold
$360,556 – I Am Invincible – 9 sold
$344,167 – Written Tycoon – 6 sold
$316,667 – Pierro – 3 sold
$282,500 – Not a Single Doubt – 4 sold
$272,857 – Exceed and Excel – 7 sold
$258,846 – Dissident – 13 sold
$245,714 – Sebring – 7 sold
$227,500 – Deep Field – 12 sold
LEADING BUYERS
(ranked by total spend)
$2,005,000 – Reg Inglis/Jon Kelly/Paul Frampton – 5 lots
$1,875,000 – James Harron Bloodstock – 3 lots
$1,685,000 – Orbis Bloodstock – 4 lots
$1,520,000 – McEvoy Mitchell Racing – 6 lots
$1,490,000 – China Horse Club/Newgate/Winstar
$1,150,000 – Asian Bloodstock Services Ltd – 2 lots
$1,050,000 – Peachester Lodge – 2 lots
$1,000,000 – Tom Magnier/John O'Shea – 1 lot