Snitzel tops menu on Day 2 of the 2016 Gold Coast MM Sale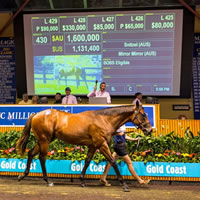 A pair of colts by former star sale graduate Snitzel starred as they sold for over a million dollars as the Magic Millions Gold Coast Yearling Sale continued its impressive opening with another spirited session on Thursday.
Early in the day it was Arrowfield Stud's brother to Sweet Idea who took the honours when selling for $1.1 million but he was spectacularly swamped by the third last lot, the Snitzel x Mirror Mirror colt from Stawberry Hill Stud who sold for $1.6 million.
After a fierce bidding battle it was Gerald Ryan who struck, securing the colt for his long time stable client Damion Flower of Jadeskye Racing.
"He's a cracking colt," Ryan said. "Damion saw him on video and in photos about five weeks ago and said this is the horse we're going to have to have."

"I come up here on Saturday night and saw him first thing on Sunday morning and I reckon he's the best colt I've seen in three years."

"There's a lot of nice horses on the grounds but as far as Snitzel goes and as far as his pedigree goes and the way the horse's attitude and athleticism goes I reckon he really fitted the bill," Ryan added.
The top selling colt is the third living foal of Mirror Mirror – the 2006 Magic Millions 2YO Classic winner – who is the dam of No Looking Back, the stakes winning juvenile who controversially was relegated to second in the same race six years later.
The other Snitzel youngster to light up the sale ring was Lot 233 – the chestnut colt from the stakes performed mare Flidais. He is a full brother to Group One winner Sweet Idea and half brother to Rush.
New Zealand based bloodstock agent Dean Hawthorne came out on top in the battle to buy him – he went to $1.1 million and the youngster will head to one of the country's most respected stables.
"He was a beautiful colt," Hawthorne said. "He really did tick all the boxes."

"We're really happy to get him. We thought we might not have to go that high but we were ready."

"Team Hawkes are going to train. There's a big syndicate behind him and he'll go straight into John's system and let's wait with bated breath," Hawthorne added.
As it stands the sale has now grossed over $65.7 million for 344 lots sold at an average price of $191,031 and clearance rate of 89 per cent. Today's sold rate rounded out at an incredible 92 per cent.
Magic Millions Managing Director Vin Cox said it was fitting the day would be dominated by a former star graduate of the sale – who after winning at the elite level on the track was now establishing himself as one of the best sires of recent times.
"He's sitting there with the two top priced horses at $1.6 million and $1.1 million – it was Snitzel Day," Cox said. "It was just sensational."
"We thought the earlier colt out of Flidais would make a lot of money – you never expect them to get to a million, but you hope that they do. The top priced horse at $1.6 million – we knew he would sell well but even (vendor) John Singleton, who is ever the optimist had no expectation that he would make anything near that."
"The figures are special. The turnover is sitting on $65 million which is 30 per cent up on last year, a clearance rate of 89 per cent and an average of $191,000 – they are good numbers."
To view the results and to make an offer on a passed in lot click here.
Day Three of the Gold Coast Yearling Sale will commence at 10am (Qld time) on Friday.
2016 Gold Coast Sales Day 2 Top Sellers
$1,600,000 – Snitzel-Mirror Mirror bay colt (Lot 430)
Vendor: Strawberry Hill Stud / Buyer: Jadeskye Racing/Gerald Ryan (NSW)
$1,100,000 – Snitzel-Flidais chestnut colt (Lot 233)
Arrowfield Stud (As Agent) / Dean Hawthorne Bloodstock (NZ)
$800,000 – Fastnet Rock-Gold Anthem bay colt (Lot 264)
Milburn Creek (As Agent for Makybe) / Spendthrift Australia (Vic)
$750,000 – Star Witness-Hilton Head chestnut colt (Lot 301)
Widden Stud (As Agent) / Magic Millions as agent (NSW)
$540,000 – Starspangledbanner-Lady's Light chestnut colt (Lot 370)
Rosemont Stud / Gai Waterhouse Racing/Julian Blaxland (NSW)
$500,000 – Sebring-Hooness brown filly (Lot 304)
Segenhoe Stud Australia (As Agent) / Yu Long Investments/Sheamus Mills B'stock (Vic)
$500,000 – Redoute's Choice-Hanky Panky filly (Lot 286)
Element Hill / Gai Waterhouse/Julian Blaxland (NSW)
2016 Gold Coast Sales Statistics
(2015 in brackets)
Catalogued: 432 (400)
Gross: $65,714,500 ($50,645,000)
Average: $191,031 ($171,678)
Median: $150,000 ($140,000)
Top: $1,600,000 ($850,000)
Lots Sold: 344 (295)
Lots Withdrawn: 44 (32)
Lots Passed In: 44 (52)
Sold %: 89 (82).
2016 Gold Coast Sales Leading Sires
Street Cry (9 sold) $725,000 (Highest) Average: $369,444
Fastnet Rock (17 sold) $800,000 (Highest) Average: $327,059
Snitzel (27 sold) $1,100,000 (Highest) Average: $322,222
Starspangledbanner (2 sold) $540,000 (Highest) Average: $310,000
Zoffany (1 sold) $300,000 (Highest) Average: $300,000
Redoute's Choice (10 sold) $500,000 (Highest)Average: $269,000
Exceed And Excel (8 sold) $800,000 (Highest) Average: $263,125
Animal Kingdom (3 sold) $310,000 (Highest) Average: $250,000
All Too Hard (19 sold) $510,000 (Highest) Average: $233,684
More Than Ready (4 sold) $400,000 (Highest) Average: $221,250