2016 Magic Millions Gold Coast March Yearling catalogue now online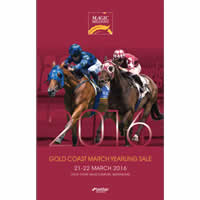 With graduates including Group One winners and Magic Millions Raceday stars Buffering and Tinto, the Magic Millions Gold Coast March Yearling Sale has established itself one of the best performing sales in the country.
This trend looks set to continue into the future with a catalogue full of quality youngsters unveiled and now online for the 2016 edition.
The Gold Coast March Yearling Sale, comprising 395 lots, will be held at the Bundall Sales Complex over two days of selling on March 21 and 22.
All of Queensland's leading sires are represented in the catalogue as well as many from around the country.
Plenty of interest will surround the progeny by the nine first season sires;
Americain
Animal Kingdom
Bullet Train
Delago Deluxe
Golden Archer
Harbour Watch
Instinction
Rocker
Your Song.
Australia's two leading first season sires Love Conquers All and Sidereus are both Queensland based and are well represented in the 2016 catalogue with 22 and 24 lots respectively.
Pedigree highlights include a full sister to former sale graduate, Oakleigh Plate winner Woorim as well as close relations to stars Churchill Downs, Hollowlea, Pure Energy, Segments and Sequential Charm and 19 yearlings by Sequalo – the sire of another former graduate Spirit of Boom.
All yearlings catalogued have had their first payments made to the QTIS scheme as well as all yearlings offered being eligible for nomination to the Magic Millions Race Series.
Making a purchase at this sale provides the dream to race for tens of millions of dollars extra in exclusive races as well as lucrative bonuses.
The $1 million Magic Millions QTIS Open Plate, won in its inaugural running this year by Buffering, will be a highlight race over the coming years for graduates of this sale.
The catalogue for the 2016 Magic Millions Gold Coast March Yearling is now available for download via the Equineline iPad app and can also be viewed online by clicking here.