Derby Tracker – Lead Up Races
by Dean Elliott.
This week we look at lead up races to the Victoria Derby.
1) Caulfield Guineas
The Caulfield Guineas as a lead-up guide.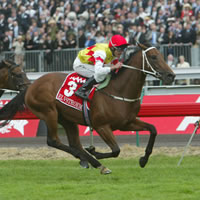 The last horse to run in the Guineas and win the Derby was a handy type by the name of Elvstroem.
He went on to win 4 more times at G1 level (including a Caulfield Cup) whilst his opposition subsequently barely competed in a Group race.
It's fair to say that no matter which path Elvstroem took to the Derby that year, he probably would have won it.
His only real quality opposition was Kempinsky, who only raced twice again after taking the Guineas – Vase – Derby path.
In recent times, you have to go back to 2009 to find the last Guineas runner to place in the Derby, that was Extra Zero who ran second to Monaco Consul.
That day Extra Zero beat home Viking Legend, Southern Skye and Rockferry in what proved to be a relatively moderate renewal of the Derby, aside from the winner.
Furthermore, there hasn't been a notable Guineas runner that has contended the Derby in the past two years, highlighted this trend of the different horses required to win both races.
Some key Guineas runners highly thought of as Derby prospects:
2011 Manawanui – started huge unders at $2.50 to run a fading 6th
2010 Rekindled Interest – $3.80 fave in the Derby after a fast finishing 5th in the Guineas and a solid win in the Vase. Never raced beyond 2040m again.
2008 Whobegotyou – a short priced $1.75 favourite, Whobegotyou was trying to win the Derby at his 6th run in from a let-up. Dour stayer Rebel Raider was too strong and the better stayer who had a more suitable Derby preparation.
A big factor for the lack of Guineas talent winning a VRC Derby recently is the scheduling.
These early season three-year-olds must have their big grand final of the Guineas and then run over 2500 metrs three weeks later.
This means squeezing in a 2040m race (which was previously The Vase, but as of 2014 will be given another option via the Caulfield Classic) in between, giving them just seven days to jump yet another 500 metres in distance.
In total 900 metres in distance over three weeks AFTER a grand final run.
That formula is not an easy one and it is little wonder that iron horse and subsequent champion Group 1 galloper Elvstroem was the last one to stand up to this herculean task.
The 2014 Caulfield Guineas will be held on Saturday 11th October 2014 at Caulfield in Melbourne.
2) The MV Vase
The Moonee Valley Vase – When to be confident and when to be cautious.
Over the past decade, the Vase has been used by Lion Tamer, Kibbutz, Efficient, Benicio and Plastered as a springboard to success.
The key to these winners is that none of them raced in the Guineas prior to the Vase, unlike some of those mentioned in the section above.
These horses all thrived off the quick back-up, have great constitutions, and had a perfect grounding for this race in their 2yo and 3yo seasons, which helped allow them to run to their best on Derby day.
So yes, the Vase can be a good lead-up for the Derby if you have the right kind of horse that has been given a suitable kind of preparation.
The 2014 MV Vase will be run on Saturday 25th October 2014 at Moonee Valley racecourse in Melbourne.
3) Norman Robinson Stakes (Caulfield Classic)
From the Norman Robinson to the game changer of the Caulfield Classic.
The Norman Robinson, run two weeks prior to the Derby over 2000 metres at Caulfield has provided two of the past three Derby winners (Polanski and Sangster).
One of the great advantages of this race as a lead-up to the Derby is that it's run 2 weeks beforehand.
This gives runners the desirable fortnight gap between their final lead-up run and their Grand Final.
The strength of this race can fluctuate dramatically from year to year.
However, in 2014 we will see a revamped version of this race, now to be known as the Caulfield Classic, worth $750k.
This is $350k more than the Group 1 Spring Champion, to be run in Sydney a week earlier, is worth.
Given the boost in prize money, I believe we'll see the Caulfield Classic become the true lead-up to the VRC Derby in years to come.
This will also change the way Guineas horses prepare for the Derby.
With the big cash bonus on offer for horses that can with the Guineas and the Classic, many trainer might look at running their horses in both features, with the option of then going 14 days into the Derby.
Nonetheless, it will be a big ask to peak in the Guineas and then peak again three weeks later over 2500m.
Given the new structure of the Caulfield Classic, there is a big likelihood that the winner of the Derby will come via this race.
The 2014 Caulfield Classic will be held on Saturday 18th october 2014 at Caulfield racecourse in Melbourne.
4) Spring Champion Stakes
Spring Champion Stakes – Sydney's Group 1 lead-up race to the Derby.
As mentioned, it will be interesting to see how this race is effected by the introduction of the Caulfield Classic.
Last year we saw a very special three-year-old win the Spring Champion, Complacent.
Unfortunately he suffered injury heading into the Autumn and did not get to see the best of this horse, who I rated a Cox Plate class of horse.
We also saw Criterion emerge from the same race, who then went on to achieve dual Group 1 success in the Sydney Autumn.
Monaco Consul and Lion Tamer are two other that spring to mind that won the Derby via the Spring Champion.
Time will tell as to how successful this race is moving forward (to be run October 11 this year) and whether it conflicts or complements the Caulfield Classic (October 18).
There are some nice staying prospects in Sydney at the moment, so it would be a surprise to see a major contender emerge from this form line.
The 2014 Spring Champion Stakes will be held on Saturday 11th October 2014 at Randwick racecourse in Sydney.
5) Geelong Classic
With the emergence of the Caulfield Classic, a race that may suffer somewhat is the Geelong Classic.
Team Darley, now Godolphin have probably had the best record of producing good horses from this race in recent times, with the 2014 ATC Derby runner-up coming through the Classic, as did 2011 VRC Derby runner-up Induna.
The 2014 Geelong Classic will be held on Wednesday 22nd October 2014 at Geelong racecourse in Victoria, around 75 kilometres west of Melbourne.
Derby Tracker Database
Over the coming weeks, I will develop this section into a contenders list of Derby hopefuls. Given the amount of horses to be covering in this section, we might not only unearth a VRC Derby winner, but hopefully there will be plenty of future high class gallopers that are identified from an early point.
The 2014 Victoria Derby will be held on Saturday 1st November 2014 at Flemington racecourse in Melbourne.
Article written by Dean Elliott (BDM at William Hill and Horse Racing & Breeding enthusiast)