Standalone Saturday meeting for 2014 Ballarat Cup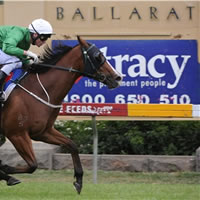 In fantastic news for the local Ballarat community Racing Victoria has today announced that next year's Ballarat Cup will be a standalone city meeting on a Saturday.
The 2014 Ballarat Cup will be held on Saturday 22nd November 2014 and will be the ending feature race day of the 2014 Spring Racing Carnival.
Racing Victoria's Executive General Manager – Racing, Greg Carpenter, said Ballarat's Cup meeting would provide an endpoint to the Carnival and showcase country racing to a broader audience.
"Ballarat's standalone Saturday race meeting provides a great opportunity to showcase the quality Cup program and another opportunity for racing to take its stars to country Victoria in racing's most popular timeslot," Carpenter said.
In an exciting development for the Ballarat Turf Club, it will further enhance Sportsbet.com.au Ballarat Cup day, which already offers the richest prizemoney of any Victorian country cup meeting.
Ballarat Turf Club CEO Lachlan McKenzie was excited by today's announcement.
"This is fantastic news for the Ballarat Turf Club, the Ballarat community and racing in general," McKenzie said.
"We have been afforded the opportunity to stage an event which will close out the Spring Racing Carnival with a bang."
"We look forward to developing what will be a massive event for Ballarat. The standalone Saturday Cup will attract far greater attendance from the local community, whilst providing the basis for people to visit and spend a weekend in our great city and visit all the attractions that Ballarat has to offer."
Cup sponsor Sportsbet.com.au entered into a long term deal with the Ballarat Turf Club this year  which saw the Dowling Forest racecourse renamed Sportsbet Ballarat for the next five years.
Sportsbet.com.au CEO Cormac Barry supported the move from Sunday to Saturday.
"Sportsbet.com.au Ballarat Cup Day carries significant prize money and quality racing. We support the Ballarat Turf Club and Racing Victoria in shifting the date from a Sunday to a Saturday."
"We feel the meeting will continue to get significant support from leading trainers and jockeys, and will be celebrated locally by the Ballarat community."
The Ballarat Turf Club's recent partnership with Magic Millions has proven to be a most successful one in a short space of time.
"Being involved in Ballarat Cup Day has become a significant part of our national Magic Millions Race Series," Magic Millions Managing Director Vin Cox said.
"The Ballarat Turf Club is one of the most progressive clubs in Australia and their cooperation in establishing the innovative Clockwise Classic has been sensational."
"Magic Millions is delighted to be part of Ballarat Cup Day and support the Victorian racing industry. We look forward to working with the BTC on the development of the standalone Saturday meeting for it to become a recognised part of the Spring Racing Carnival."
The new stand-alone Saturday Ballarat Cup meeting is set to become one of Victoria's most successful regional racing events and a coup for the city of Ballarat.
The Ballarat track was dug up after last Sunday's Ballarat Cup meeting and is being resurfaced in the coming months with racing scheduled to resume in May next year.