Melbourne Cup Carnival an economy booster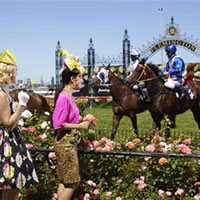 An economic impact study of the 2014 Melbourne Cup Carnival has shown that the home grown event delivered record benefits to Victoria.
Melbourne's original major event contributed $374.2 million of gross economic benefit to the state last year alone, up from $364.5 million in 2013.
The 2014 Carnival was also responsible for a record value-added contribution to Victoria's gross state product of $194.9 million (up 9.8 per cent from $177.5 million), a measure that quantifies the money spent by interstate and international visitors who were in the state specifically to attend the Melbourne Cup Carnival at Flemington.
Victoria Racing Club (VRC) Chairman Michael Burn said the Melbourne Cup Carnival's record of positive impacts to the state is peerless.
"The Melbourne Cup Carnival belongs to us all, and Victorians can be proud of the way this home grown event creates jobs and injects millions into the economy and local businesses each and every year," Mr Burn said.

"This significant boost to the economy simply wouldn't exist without the Melbourne Cup Carnival and is in addition to the incredible branding and promotional benefits to Melbourne, Victoria and Australia derived around the world."

"These are very considerable numbers and the benefits flow through the whole economy to all Victorians, and especially the tourism, fashion, retail, accommodation and food and beverage sectors."
The VRC commissions the comprehensive and independent analysis of the Melbourne Cup Carnival, releasing the findings each year.
The study, undertaken by IER, found the 2014 Melbourne Cup Carnival was also responsible for:
A 7.0 per cent increase of out-of-state individuals attending to 69,296, including 54,214 event motivated visitors and 4,116 extended stay visitors;
Visitors from 43 countries, up from 35 in 2013;
A 133 per cent increase in visitation from Asia, bolstered by the participation of horses from Japan;
A record three cruise ships from Carnival Australia and P&O, carrying 6,141 guests and contributing $8.9 million in value-added benefit (four ships with more than 8,000 guests will sail for the 2015 Carnival);
$28.38 million in commercial accommodation spending in Victoria (up from $25.6 million) over 186,221 bed-nights (up from 175,961);
$20.91 million in food and beverage, $13.67 in retail and $7.61 million in grooming spending;
$31.4 million of spending in Victoria on fashion items specifically to wear to Flemington ($31.44 million in 2013);
The purchase of 375,938 individual fashion items (up from 343,744) including 75,000 hats and fascinators, 61,000 dresses, 59,000 pairs of shoes, 30,000 handbags, 17,000 shirts and 15,000 suits;
The employment of more than 18,000 staff and contractors at Flemington in the lead-up and during the event; and
The participation of 31 international horses representing five countries other than Australia.
"It is incredibly important that we don't take these results for granted, and continue to invest in the Melbourne Cup Carnival and its positive economic, promotional and reputational impacts for Victoria," Mr Burn said.
Tickets and hospitality offerings have gone on-sale this week, earlier than ever, through flemington.com.au to give out-of-state visitors more time to make travel arrangements. Early bird pricing, offering an average discount of almost 15 per cent, is being offered for the first time.
Victorian Minister for Tourism and Major Events John Eren said the Melbourne Cup Carnival—the reigning Major Festivals and Events winner at the Australian Tourism Awards—highlights the importance of major events to Victoria's continuing economic prosperity.
"This Study certainly paints a picture of a popular international major event that delivers significant and wide ranging benefits to Victoria," Minister Eren said.
Attended by 325,519, the four Melbourne Cup Carnival racedays were again easily the four biggest in Australia."
"While a racing event at its core, the Melbourne Cup Carnival celebrates all that Melbourne does best: world-class sport, fashion, entertainment, food and wine, culture and commerce," Mr Burn said.

"Annual hallmark major events like the Melbourne Cup Carnival provide the culture, infrastructure and expertise required to sustain Victoria as the events capital of Australia."

"The VRC is proud to partner with the Victorian government to drive visitation and economic stimulus through a long term tourism strategy."
Visit the VRC website for more information about the 2015 Melbourne Cup Carnival.