A record 1470 yearlings nominated for 2018 Blue Diamond Stakes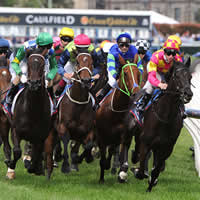 The Melbourne Racing Club announced a record 1470 yearlings have been nominated for the 2018 Blue Diamond Stakes (1200m) after nominations closed earlier this week.
In a tremendous boost for the progressive race club, entries were up 89 from last year's total of 1381 nominations (an increase of 6.44%) creating an all-time high for the $1.5 million Group 1 race for two-year-olds.
All nominated horses for next February's Blue Diamond Stakes are also eligible for the 2018 Group 3 $350,000 Catanach's Jewellers Blue Sapphire Stakes (1200m) for three-year-olds, held on the Wednesday of the three-day Caulfield Cup Carnival.
Most 2018 Blue Diamond Nominations
Lindsay Park, who won the Blue Diamond last year with Catchy, head the list of nominators with 112 entries for Victoria's richest two-year-old race.
112 David and Ben Hayes and Tom Dabernig
97 Gai Waterhouse and Adrian Bott
89 Godolphin
69 Snowden Racing
66 Ciaron Maher
Leading stallion Snitzel once again heads the sires with 83 Blue Diamond nominations, while Catchy's sire Fastnet Rock has 49 noms.
83 Snitzel
78 I Am Invincible
49 Fastnet Rock
Nominations of interest to us include two Snitzel colts and one Sebring filly with Robbie Griffiths and Australian Thoroughbred Bloodstock.
The first is a beautifully bred Snitzel x Slice Of Paradise colt who sold for $1,000,000 in this year's Inglis Easter Yearling Sale (Lot 354).
He was purchased by Australian Thoroughbred Bloodstock, CB Bloodstock & Griffiths Racing as part of the Victorian Stallions Program initiative.
This colt's dam, Slice Of Paradise (Encosta De Lago), is a full sister to champion mare Alinghi and mother of ill-fated 2010 Blue Diamond third placegetter Beneteau, a son of Redoute's Choice.
The second entry is an impressive Snitzel x Royal Glow colt purchased at the same sale for $580,000 (Lot 320) in the same interests as the Slice Of Paradise colt.
His mother Royal Glow, a daughter of King's Best, produced classy Danehill Stakes winner Kinglike (Exceed And Excel) and is a classy individual.
Last, and by no means least, is outstanding Rick Jamieson-bred Sebring x Miss Keepsake filly who was snapped up for $300,000 by Australian Thoroughbred Bloodstock, CB Bloodstock & Griffiths Racing once again at the Premier Yearling Sale (Lot 108).
This filly's mother Miss Keepsake (Keeper) is a Group 1 Queensland Oaks winner and her family pedigree simply oozes class.
Australian Thoroughbred Bloodstock's Darren Dance has three quality young gallopers nominated for the 2018 Blue Diamond Stakes and all three are outstanding types.
2018 Blue Diamond Entries
The 2018 Blue Diamond Stakes will take place on Saturday 24th February 2018 at Caulfield racecourse.
$1,500,000 Group 1 – Set Weights
Colts & Geldings 56.5kg – Fillies 54.5kg
No allowances for apprentices.
Trainer/Business – Name Sire x Dam
---
Allison Sheehan – Iracebeth Congrats x Beautiful Buns
Amy Johnston – Animal Kingdom x Menage A Charge
Amy Johnston – Bel Esprit x Westchester
Amy Johnston – Hinchinbrook x Miss Tipsy Topsy
Amy Johnston – Magic Albert x Amphritite
Amy Johnston – Magnus x The Girlfriend
Amy Johnston – Reset x Tango Express
Amy Johnston – Smart Missile x Retro Chic
Andrew Noblet – Bullbars x Kellys Ocean Jewel
Andrew Noblet – Gingerbread Man x Fiorentina
Andrew Noblet – Per Incanto x Roseario
Angus River Cont – All American x Miss St Tropez
Angus River Cont – Hinchinbrook x Savsenga
Anthony Cummings – Casino Prince x La Belle Luisa
Anthony Cummings – Denman x Watchme
Anthony Cummings – Fastnet Rock x My Tusker
Anthony Cummings – Magnus x Ciguaraya
Anthony Cummings – Pierro x Halle Rocks
Anthony Cummings – Uncle Mo x Pointed
Aquis Farm – Albrecht x Inca Lagoon
Aquis Farm – Choisir x Mining Tycoon
Aquis Farm – Choisir x For Your Eyes Only
Aquis Farm – Delago Deluxe x Betrille
Aquis Farm – Denman x Crevice
Aquis Farm – Domesday x Premeditated
Aquis Farm – Legion Of Boom Duporth x Baby Boom
Aquis Farm – Fastnet Rock x Miss Jakeo
Aquis Farm – Hinchinbrook x Acorker
Aquis Farm – Love Conquers All x Lady Leo
Aquis Farm – Not A Single Doubt x It's Fun
Aquis Farm – Pierro x Fast 'N' Witty
Aquis Farm – Redoute's Choice x Beauty Belle
Aquis Farm – Sizzling x Games
Aquis Farm – Snitzel x Twilight Royale
Aquis Farm – Snitzel x Victory Romance
Aquis Farm – Written Tycoon x Hot Spa
Aquis Farm – Zoustar x She's Meaner
Aquis Farm – Zoustar x Another Superior
Archie Alexander – Helmet x Gold Digger Miss
Archie Alexander – Magnus x Zaraya Rose
Archie Alexander – Pierro x Maiya Nova
Archie Alexander – Unencumbered x Lady Zabeel
Archie Alexander – Written Tycoon x Salamander Bay
Arrowfield Training Centre – Not A Single Doubt x Senator Beck
Arrowfield Training Centre – Redoute's Choice x Keratiya
Arrowfield Training Centre – Redoute's Choice x Luna Bella
Arrowfield Training Centre – Redoute's Choice x Perisher Valley
Arrowfield Training Centre – Smart Missile x St. Therise
Arrowfield Training Centre – Snitzel x National Colour
Arthur Kalivas – Elvis On Tour x Regit
Bjorn Baker – Bernardini x Amelia's Secret
Bjorn Baker – Choisir x Paymistress
Bjorn Baker – Gotta Minute Choisir x Seeyalater
Bjorn Baker – Greyt Love Denman x Greytfilly
Bjorn Baker – Dundeel x Miss Finland
Bjorn Baker – Hinchinbrook x Liamena
Bjorn Baker – Hinchinbrook x Ruggles
Bjorn Baker – I Am Invincible x Rich Megadale
Bjorn Baker – More Than Ready x Celeris
Bjorn Baker – Miracleofmiracles More Than Ready x Miraculous Miss
Bjorn Baker – Not A Single Doubt x Miss Sharapova
Bjorn Baker – Not A Single Doubt x Sister Bruce
Bjorn Baker – Redoute's Choice x Lago Ovation
Bjorn Baker – Shamus Award x Courgette
Bjorn Baker – Star Witness x Faker
Bjorn Baker – Star Witness x Ain'T Half Hot
Bjorn Baker – Stratum x Warpath
Bjorn Baker – Testa Rossa x Critical Angel
Blueblood Thoroughbreds – Choisir x Lacada Siren
Blueblood Thoroughbreds – Entitlement Unencumbered x Encosta Bel
Brad Widdup – All American x Hussterics
Brad Widdup – Exceed And Excel x Girl Hussler
Brad Widdup – Fastnet Rock x Belmont Cat
Brad Widdup – I Am Invincible x You Can Dance
Brad Widdup – More Than Ready x Kawanishi
Brad Widdup – Mossman x Moon Candy
Brad Widdup – Sizzling x Miss Judged
Brad Widdup – Sizzling x Midnight Dancer
Brad Widdup – Snitzel x Tallow
Brad Widdup – Snitzel x Pravana
Brad Widdup – Snitzel x City Of Song
Brad Widdup – Snitzel x Alice's Smart
Brad Widdup – Snitzel x Very Cherry
Brendan McCarthy – Written Tycoon x Divine Princess
Brett Partelle – Pierro x Hi Belle
Brett Partelle – Pierro x Miss Mittagong
Brett Partelle – So You Think x Follow The Till
Brian McGrath – Burgundy x Paraiba
Chad Ormsby – Rip Van Winkle x Miss Ottey
Chris Handley – Ta Chanson Your Song x Discretion
Chris Hyland – Artie Schiller x She's My Baby
Chris Hyland – Danerich x Zakuska
Chris Waller – Artie Schiller x Mahira
Chris Waller – Choisir x Milzeel
Chris Waller – Choisir x Malbun
Chris Waller – Epaulette x Oh Dehere
Chris Waller – Exceed And Excel x Candlelight
Chris Waller – Exceed And Excel x Fragmentation
Chris Waller – Exceed And Excel x Gavroche
Chris Waller – Fastnet Rock x Action Annie
Chris Waller – Fastnet Rock x Graceful Anna
Chris Waller – Fastnet Rock x Inglorious
Chris Waller – Foxwedge x Hides
Chris Waller – Foxwedge x Permission To Land
Chris Waller – Hinchinbrook x Kaaptive Empress
Chris Waller – Hinchinbrook x Riverina
Chris Waller – Seles I Am Invincible x Defy The Odds
Chris Waller – I Am Invincible x Lucky Diva
Chris Waller – Pembroke Castle I Am Invincible x Callista
Chris Waller – Fiesta I Am Invincible x Now Now
Chris Waller – I Am Invincible x Woppitt
Chris Waller – I Am Invincible x Khepri
Chris Waller – I Am Invincible x Resetgold
Chris Waller – I Am Invincible x Sansadee
Chris Waller – Lord Kanaloa x Asterix
Chris Waller – Medaglia D'Oro x Za Star
Chris Waller – More Than Ready x Devil's Thumbprint
Chris Waller – More Than Ready x Kyria
Chris Waller – Pierro x We Betcha
Chris Waller – Pierro x Indian Ocean
Chris Waller – Redoute's Choice x Azmiyna
Chris Waller – Redoute's Choice x Lator Gator
Chris Waller – Redoute's Choice x Kisma
Chris Waller – Reliable Man x Gypsy Jewels
Chris Waller – Sebring x Roman Treasure
Chris Waller – Sebring x Belladini
Chris Waller – Shamus Award x Talent
Chris Waller – Burbank Sizzling x Matineeidol
Chris Waller – Snitzel x Shawnee Girl
Chris Waller – Snitzel x Sananda
Chris Waller – Snitzel x Zapurple
Chris Waller – Snitzel x Awesome Planet
Chris Waller – Snitzel x Sabanci
Chris Waller – Tapit x Dixie Smile
Chris Waller – Aritomo The Factor x Haiku
Chris Waller – Written Tycoon x Exposed
Chris Waller – Zoustar x Teardrop Rock
Chris Waller – Revasseur Zoustar x Dream 'N' Believe
Chris Waller – Zoustar x Magic Fingers
Chris Waller – Categoric Zoustar x Thekatcamehome
Chris Waller – Zoustar x Armanjena
Chris Waller – Zoustar x Cabernet
Chris Waller – Zoustar x Combat Kitty
Chris Waller – Zoustar x Pasar Silbano
Chris Waller – Zoustar x Queen Of The Falls
Chris Waller – Zoustar x Rossarita
Chris Waller – Plenty Zoustar x Ubiquity
Chris Waller – Zoustar x Whatever Happens
Chris Waller – Zoustar x Permaiscuous
Ciaron Maher – All American x Kirovskaya
Ciaron Maher – Americain x Lavenham
Ciaron Maher – Camelot x Papillon Rouge
Ciaron Maher – Choisir x Elldarragh
Ciaron Maher – Denman x Skidoodle
Ciaron Maher – Denman x Princess Wiltons
Ciaron Maher – Domesday x Graskop
Ciaron Maher – Domesday x Resetting
Ciaron Maher – Dundeel x Sunset Boulevard
Ciaron Maher – Dundeel x Incredulous
Ciaron Maher – Dundeel x Miss Evasive
Ciaron Maher – Epaulette x Dubonnet
Ciaron Maher – Equiano x Raining
Ciaron Maher – Fastnet Rock x Livealifeoflove
Ciaron Maher – Fastnet Rock x Lectrice
Ciaron Maher – Fastnet Rock x Chocolicious
Ciaron Maher – Foxwedge x Bardego
Ciaron Maher – Helmet x Hierogram
Ciaron Maher – Helmet x Fantagonal
Ciaron Maher – High Chaparral x Villa Mourna
Ciaron Maher – High Chaparral x Cambridge
Ciaron Maher – High Chaparral x Tropicana Lady
Ciaron Maher – I Am Invincible x Soorena
Ciaron Maher – I Am Invincible x Romany Flyer
Ciaron Maher – I Am Invincible x Vienese Lass
Ciaron Maher – Kuroshio x Countess Creed
Ciaron Maher – Lucas Cranach x Schillers
Ciaron Maher – Medaglia D'Oro x Soul Mama
Ciaron Maher – Sutphin Boulevard Medaglia D'Oro x Valourina
Ciaron Maher – More Than Ready x Emanday
Ciaron Maher – Razorwhip Myboycharlie x Celtic Cutie
Ciaron Maher – Not A Single Doubt x Busking
Ciaron Maher – Ocean Park x Corsicana
Ciaron Maher – Ocean Park x Enjoy
Ciaron Maher – O'Reilly x Stryiker
Ciaron Maher – O'Reilly x Stanica
Ciaron Maher – O'Reilly x Barbara Ann
Ciaron Maher – O'Reilly x Lovetrista
Ciaron Maher – Pierro x Rock Success
Ciaron Maher – Pluck x Flying Gigi
Ciaron Maher – Redoute's Choice x Fate Rules
Ciaron Maher – Reliable Man x Magic Belle
Ciaron Maher – Reliable Man x My Hope
Ciaron Maher – Savabeel x Fairy Oak
Ciaron Maher – Sebring x Princess Peggy
Ciaron Maher – Sebring x Chateau D'Yquem
Ciaron Maher – Sebring x My Emotion
Ciaron Maher – Shamexpress x The Opera House
Ciaron Maher – Shamus Award x Pink Siris
Ciaron Maher – Sizzling x Ducey Du
Ciaron Maher – Smart Missile x Tale Of Love
Ciaron Maher – Snitzel x World Of Gold
Ciaron Maher – So You Think x See The Music
Ciaron Maher – So You Think x Sam I Am
Ciaron Maher – Star Witness x Modern Etiquette
Ciaron Maher – Night Terror Statue Of Liberty x Luscious Lips
Ciaron Maher – Stratum x Flamboyance
Ciaron Maher – Street Boss x Villa Albani
Ciaron Maher – Stryker x Recurring
Ciaron Maher – Unencumbered x Pintile
Ciaron Maher – Written Tycoon x Mirage Rouge
Ciaron Maher – Written Tycoon x I'M Too Sexy
Ciaron Maher – Written Tycoon x Fanciful Bella
Ciaron Maher – Typhoomerang Zoffany x La Primavera
Ciaron Maher – Zoustar x Snow Bell
Ciaron Maher – Zoustar x Mandawara
Cindy Alderson – Pierro x Kirvinsky
Cindy Alderson – Reward For Effort x Tio Rossa
Cindy Alderson – Reward For Effort x Analign
Cindy Alderson – So You Think x Aquada
Clarry Conners – Viral Al Maher x Tyche
Clarry Conners – Cap Griz Nez Redoute's Choice x Kidman
Clarry Conners – Ivira Reward For Effort x Our Girl Charlize
Clarry Conners – Venom So You Think x Dorf Command
Clinton McDonald – Choisir x Our Duchess
Clinton McDonald – High Chaparral x Lupara
Clinton McDonald – Shamus Award x Lady Katina
Clinton McDonald – Testa Rossa x Famous Painter
Clinton McDonald – Written Tycoon x Neon Bel
Cloud Nine Thoroughbreds – Fastnet Rock x Fleur De'Here
Cloud Nine Thoroughbreds – The August I Am Invincible x Acouplamas
Cloud Nine Thoroughbreds – Redoute's Choice x Hifalutin
Cloud Nine Thoroughbreds – Blue Earth Redoute's Choice x Hidden Energy
Cloud Nine Thoroughbreds – Snitzel x Fiesoile
Cloud Nine Thoroughbreds – Water Union Star Witness x Junipers
Cloud Nine Thoroughbreds – Zoustar x Sun Maid
Colin Scott – Reward For Effort x Miss Alia
Coolmore Australia – Pierro x Bombay
Corumbene Stud – Natalia Choisir x Booralee
Corumbene Stud – Exceed And Excel x Bennetta
Corumbene Stud – Lilith Hinchinbrook x Loveday
Corumbene Stud – Antonio I Am Invincible x Tropicana Girl
Corumbene Stud – Sweet Ava Snitzel x Isurava
Corumbene Stud – Omar Snitzel x Ichihara
Damien Williams – Canford Cliffs x Cloudcatcher
Dan O'sullivan – Dalakhani x Ambika
Dan O'sullivan – Sepoy x Bowerbird
Daniel Bougoure – Sizzling x Tipsy Lane
Daniel Bougoure – Smart Missile x Rainboy Joy
Daniel Williams – Reward For Effort x Informal
Danny O'Brien – Artie Schiller x Eimhis
Danny O'Brien – Dawn Approach x Brand New Choice
Danny O'Brien – Pierro x Belle Couture
Danny O'Brien – Pierro x Nediym's Glow
Danny O'Brien – Embrace Me Shamexpress x Party Royal
Danny O'Brien – Shamus Award x Emblem Of Liberty
Danny O'Brien – Your Song x Madamesta
Darby Racing – Now Or Never All American x Milanesa
Darby Racing – Bullet Express Bullet Train x Knotty
Darby Racing – Setsuna Choisir x Longoria
Darby Racing – Congrats x Danasierra
Darby Racing – His Kingdom Denman x Press The Button
Darby Racing – Dream Ahead x Rich Russian
Darby Racing – Eurozone x Creme Caramel
Darby Racing – Eurozone x Kawakawa
Darby Racing – Fastnet Rock x Chi
Darby Racing – Manhattan Rain x The Flying Nun
Darby Racing – Dio D'Oro Medaglia D'Oro x Seeking Attention
Darby Racing – God Of Thunder More Than Ready x Jolie Bay
Darby Racing – Pierro x Call Me Pretty
Darby Racing – Poet's Voice x Soweto
Darby Racing – Reset x Fiction
Darby Racing – Sebring x Royal Lineup
Darby Racing – Infinite Dreams Sepoy x Devil Inside
Darby Racing – Skilled x Riddle Me
Darby Racing – Nuclear Burst Smart Missile x Pauline De Lago
Darby Racing – Smart Missile x Cash Crazy
Darby Racing – Fury Of The Storm Snitzel x El Pauji
Darby Racing – Snitzel x Headway
Darby Racing – Age Of War Snitzel x Lady Zabelia
Darby Racing – Starchild Star Witness x Midnight Gold
Darby Racing – Stratum x Rippled
Darby Racing – Unimpeded Unencumbered x Lilly In Love
Darby Racing – Unencumbered x Orutan
Darby Racing – War x Optimizing
Darby Racing – Zizou x Allblack Lass
Darren Weir – Lexxistar All American x Leximadeleine
Darren Weir – Kaplumpich All American x Illusionary
Darren Weir – All Too Hard x Helping Hand
Darren Weir – Americain x And Rock
Darren Weir – Animal Kingdom x Perfect Tempo
Darren Weir – Artie Schiller x Oak Park Shannon
Darren Weir – Congrats x Dream Diva
Darren Weir – Denman x Sworn Revenge
Darren Weir – Domesday x Dom Perion
Darren Weir – Dream Ahead x Oberne Rose
Darren Weir – Fiera Vista Exceed And Excel x Empress Jade
Darren Weir – Appian Way Exceed And Excel x Avenue
Darren Weir – Can Exceed Exceed And Excel x Canashito
Darren Weir – Fastnet Rock x Azumi
Darren Weir – Fiorente x Affairoftheheart
Darren Weir – Fiorente x Rosa Perlato
Darren Weir – Helmet x Grant's Moon
Darren Weir – Doonya Helmet x Basima
Darren Weir – Leonardo Da Hinchi Hinchinbrook x Portrait
Darren Weir – Farthing Wood Hinchinbrook x Andromache
Darren Weir – Invincible Fille I Am Invincible x Etoile Fille
Darren Weir – Lonhro x Planet Rock
Darren Weir – More Than Ready x Whateverwhenever
Darren Weir – Nicconi x Clear View
Darren Weir – Haalan O'Reilly x Mahmooda
Darren Weir – O'Mizzna O'Reilly x Mizzna
Darren Weir – Redoute's Choice x Ain'Tnofallenstar
Darren Weir – Redoute's Choice x Magic Briar
Darren Weir – Reward For Effort x Hushabye Baby
Darren Weir – Reward For Effort x Alteration
Darren Weir – Reward For Effort x Impossibleprincess
Darren Weir – Sebring x Miss Marx
Darren Weir – Sepoy x Further
Darren Weir – Native Soldier Sepoy x Belong To Many
Darren Weir – Visibly Sepoy x Vintedge
Darren Weir – Shocking x Art Beat
Darren Weir – Mister Ballistic Smart Missile x Strictly Personal
Darren Weir – Smart Missile x Devoirs
Darren Weir – Ninasenko Snitzel x Equiparada
Darren Weir – Mystical Rose So You Think x Chandon Rose
Darren Weir – Spirit Of Boom x Shaft's Destiny
Darren Weir – Crafty Girl Starcraft x Fernande
Darren Weir – Stratum x Shiraki
Darren Weir – My Boss Street Boss x My Choisir
Darren Weir – Written Tycoon x Burnished
Darren Weir – Written Tycoon x Blessit
Darren Weir – Mystery Tycoon Written Tycoon x Kimo Sabi
Darren Weir – Your Song x Santenay
Darren Weir – Your Song x Apamene
David Brideoake – Exceed And Excel x Diva Dee
David Brideoake – Exceed And Excel x Nureyev's Girl
David Brideoake – Hinchinbrook x Ordinance
David Brideoake – Pierro x Blonde Humor
David Brideoake – Strategic x Northern Rose
David Brideoake – Stratum x Solar Antiquity
David Brideoake – Unencumbered x Wings Of Success
David Payne – Commentator Poet's Voice x Sheen
David Payne – Dream Child Dream Ahead x Courtyard Circle
David Payne – Kentford Master Of Design x Tale Of Harmony
David Payne – Momentum Factor The Factor x Angel's Breath
David Payne – Lope De Vega x Skibo Castle
David Payne – Reagan All American x Merlene De Lago
David Payne – Battle Plane Declaration Of War x Indy Cash
David Payne – Rock Zone All Too Hard x Rock Me Baby
David Payne – All Too Hard x Husskila
David Payne – Redoute's Choice x Dowager Queen
David Payne – Hinchinbrook x Little Evie
David Payne – Georgia Hit Star Witness x Smash Hit
David Pfieffer – Fighting Sun x Sinuous
Dean Binaisse – Predecessor Epaulette x Exquisite
Domain Thoroughbreds – Declaration Of War x Kristeva
Domain Thoroughbreds – Lope De Vega x Sonette
Dowling Park – Mossman x Siwa Lady
Dynamic Syndications – All Too Hard x Galapagos Girl
Dynamic Syndications – All Too Hard x Pas De Deux
Dynamic Syndications – Americain x Paris Tryst
Dynamic Syndications – Dundeel x Funzero
Dynamic Syndications – Loving Heart Epaulette x Lucentino
Dynamic Syndications – Excelebration x Laurinel Argie
Dynamic Syndications – Fastnet Rock x Temple Of Peace
Dynamic Syndications – Lonhro x Imananabaa
Dynamic Syndications – Medaglia D'Oro x Catalan Bay
Dynamic Syndications – Pure Faith Pierro x Faith Hill
Dynamic Syndications – Pierro x Mafia Miss
Dynamic Syndications – Pierro x Special Episode
Dynamic Syndications – Redoute's Choice x Lovetessa
Dynamic Syndications – Sizzling x Nova
Dynamic Syndications – Smart Missile x Highland Daughter
Dynamic Syndications – Ready To Prophet Smart Missile x Ready To Live
E.A Huglin – Madam Manihi Written Tycoon x Manihi Miss
E.A Huglin – Written Tycoon x Raffane
Ed Covey – Squamosa x Smokin' Jewel
Edward O'Rourke – Epaulette x Aim For Gold
Edward O'Rourke – More Than Ready x Elfina
Edward O'Rourke – So You Think x Doubtfilly
Edward O'Rourke – Unencumbered x Live In Black
Ellerslie Lodge – Mossman x Winning Belle
Ellerslie Lodge – Sebring x Enide
Ellerslie Lodge – Snitzel x Seaside Home
Ellerton Zahra Racing – All Too Hard x Stacked
Ellerton Zahra Racing – Canford Cliffs x Go Hayley Go
Ellerton Zahra Racing – Canford Cliffs x Phosphorescence
Ellerton Zahra Racing – Charge Forward x Ebony Wand
Ellerton Zahra Racing – Choisir x Jive Talk
Ellerton Zahra Racing – Fighting Sun x Darmasanda
Ellerton Zahra Racing – Helmet x Noondie
Ellerton Zahra Racing – Helmet x Miss Chaski
Ellerton Zahra Racing – Hinchinbrook x Bionic Girl
Ellerton Zahra Racing – Kuroshio x Regrade
Ellerton Zahra Racing – Lonhro x Nakaaya
Ellerton Zahra Racing – Magnus x Voltara
Ellerton Zahra Racing – Master Of Design x Lovely Rita
Ellerton Zahra Racing – Nicconi x Millefiori
Ellerton Zahra Racing – Pierro x Avionics
Ellerton Zahra Racing – Poets Voice x Cinnamon Bells
Ellerton Zahra Racing – Redoute's Choice x Racing Nadine
Ellerton Zahra Racing – Reward For Effort x Street Lover
Ellerton Zahra Racing – So You Think x Swinging Feeling
Ellerton Zahra Racing – Starcraft x Vortex
Ellerton Zahra Racing – Written Tycoon x Gem Of Gems
Ellerton Zahra Racing – Zoustar x Atotori
Ellerton Zahra Racing – Zoustar x Farasha
Ellerton Zahra Racing – Zoustar x Palomita
Emmanuel Bloodstock – Stratum x Mother's Milk
Eurell – Danerich x Early Wakening
Eurell – Declaration Of War x In The Limelight
Eurell – Shamus Award x Rocket Baby
Eurell – Trusting x No Objection
Eurell – Turffontein x Personal Ensign
Farrell – Shukran Mulaazem x Shahana
Flying Start Syndications – Sebring x Ocean Dream
Freedman Racing – All Too Hard x Night War
Freedman Racing – Bernardini x Crillon
Freedman Racing – Declaration Of War x Cardiac
Freedman Racing – Exceed And Excel x Shimasani
Freedman Racing – Fastnet Rock x The Broken Shore
Freedman Racing – Fighting Sun x Imtops
Freedman Racing – Foxwedge x Shekinaar
Freedman Racing – I Am Invincible x Nearly Did
Freedman Racing – I Am Invincible x Ailuros
Freedman Racing – Not A Single Doubt x Pegasus Queen
Freedman Racing – Pierro x Hollyweird
Freedman Racing – Sebring x Parfaits
Freedman Racing – Shamus Award x Pottery
Freedman Racing – Sizzling x La Camille
Freedman Racing – Sizzling x She's Warrego
Freedman Racing – Sizzling x Mia Cat Dancer
Freedman Racing – The Factor x Rachael's Pride
Freedman Racing – Zoustar x Lady La Douce
Freedman Racing – Zoustar x Petty Cury
G.S.A Bloodstock – High Chaparral x Zapurb
G.S.A Bloodstock – Stratum x Purely Spectacular
Gai Waterhouse & Adrian Bott – Al Maher x Muscatels
Gai Waterhouse & Adrian Bott – All Too Hard x Daly River
Gai Waterhouse & Adrian Bott – All Too Hard x Mate
Gai Waterhouse & Adrian Bott – All Too Hard x Rose Pattern
Gai Waterhouse & Adrian Bott – All Too Hard x Sunset Coast
Gai Waterhouse & Adrian Bott – Charge Forward x Personification
Gai Waterhouse & Adrian Bott – Nicola Charge Forward x Walkway
Gai Waterhouse & Adrian Bott – Choisir x Amo Ami Ama
Gai Waterhouse & Adrian Bott – Choisir x Sacred Voyage
Gai Waterhouse & Adrian Bott – Classic Player Declaration Of War x Miss Milanese
Gai Waterhouse & Adrian Bott – Declaration Of War x Halsey
Gai Waterhouse & Adrian Bott – Dream Ahead x More Than Royal
Gai Waterhouse & Adrian Bott – Dream Ahead x Paris Perfume
Gai Waterhouse & Adrian Bott – Dundeel x Rap Tale
Gai Waterhouse & Adrian Bott – Epaulette x Blue Note
Gai Waterhouse & Adrian Bott – Exceed And Excel x Grenada Road
Gai Waterhouse & Adrian Bott – Exceed And Excel x Mabsam
Gai Waterhouse & Adrian Bott – Exceed And Excel x Mae Gone West
Gai Waterhouse & Adrian Bott – Exceed And Excel x Snowdrift
Gai Waterhouse & Adrian Bott – Exceed And Excel x Tears I Cry
Gai Waterhouse & Adrian Bott – Exceed And Excel x Mysterious Light
Gai Waterhouse & Adrian Bott – Excelebration x Better Life
Gai Waterhouse & Adrian Bott – Fastnet Rock x No Evidence Needed
Gai Waterhouse & Adrian Bott – Fighting Sun x Arikara
Gai Waterhouse & Adrian Bott – Fighting Sun x Social Glow
Gai Waterhouse & Adrian Bott – Fiorente x Fulminate
Gai Waterhouse & Adrian Bott – Harbour Watch x Munyate
Gai Waterhouse & Adrian Bott – I Am Invincible x Ghaliah
Gai Waterhouse & Adrian Bott – I Am Invincible x Helvetica
Gai Waterhouse & Adrian Bott – I Am Invincible x Minnie Costa
Gai Waterhouse & Adrian Bott – I Am Invincible x Moonlight Music
Gai Waterhouse & Adrian Bott – I Am Invincible x North Pole Dancer
Gai Waterhouse & Adrian Bott – I Am Invincible x Port Providence
Gai Waterhouse & Adrian Bott – I Am Invincible x Prairie Star
Gai Waterhouse & Adrian Bott – Leroidesanimaux x Aiden Sea
Gai Waterhouse & Adrian Bott – Lonhro x Adaline
Gai Waterhouse & Adrian Bott – Lonhro x Inchita
Gai Waterhouse & Adrian Bott – Manhattan Rain x Cheyenne Sue
Gai Waterhouse & Adrian Bott – Medaglia D'Oro x Loveyamadly
Gai Waterhouse & Adrian Bott – Medaglia D'Oro x Emancipationist
Gai Waterhouse & Adrian Bott – Medaglia D'Oro x Lady Lynette
Gai Waterhouse & Adrian Bott – Medaglia D'Oro x Love To Tell
Gai Waterhouse & Adrian Bott – Medaglia D'Oro x Rekindled Glory
Gai Waterhouse & Adrian Bott – Fabulosa More More Than Ready x Absolutelyfabulous
Gai Waterhouse & Adrian Bott – Lady Marvel More Than Ready x Mary Marvel
Gai Waterhouse & Adrian Bott – More Than Ready x Opulence Start
Gai Waterhouse & Adrian Bott – More Than Ready x Purespeed
Gai Waterhouse & Adrian Bott – More Than Ready x Single Style
Gai Waterhouse & Adrian Bott – Not A Single Doubt x Quiet Maggy
Gai Waterhouse & Adrian Bott – Per Incanto x Fast Quickstep
Gai Waterhouse & Adrian Bott – Pierro x Demanding Miss
Gai Waterhouse & Adrian Bott – Pierro x Lucky Angel
Gai Waterhouse & Adrian Bott – Pierro x Street Groove
Gai Waterhouse & Adrian Bott – Prospero Pierro x Nova Star
Gai Waterhouse & Adrian Bott – Redoute's Choice x Anabarbarian
Gai Waterhouse & Adrian Bott – Redoute's Choice x Piste Noire
Gai Waterhouse & Adrian Bott – Savabeel x Glam Slam
Gai Waterhouse & Adrian Bott – Savabeel x Illuminates
Gai Waterhouse & Adrian Bott – Savabeel x In The Mood
Gai Waterhouse & Adrian Bott – Scintillo x Diva Dance
Gai Waterhouse & Adrian Bott – Sebring x Hanky Panky
Gai Waterhouse & Adrian Bott – Sebring x Berna
Gai Waterhouse & Adrian Bott – Sebring x Caiguna
Gai Waterhouse & Adrian Bott – Sebring x Dane Beltar
Gai Waterhouse & Adrian Bott – Sebring x Delorosa
Gai Waterhouse & Adrian Bott – Sebring x Demonstrable
Gai Waterhouse & Adrian Bott – Sebring x Exquisite Art
Gai Waterhouse & Adrian Bott – Sebring x Indycatfighter
Gai Waterhouse & Adrian Bott – Sebring x Leone Chiara
Gai Waterhouse & Adrian Bott – Sebring x Ma Famille
Gai Waterhouse & Adrian Bott – Sebring x No Looking Back
Gai Waterhouse & Adrian Bott – Sebring x Rocha
Gai Waterhouse & Adrian Bott – Sebring x Royal Chalee
Gai Waterhouse & Adrian Bott – Smart Missile x Bondarenko
Gai Waterhouse & Adrian Bott – Smart Missile x Certain Promise
Gai Waterhouse & Adrian Bott – Smart Missile x Miss Vandal
Gai Waterhouse & Adrian Bott – Snitzel x Brandish
Gai Waterhouse & Adrian Bott – Snitzel x Ilhaam
Gai Waterhouse & Adrian Bott – Snitzel x Lanai
Gai Waterhouse & Adrian Bott – Snitzel x Nutkin
Gai Waterhouse & Adrian Bott – Snitzel x Shahad
Gai Waterhouse & Adrian Bott – Snitzel x Wonderlandbynight
Gai Waterhouse & Adrian Bott – Snitzel x Miss Match
Gai Waterhouse & Adrian Bott – Snitzel x Princess Coup
Gai Waterhouse & Adrian Bott – Man And Superman So You Think x Romincka
Gai Waterhouse & Adrian Bott – Lucand Lad Squamosa x Lucand Star
Gai Waterhouse & Adrian Bott – Squamosa x Princess Arow
Gai Waterhouse & Adrian Bott – Squamosa x Porcellanus
Gai Waterhouse & Adrian Bott – Star Witness x Kings Concubine
Gai Waterhouse & Adrian Bott – Star Witness x Shantha's Girl
Gai Waterhouse & Adrian Bott – Star Witness x Taylor's Command
Gai Waterhouse & Adrian Bott – Stratum x Canny Dancer
Gai Waterhouse & Adrian Bott – Super Easy x Lycme
Gai Waterhouse & Adrian Bott – Tapit x Hour Glass
Gai Waterhouse & Adrian Bott – The Factor x Fill The Page
Gai Waterhouse & Adrian Bott – Zoustar x It's All For You
Gai Waterhouse & Adrian Bott – Zoustar x Danrego
Gary Portelli – Choisir x For Your Eyes Only
Gary Portelli – Patronize x Red Belly Black
Gary Portelli – Poet's Voice x More Charm
Gary Portelli – Redoute's Choice x Turf Fairy
Gary Portelli – Spirit Of Boom x Silken Whisper
Gemma Rielly – Strategic Maneuver x Hubba Hubba
Gerald Ryan – Bernardini x Sweet Corn
Gerald Ryan – Epaulette x Demanding
Gerald Ryan – Fighting Sun x Lady Phoebe
Gerald Ryan – Lonhro x Armed For Action
Gerald Ryan – Mossman x Attunga Rose
Gerald Ryan – Not A Single Doubt x Pinwin
Gerald Ryan – Not A Single Doubt x Rhodamine
Gerald Ryan – Pierro x Gai's Choice
Gerald Ryan – Pierro x Southern Venture
Gerald Ryan – Redoute's Choice x Faint Perfume
Gerald Ryan – Redoute's Choice x Timbourina
Gerald Ryan – Sepoy x Ladys Angel
Gerald Ryan – Smart Missile x Hoist
Gerald Ryan – Snitzel x One Sweet Day
Gerald Ryan – Star Witness x In Lighten
Gerald Ryan – Zoustar x Oxigenada
Gilgai Farm – Bel Esprit x Baltics
Gilgai Farm – Sebring x Sachariste
Gilgai Farm – Shamus Award x Mine Game
Godolphin Australia – Sanglier Albrecht x More Haste
Godolphin Australia – Albrecht x Shouts
Godolphin Australia – Leopard Animal Kingdom x Essaouira
Godolphin Australia – Rheingau Animal Kingdom x Rheinfels
Godolphin Australia – Terrior Animal Kingdom x Vintner
Godolphin Australia – Sedgemoor Bernardini x Disputes
Godolphin Australia – Stiver Bernardini x Coins
Godolphin Australia – Begin Dawn Approach x Chatoyant
Godolphin Australia – Condemned Dawn Approach x Only She Can
Godolphin Australia – Gongs Dawn Approach x Belcentra
Godolphin Australia – Hesperides Dawn Approach x Chiara
Godolphin Australia – Mars Orbit Dawn Approach x Astronomia
Godolphin Australia – Skagerrak Dawn Approach x Itameri
Godolphin Australia – Coach Denman x Patina
Godolphin Australia – Domesday x Unswerving
Godolphin Australia – Ouachita Epaulette x Ouchita
Godolphin Australia – Ariege Exceed And Excel x Montsegur
Godolphin Australia – Buoyancy Exceed And Excel x Pure Energy
Godolphin Australia – Caesura Exceed And Excel x Segue
Godolphin Australia – Canzonet Exceed And Excel x Renaissance
Godolphin Australia – Exceed And Excel x Caveat
Godolphin Australia – Destorner Exceed And Excel x Detours
Godolphin Australia – Distracted Exceed And Excel x Dreamy
Godolphin Australia – Dynamited Exceed And Excel x Shatters
Godolphin Australia – Efficiently Exceed And Excel x Dextrous
Godolphin Australia – Elessedil Exceed And Excel x Shannara
Godolphin Australia – Endymion Exceed And Excel x Brilliance
Godolphin Australia – Fallgold Exceed And Excel x Raspberries
Godolphin Australia – Gododdin Exceed And Excel x Bernicia
Godolphin Australia – Gorgons Exceed And Excel x Eurale
Godolphin Australia – Hemsted Exceed And Excel x Benenden
Godolphin Australia – Hiemal Exceed And Excel x Arctic Drift
Godolphin Australia – La Romanina Exceed And Excel x Metastasio
Godolphin Australia – Metrical Exceed And Excel x Hexameter
Godolphin Australia – Micawber Exceed And Excel x Dilly Dally
Godolphin Australia – Nindamos Exceed And Excel x Neroli
Godolphin Australia – Nivalis Exceed And Excel x Sastruga
Godolphin Australia – Osorno Exceed And Excel x Antillanca
Godolphin Australia – Pindus Exceed And Excel x Melpomene
Godolphin Australia – Pretorius Exceed And Excel x Zauberflote
Godolphin Australia – Quaintly Exceed And Excel x Status Quo
Godolphin Australia – Quidni Exceed And Excel x Quidnunc
Godolphin Australia – Exceed And Excel x Seaces
Godolphin Australia – Solera Exceed And Excel x Rainbow
Godolphin Australia – Sparks Exceed And Excel x Dazzler
Godolphin Australia – Helmet x Cara Belle
Godolphin Australia – Leatherhead Helmet x Heat Of The Fire
Godolphin Australia – Helmet x Living Spirit
Godolphin Australia – Aboreal Lonhro x Koala Bear
Godolphin Australia – Encryption Lonhro x Guelph
Godolphin Australia – Lonhro x Forensics
Godolphin Australia – Kylix Lonhro x Key Bar Nights
Godolphin Australia – La Parva Lonhro x Portillo
Godolphin Australia – Malos Lonhro x Erato
Godolphin Australia – Marmaris Lonhro x Seaside
Godolphin Australia – Lonhro x Mascareri
Godolphin Australia – Mirfa Lonhro x Zubbaya
Godolphin Australia – Nanda Devi Lonhro x Nanda Kot
Godolphin Australia – Paua Lonhro x Iridescente
Godolphin Australia – Plague Stone Lonhro x Giggleswick
Godolphin Australia – Ranier Lonhro x Kanzan
Godolphin Australia – Restrained Lonhro x Moderate
Godolphin Australia – Right Chord Lonhro x Miss Right Note
Godolphin Australia – Roheryn Lonhro x Mannington
Godolphin Australia – Stunts Lonhro x Aerobatics
Godolphin Australia – Lonhro x Youthful Presence
Godolphin Australia – Membrillo Medaglia D'Oro x Pectin
Godolphin Australia – Multaja Medaglia D'Oro x Shelters
Godolphin Australia – Pohutukawa Medaglia D'Oro x Lumina
Godolphin Australia – Benedict Medaglia D'Oro x Benedictus
Godolphin Australia – Medaglia D'Oro x Celts
Godolphin Australia – Consolation Medaglia D'Oro x Altar
Godolphin Australia – Pacific Crest Medaglia D'Oro x Applegate
Godolphin Australia – Paraglide Medaglia D'Oro x Outdoor
Godolphin Australia – Medaglia D'Oro x Retsina
Godolphin Australia – Medaglia D'Oro x Sabie
Godolphin Australia – Sonja Medaglia D'Oro x Fratianne
Godolphin Australia – Transmitter Medaglia D'Oro x Radar
Godolphin Australia – Fake Sepoy x Plagiarize
Godolphin Australia – Haikili Sepoy x Maka Ena
Godolphin Australia – Isilmo Sepoy x Yavanna
Godolphin Australia – Jahez Sepoy x Lobola
Godolphin Australia – Nivelle Sepoy x Vimy
Godolphin Australia – Pellicle Sepoy x Seeking Susan
Godolphin Australia – Quenya Sepoy x Eldarin
Godolphin Australia – Rebukes Sepoy x Disciplined
Godolphin Australia – Sakura Sepoy x Cherry Lodge
Godolphin Australia – Serial Sepoy x Regal Cheer
Godolphin Australia – Unify Sepoy x Slovakia
Gollan Racing – Epaulette x Milieu
Gollan Racing – I Am Invincible x Radiant Star
Gollan Racing – Your Song x Sheeznodoubt
Gooree Park Stud – Exceed And Excel x Matras
Gooree Park Stud – More Than Ready x Gamble Me
Gooree Park Stud – Redoute's Choice x Kiss From A Rose
Gooree Park Stud – Shamus Award x Romantic Moon
Gooree Park Stud – Smart Missile x Cara Y Cruz
Gooree Park Stud – Smart Missile x Zutara
Graeme Smith – Rosy And Grey Dalakhani x Lone Ballad
Graeme Smith – Hinchinbrook x Orange Marmalade
Graeme Smith – Straight Torque Power x Katie O'Reilly
Graeme Smith – Skyquake Spirit Of Boom x Mystifying
Grahame Begg – Hinchinbrook x Can She Move
Grahame Begg – So You Think x So Sydney
Grahame Begg – Good Tactic Strategic Maneuver x Random Act
Grahame Begg – Written By Written Tycoon x Yau Chin
Grant Walker – Favor Of God Falvelon x Regalo Del Cielo
Gregory Macfarlane – Dream Ahead x Armagnac
Gregory Macfarlane – Hussonet x Super Bucks
Hawkes Racing – All Too Hard x Certainly Rosa
Hawkes Racing – All Too Hard x Dazzle Light
Hawkes Racing – All Too Hard x Fit And Ready
Hawkes Racing – All Too Hard x Fuhrnatic
Hawkes Racing – All Too Hard x Positive Dream
Hawkes Racing – All Too Hard x What A Treat
Hawkes Racing – All Too Hard x With My
Hawkes Racing – Animal Kingdom x Salutations
Hawkes Racing – Bel Esprit x Innovative
Hawkes Racing – Choisir x Berning Affair
Hawkes Racing – Choisir x Sweet Little Lies
Hawkes Racing – Dalakhani x Dane Blazer
Hawkes Racing – Denman x Only Words
Hawkes Racing – Dundeel x Cerberus Gal
Hawkes Racing – No Complaints Dundeel x Savannah's Choice
Hawkes Racing – Priestess Exceed And Excel x Prophet Jewel
Hawkes Racing – Fastnet Rock x Cats Whisker
Hawkes Racing – Fastnet Rock x Delyara
Hawkes Racing – Fastnet Rock x Sevruga
Hawkes Racing – I Am Invincible x Is Amazing
Hawkes Racing – I Am Invincible x Zyoon
Hawkes Racing – I Am Invincible x Mizzle
Hawkes Racing – More Than Ready x Personify
Hawkes Racing – O'Reilly x Volkrose
Hawkes Racing – Pierro x Bellevue Girl
Hawkes Racing – Pierro x Gallica
Hawkes Racing – Rock Pierro x Subtitle
Hawkes Racing – Redoute's Choice x Miss Stellabelle
Hawkes Racing – Redoute's Choice x Siwa
Hawkes Racing – Prince Of Caviar Sebring x Black Caviar
Hawkes Racing – Sebring x Epona Princess
Hawkes Racing – Sebring x Provence
Hawkes Racing – Sebring x Sayahailmary
Hawkes Racing – Sebring x Stellar Vinia
Hawkes Racing – Sebring x Steps In Time
Hawkes Racing – Sebring x Footprint
Hawkes Racing – Sepoy x Cyclonic
Hawkes Racing – Sepoy x Miss Atom Bomb
Hawkes Racing – Shamardal x Transfix
Hawkes Racing – Smart Missile x Pinpoint
Hawkes Racing – Kwott Rocky Snitzel x Bright Heart
Hawkes Racing – Snitzel x Response
Hawkes Racing – Snitzel x Top Cuban
Hawkes Racing – So You Think x Alisa Free
Hawkes Racing – Sequitur So You Think x Pontiana
Hawkes Racing – Star Witness x Midnight Rock
Hawkes Racing – Star Witness x My Dear Friend
Hayes & Dabernig – All American x Star Pose
Hayes & Dabernig – All Too Hard x Tivoli Dancer
Hayes & Dabernig – All Too Hard x Poppet's Treasure
Hayes & Dabernig – All Too Hard x Sublime Girl
Hayes & Dabernig – Artie Schiller x Bleue Pepite
Hayes & Dabernig – Bel Esprit x Mega Miss
Hayes & Dabernig – Bel Esprit x Tantalized
Hayes & Dabernig – Bernardini x Jestemma
Hayes & Dabernig – Choisir x Waldorf
Hayes & Dabernig – Choisir x She's God's Gift
Hayes & Dabernig – Choisir x Tallulah Bee
Hayes & Dabernig – Choisir x Tamarind Lane
Hayes & Dabernig – Denman x Alqwah
Hayes & Dabernig – Denman x Carlton Show
Hayes & Dabernig – Denman x She's Cherryrype
Hayes & Dabernig – Epaulette x Bulbula
Hayes & Dabernig – Exceed And Excel x Ashley's Kitty
Hayes & Dabernig – Exceed And Excel x Devil's Song
Hayes & Dabernig – Exceed And Excel x Sean Baile Mor
Hayes & Dabernig – Exceed And Excel x Tafseel
Hayes & Dabernig – Fastnet Rock x Dance Mix
Hayes & Dabernig – Fastnet Rock x Dazzling Gazelle
Hayes & Dabernig – Fastnet Rock x Frustrating
Hayes & Dabernig – Fastnet Rock x Hips Don'T Lie
Hayes & Dabernig – Fastnet Rock x Honor Patti
Hayes & Dabernig – Fastnet Rock x Luminous Eyes
Hayes & Dabernig – Fastnet Rock x Necessary Evil
Hayes & Dabernig – Fastnet Rock x Pear Tart
Hayes & Dabernig – Fastnet Rock x Pride Of Tatius
Hayes & Dabernig – Fastnet Rock x Puttanesca
Hayes & Dabernig – Fastnet Rock x Ronan's Bay
Hayes & Dabernig – Fastnet Rock x Runaway Jesse
Hayes & Dabernig – Fighting Sun x Saladare
Hayes & Dabernig – Helmet x Dancing Heather
Hayes & Dabernig – Hinchinbrook x Al's Magic Miss
Hayes & Dabernig – Hinchinbrook x Isola
Hayes & Dabernig – Hinchinbrook x Reve De Victoire
Hayes & Dabernig – I Am Invincible x Benatar
Hayes & Dabernig – I Am Invincible x Jalsah
Hayes & Dabernig – I Am Invincible x Secord
Hayes & Dabernig – I Am Invincible x She's Choice
Hayes & Dabernig – I Am Invincible x Sheza's Dream
Hayes & Dabernig – Lonhro x El Daana
Hayes & Dabernig – Lonhro x Rewaaya
Hayes & Dabernig – Magnus x Charm's Honour
Hayes & Dabernig – Manhattan Rain x Double Ranga
Hayes & Dabernig – Medaglia D'Oro x Alacer
Hayes & Dabernig – Medaglia D'Oro x Asheerah
Hayes & Dabernig – Medaglia D'Oro x Carolina Bella
Hayes & Dabernig – Medaglia D'Oro x Classic Music
Hayes & Dabernig – Medaglia D'Oro x Fabiarna
Hayes & Dabernig – Medaglia D'Oro x Rasmeyaa
Hayes & Dabernig – More Than Ready x Translate
Hayes & Dabernig – More Than Ready x Bad Romance
Hayes & Dabernig – More Than Ready x Lady Ashford
Hayes & Dabernig – Nicconi x Wickham
Hayes & Dabernig – Nicconi x Divine Choice
Hayes & Dabernig – Nicconi x Quietzer
Hayes & Dabernig – Not A Single Doubt x True Malt
Hayes & Dabernig – Not A Single Doubt x Zighy Bay
Hayes & Dabernig – Not A Single Doubt x Frenchs Forest
Hayes & Dabernig – Not A Single Doubt x Lago Joy
Hayes & Dabernig – Not A Single Doubt x Moccasin Bend
Hayes & Dabernig – Not A Single Doubt x Stormy Hussey
Hayes & Dabernig – Ocean Park x The Iffraaj Dame
Hayes & Dabernig – Pierro x Midnight Oil
Hayes & Dabernig – Pierro x Chinamora
Hayes & Dabernig – Pierro x Flokkati
Hayes & Dabernig – Pierro x Little Miss Smiley
Hayes & Dabernig – Pierro x Musidora
Hayes & Dabernig – Poet's Voice x Sultah
Hayes & Dabernig – Redente x Souhait
Hayes & Dabernig – Redoute's Choice x Axiom
Hayes & Dabernig – Redoute's Choice x Charmview
Hayes & Dabernig – Redoute's Choice x Cleanup
Hayes & Dabernig – Redoute's Choice x Molly Dot Com
Hayes & Dabernig – Redoute's Choice x Nocturnelle
Hayes & Dabernig – Savabeel x A Real Princess
Hayes & Dabernig – Sebring x Turnstiles
Hayes & Dabernig – Sebring x Lamiraqui
Hayes & Dabernig – Sebring x Helena's Secret
Hayes & Dabernig – Sebring x Beautiful Soul
Hayes & Dabernig – Sebring x Donna Amata
Hayes & Dabernig – Sebring x For The Good Times
Hayes & Dabernig – Sebring x Golden Millennium
Hayes & Dabernig – Sebring x Mabkhara
Hayes & Dabernig – Sebring x Recooperate
Hayes & Dabernig – Smart Missile x Nobody But You
Hayes & Dabernig – Snitzel x Tremezzo
Hayes & Dabernig – Snitzel x Zenella
Hayes & Dabernig – Snitzel x Zingara
Hayes & Dabernig – Snitzel x Dances On Waves
Hayes & Dabernig – Snitzel x Gold Chant
Hayes & Dabernig – Snitzel x Gypsy Robin
Hayes & Dabernig – Snitzel x Miss Iguacu
Hayes & Dabernig – Snitzel x Real Stolle
Hayes & Dabernig – Snitzel x Silla Regalis
Hayes & Dabernig – Spirit Of Boom x Angel Girl
Hayes & Dabernig – Spirit Of Boom x Express Air
Hayes & Dabernig – Star Witness x Madam Redoute
Hayes & Dabernig – Star Witness x Pearl Of The Sea
Hayes & Dabernig – Strategic x Dame Leica
Hayes & Dabernig – Street Boss x Galldora
Hayes & Dabernig – Street Boss x Mosse
Hayes & Dabernig – Testa Rossa x Lenny's Star
Hayes & Dabernig – The Factor x Xena Express
Hayes & Dabernig – The Factor x Latest Love
Hayes & Dabernig – Written Tycoon x Came Home Alone
Hayes & Dabernig – Written Tycoon x Lou
Hayes & Dabernig – Written Tycoon x Renaka
Hayes & Dabernig – Your Song x That's Amore
Hayes & Dabernig – Zoustar x Lady Dynamo
Henry Dwyer – Bel Esprit x Missgoblet
Henry Dwyer – Fighting Sun x Spartini
Henry Dwyer – Foxwedge x Bella Vedera
Henry Dwyer – Foxwedge x Lady Micheline
Henry Dwyer – Golden Archer x Kiss My Dragon
Henry Dwyer – Harbour Watch x Thikra
Henry Dwyer – Helmet x Suffer In Silence
Henry Dwyer – Mossman x Devils Arcade
Henry Dwyer – Redoute's Choice x Royal Sash
Henry Dwyer – Reset x Pay My Bail
Henry Dwyer – Snitzel x Montwest
Henry Dwyer – Snitzel x Fortune Of War
Henry Dwyer – Starcraft x Sharna Cabarna
Henry Dwyer – Starspangledbanner x Hawaiian Melody
Henry Dwyer – Written Tycoon x Stella Maree
Horse Feng Bloodstock – Sebring x Coogee Coozifa
Horse Feng Bloodstock – Snippetson x Platinum Dane
Jason Warren – I Am Invincible x Sweet Maggie
Jason Warren – Per Incanto x Tinkermia
Jason Warren – Pierro x Quick Notice
Jim Jnr Cerchi – Sepoy x Joie D'Esprit
John Moloney – Epaulette x Pozitave
John Moloney – Hinchinbrook x Graceful Devil
John Moloney – I Am Invincible x Country Kate
John Moloney – Pierro x Flying Ruby
John Moloney – Smart Missile x Stings
John Moloney – Street Boss x Princeton Miss
John O'shea – Smart Missile x Dublin Me Bet
John Sadler – Bel Esprit x Typify
John Sadler – Lonhro x Original Choice
John Sadler – Lope De Vega x Big Chill
John Sadler – Zoustar x Mickelberg
John Salanitri – Equiana x Ryvnine
John Salanitri – I Am Invincible x Dreamalittledream
John Salanitri – Shamus Award x Borderline
John Thompson – Dream Ahead x Halo Miss Maher
John Thompson – Harbour Watch x Constance
John Thompson – Harbour Watch x Hela Dubai
John Thompson – Lope De Vega x One Funny Honey
Joseph Pride – Chocolats Choisir x Ray Of Sun
Joseph Pride – Congrats x Lady Hepburn
Joseph Pride – Love Conquers All x Paparazzi Princess
Joseph Pride – Pierro x Trail Of Secrets
Joseph Pride – Sepoy x Cherokee Echo
Joseph Pride – Snitzel x Mimi Lebrock
Joseph Pride – Snitzel x Oriental Ruby
Joseph Pride – Unencumbered x Nixon
Kavanagh Racing – Dream Ahead x Amy's Glen
Ken Keys – Fighting Sun x Pure Ivy
Ken Keys – High Chaparral x Snitzel's Jewel
Ken Keys – Written Tycoon x Hotnuff
Ken Keys – Written Tycoon x Status Symbol
Kennewell Racing – All American x Rosecutter
Kennewell Racing – Eurozone x Military Gal
Kennewell Racing – Foxwedge x Glowlamp
Kennewell Racing – Hinchinbrook x Alalunga
Kennewell Racing – I Am Invincible x Candy Bridge
Kennewell Racing – I Am Invincible x Drivel
Kennewell Racing – I Am Invincible x Crimson Lane
Kennewell Racing – I Am Invincible x Vormista
Kennewell Racing – Unencumbered x Yeahdad
Kennewell Racing – Written Tycoon x Spanish Symphony
Lees Racing – Albrecht x Fearless Babe
Lees Racing – All American x Divine Test
Lees Racing – All Too Hard x Miss Fearless
Lees Racing – Animal Kingdom x Darvaza
Lees Racing – Animal Kingdom x Sunday Lady
Lees Racing – Declaration Of War x Donatella
Lees Racing – Dream Ahead x Sboog
Lees Racing – Dundeel x Plumm
Lees Racing – Sunreel Dundeel x Golden Sunshine
Lees Racing – Epaulette x Midnight Wine
Lees Racing – Eurozone x Carlina
Lees Racing – Foxwedge x Cruise Control
Lees Racing – Foxwedge x Juggles
Lees Racing – Brazenbrook Hinchinbrook x Ovillers
Lees Racing – Hinchinbrook x Willow
Lees Racing – I Am Invincible x Express Power
Lees Racing – I Am Invincible x Tahnee Topaz
Lees Racing – Kuroshio x Mignard
Lees Racing – Lope De Vega x Princess Pedrille
Lees Racing – Love Conquers All x Maxy Legs
Lees Racing – Lucas Cranach x Syntonic
Lees Racing – Medaglia D'Oro x Jade Diva
Lees Racing – Real Saga x Cubism
Lees Racing – Redoute's Choice x Fuji Fairy
Lees Racing – Rothman Rothesay x Curtsey
Lees Racing – Sepoy x Spoleto
Lees Racing – More Chilli Sizzling x Dayita
Lees Racing – Snitzel x Celebria
Lees Racing – Snitzel x Empress Lily
Lees Racing – Snitzel x Kneeling
Lees Racing – So You Think x Gratis
Lees Racing – Star Witness x Dinkum Diamond
Lees Racing – Starcraft x Enemy Dragline
Lees Racing – The Factor x Smoothie
Lees Racing – Time Thief x Hilldale
Lees Racing – Written Tycoon x More Black Magic
Leigh Childs – Fighting Sun x Golden Gabrielle
Logan McGill – Starspangledbanner x Canny Star
Logan McGill – Starspangledbanner x Bella Latte
Logan McGill – Written Tycoon x Puppet Show
Luke Oliver – Manhattan Rain x Extension Of Life
Luke Oliver – Reward For Effort x Out Of Credit
Luke Oliver – Reward For Effort x Kobe Queen
Luke Oliver – Sebring x Live And Dream
Malcolm Johnston – Pierro x Her Diamond Rock
Malcolm Johnston – Sepoy x Fashion Black
Malcolm Johnston – Sizzling x Princess Caraboo
Malcolm Johnston – Star Witness x Liaisons
Malua Racing – Choisir x Gold Find
Malua Racing – Fastnet Rock x More Than Real
Malua Racing – Fastnet Rock x Se Sauver
Malua Racing – Golden Archer x Just Hilda
Malua Racing – Hinchinbrook x Danzanta
Malua Racing – Hinchinbrook x Hot Diamond
Malua Racing – I Am Invincible x Dark Delilah
Malua Racing – I Am Invincible x Fast And Loose
Malua Racing – Kuroshio x Summer Wine
Malua Racing – Master Of Design x Lady Of Dormello
Malua Racing – More Than Ready x Sorellina
Malua Racing – Nicconi x Homedge
Malua Racing – Pierro x Casquets
Malua Racing – Pierro x Cindarockinrella
Malua Racing – Pierro x Espurante
Malua Racing – Smart Missile x Alpine Echo
Malua Racing – Smart Missile x Graphic
Malua Racing – Starspangledbanner x Heart Of Thrills
Malua Racing – Starspangledbanner x Zabeea
Malua Racing – Starspangledbanner x Serene Diva
Malua Racing – Unencumbered x Show Bling
Mario Multari – Geppetto Related x Any Joy
Mark Minervini – Reward For Effort x Viva La Diva
Mark Minervini – Sepoy x Danedina
Mark Newnham – Ad Valorem x Sutton Princess
Mark Newnham – Carnina All Too Hard x Convene
Mark Newnham – Charge Forward x Siraiki
Mark Newnham – Choisir x Pleats
Mark Newnham – Denman x Vecchia Roma
Mark Newnham – Dream Ahead x Magestique
Mark Newnham – Exceed And Excel x Acquired
Mark Newnham – Fighting Sun x Annonay
Mark Newnham – Go Fish Go Lope De Vega x Just Meille
Mark Newnham – Medaglia D'Oro x Snowgums
Mark Newnham – Medaglia D'Oro x Sense Of Pride
Mark Newnham – Not A Single Doubt x Quack It
Mark Newnham – Pierro x Rosnaree
Mark Newnham – Pierro x Briolette
Mark Newnham – Pierro x Mourasana
Mark Newnham – Pierro x Angel Face
Mark Newnham – Star Witness x Rub Doubt
Mark Newnham – Star Witness x Fille The Joy
Mark Newnham – Stratum x Danica
Mark Newnham – Stratum x On A Given Day
Matt Laurie – Delago Deluxe x Benita
Matt Laurie – Fastnet Rock x Esprit De Bleu
Matt Laurie – Smart Missile x Wecansay Mak
Matthew Brown – Needs Further x Nonsensical
Matthew Howard – Dubai's Choice x Octanna
Matthew Williams – Magic Albert x Quirina
Matthew Zammit – Mossman x Writteninthestars
Max Lang – Beamstar Starcraft x Beaming
Michael Costa – Eurozone x Aaleyah
Michael Costa – Zoffany x Beau Miss
Michael Halabi – Navesta Strategic Maneuver x Amphitriti
Michael Moroney – Charge Forward x Zumanity
Michael Moroney – Epaulette x Dorky
Michael Moroney – Foxwedge x Whiffle
Michael Moroney – Helmet x Adulterer
Michael Moroney – Lope De Vega x Albaicin
Michael Moroney – Pierro x Trafalgar Miss
Michael Moroney – Sepoy x Apple Martini
Michael Moroney – Sepoy x Dual Diamond
Michael Moroney – Sniztel x Pixels
Michael Moroney – Testa Rossa x Alamea
Michael Moroney – Wanted x Nuclear Force
Michael Moroney – War x Inkster
Michael Moroney – Zoustar x Jester's Girl
Michelle Payne – Hinchinbrook x Margaret Miss
Mick Huglin – Reward For Effort x Shanghai Princess
Mick Huglin – Starspangledbanner x Magic Pulse
Mick Huxtable – Unencumbered x Posh Chic
Mick Kent – The Factor x Celtic Sea
Mick Kent – Sebring x Kemizengo
Mick Kent – Nangami Zoustar x Barangaroo
Mick Kent – Statue Of Liberty x Myers Rose
Mick Kent – Helmet x Chilean Miss
Mick Price – All Stars All Too Hard x Marquardt
Mick Price – Artie Schiller x Navica
Mick Price – Choisir x Pure Intentions
Mick Price – Declaration Of War x Change Of Class
Mick Price – Declaration Of War x Tianjin Rock
Mick Price – Eurozone x Free Thinking
Mick Price – Eurozone x Tresor
Mick Price – Fastnet Rock x She's Got Gears
Mick Price – Fastnet Rock x Zavana
Mick Price – Fighting Sun x Ready Made Family
Mick Price – Hinchinbrook x Midnight Revels
Mick Price – Advancing I Am Invincible x You'Re Discreet
Mick Price – I Am Invincible x Metonymy
Mick Price – I Am Invincible x Summerbliss
Mick Price – I Am Invincible x Celebrity Girl
Mick Price – I Am Invincible x Most Secret
Mick Price – I Am Invincible x Thirty Rock
Mick Price – Lonhro x Five Star Belle
Mick Price – Magnus x Initial Venture
Mick Price – Magnus x Selecting
Mick Price – Medaglia D'Oro x Dont Blink
Mick Price – Nicconi x No Time
Mick Price – Not A Single Doubt x Bleeding Heart
Mick Price – Not A Single Doubt x I'M Your Venus
Mick Price – Not A Single Doubt x More Than This
Mick Price – O'Reilly x Glitterati
Mick Price – O'Reilly x Raaheeya
Mick Price – O'Reilly x Cherokee Ridge
Mick Price – O'Reilly x Darya Ye Noor
Mick Price – O'Reilly x Hameeda
Mick Price – O'Reilly x Hemem
Mick Price – Pierro x Celebrities Choice
Mick Price – Pierro x Special Episode
Mick Price – Poet's Voice x Save A Penny
Mick Price – Sebring x Queen's Fashion
Mick Price – Sebring x Tariana
Mick Price – Shamus Award x Ever The Same
Mick Price – Shamus Award x Sonnenblume
Mick Price – Snitzel x Emilydelago
Mick Price – Snitzel x First Blossom
Mick Price – Snitzel x Overblik
Mick Price – Snitzel x Gemadaily
Mick Price – Snitzel x Consistency
Mick Price – Star Witness x Sencircles
Mick Price – The Machine Strategic Maneuver x Annamalia
Mick Price – Street Boss x Island Nymph
Mick Price – Street Boss x Ruby Doll
Mick Price – Tavistock x Evanescence
Mick Price – The Factor x Just A Kiseki
Mick Price – Toorak Toff x Westend Magic
Mick Price – Eightfa Unencumbered x Raquia
Mick Price – Written Tycoon x Brambling
Mick Price – Written Tycoon x Our Hollywood Miss
Mick Price – Written Tycoon x Tennessee Royal
Mick Price – Written Tycoon x Keela
Mick Price – Written Tycoon x On The Ready
Mick Price – Written Tycoon x Rock Princess
Mick Price – Zoustar x Fast Talker
Mick Sell – All Too Hard x Homerette
Mitch Beer & Max Hinton – Stratum x Gold Copy
Mitch Freedman – Helmet x Mintenko
Murray Johnson – I Am Invincible x Tabliope
Murray Johnson – I Am Invincible x Family Crest
Nadia Angelo – Hinchinbrook x Lost In Paradise
Neville Parnham – Foxwedge x Beebop
Neville Parnham – Magnus x Mikumi
Neville Parnham – Oratorio x Bantry Bay
Neville Parnham – Written Tycoon x Goldirocks
Newhaven Park Stud – Fast Dealer Dundeel x Fast Gal
Newhaven Park Stud – Saint Peter Pierro x Messenger
Nick Ryan – Fighting Sun x In With The New
Nigel Blackiston – Dawn Approach x Shower Of Roses
Nigel Blackiston – Excelebration x Magita
Nigel Blackiston – Fully Fledged x Dee Flawless
Ontrack Thoroughbreds – I Am Invincible x Yields Of Gold
Peter Gelagotis – Bullbars x Ishiarose
Peter Gelagotis – Fastnet Rock x Sorority Girl
Peter Gelagotis – I Am Invincible x Bronislava
Peter Gelagotis – I Am Invincible x La Biondina
Peter Gelagotis – Magnus x Lady Knockout
Peter Gelagotis – Snitzel x Montana Downs
Peter Morgan – All A Spritz All American x Bubbly Duchess
Peter Morgan – Irresistable Girl I Am Invincible x Illusionist
Peter Morgan – Sun Sovereign Snitzel x Lucky Penny
Phillip Stokes – All Too Hard x The Good Wife
Phillip Stokes – Please Be Discreet Denman x I'M Discreet
Phillip Stokes – Golden Dice Golden Archer x Domitilla
Phillip Stokes – Helmet x Symphony Miss
Phillip Stokes – Magic Albert x Eyes For You
Phillip Stokes – Magnus x Obligato
Phillip Stokes – More Than Ready x Exceedingly Regal
Phillip Stokes – Ocean Park x Ennerdale
Phillip Stokes – Sebring x Electric Dreams
Phillip Stokes – Smart Missile x Kitalpha
Phillip Stokes – Street Boss x Dream Face
Pulse Racing Thoroughbreds – Not A Single Doubt x True Giver
Ralph Zito – Sea Wolf Statue Of Liberty x North Sea
Ramsey Pastoral Pty Ltd – Reset x Valerio
Redgum Racing – Anacheeva x Mo Vo
Redgum Racing – Denman x Humma Mumma
Redgum Racing – Another Bit Foxwedge x Take All Of Me
Redgum Racing – Per Incanto x Grable
Redgum Racing – Sizzling x Our Dreaming
Redgum Racing – Smart Missile x Investigates
Redgum Racing – Bricktop Snitzel x Seattle Lass
Redgum Racing – Bold Type Written Tycoon x Legcut
Richard Freedman – All Too Hard x St. Kate
Richard Freedman – Animal Kingdom x Sara's Choice
Richard Freedman – Artie Schiller x Run For Roses
Richard Freedman – I Am Invincible x Sister Madly
Richard Freedman – Pierro x Arrowette
Richard Freedman – Realsaga x Curvy Miss
Richard Freedman – Redoute's Choice x Rekindled Applause
Richard Freedman – Sizzling x Surrealist
Richard Freedman – Smart Missile x De Chorus
Richard Freedman – Stryker x Etoile D'Cozzene
Richard Jolly – Kemalpasa Magnus x Yarra Bank
Richard Jolly – Sepoy x Morning Cloud
Robbie Griffiths – Choisir x Party Dress
Robbie Griffiths – Dentara Denman x Keltara
Robbie Griffiths – Dundeel x Sophie's Spirit
Robbie Griffiths – Duporth x Morwell
Robbie Griffiths – Fiorente x Ellas
Robbie Griffiths – Glass Harmonium x Frolicking Miss
Robbie Griffiths – Hinchinbrook x Angel Of Avalon
Robbie Griffiths – Magnus x Flourishing
Robbie Griffiths – Magnus x Creation
Robbie Griffiths – Magnus x Tenossiva
Robbie Griffiths – Moshe x Celebrity Times
Robbie Griffiths – Not A Single Doubt x Fidele
Robbie Griffiths – Pierro x Nothin But A Dream
Robbie Griffiths – Purrealist x Prospect Royale
Robbie Griffiths – Redoute's Choice x Perfect Hostess
Robbie Griffiths – Redoute's Choice x Line Honours
Robbie Griffiths – Sebring x Miss Keepsake
Robbie Griffiths – Sepoy x Bang On
Robbie Griffiths – Snitzel x Slice Of Paradise
Robbie Griffiths – Snitzel x Royal Glow
Robbie Griffiths – Snitzel x Flame Of Sydney
Robbie Griffiths – Squamosa x Ruby Trois
Robbie Griffiths – Star Witness x Sundays Girl
Robbie Griffiths – Star Witness x Bella Dolce
Robbie Griffiths – Statue Of Liberty x Miss Barysh
Robbie Griffiths – Stratum x Little Favours
Robbie Griffiths – Street Boss x Canterbury Hill
Robbie Griffiths – Street Boss x Grand Manners
Robbie Griffiths – Stryker x Catastrophe
Robbie Griffiths – Written Tycoon x Victory Ride
Robbie Griffiths – The Running Man Zoustar x Please Leave
Robbie Laing – Bel Esprit x Sable
Robbie Laing – Fastnet Rock x Impressive Eagle
Robbie Laing – Fastnet Rock x Fifth Avenue Lady
Robbie Laing – Fastnet Rock x There's Only One
Robbie Laing – Snitzel x Gallant Tess
Robbie Laing – So You Think x Darby's Bid
Robbie Laing – The Factor x Zugat
Robbie Laing – Zoustar x Eramor
Robert Heathcote – Nicconi x Flying Style
Robert Heathcote – Sizzling x Makemeasupermodel
Robert Smerdon – Al Dorama Al Maher x Love For Ransom
Robert Smerdon – Bel Esprit x Louis Leggs
Robert Smerdon – Cape Blanco x Diamonds Forever
Robert Smerdon – Lord John Choisir x Rathsallagh
Robert Smerdon – Fastnet Rock x Avienus
Robert Smerdon – East Indiaman Hinchinbrook x Dashie Diva
Robert Smerdon – Mossman x Elan Grenadine
Robert Smerdon – Pierro x Keep The Peace
Robert Smerdon – Pierro x Purple Groove
Robert Smerdon – Sebring x Maybe I
Robert Smerdon – Smart Missile x Elite Elle
Robert Smerdon – Starspangledbanner x Gracie Girl
Robert Smerdon – Tavistock x Obey
Robert Smerdon – Tavistock x Strenua
Robert Smerdon – Zoustar x Charity Belle
Robert Smerdon – Zoustar x Crystal Choir
Shane Bottomley – Unencumbered x Zelle
Shane Nichols – Dawn Approach x Takanori
Shane Nichols – Fastnet Rock x Diamond Earth
Shane Nichols – Fastnet Rock x Everage
Shane Nichols – Gingerbread Man x North Going Sax
Shane Nichols – I Am Invincible x Lissande
Shane Nichols – I Am Invincible x Oasis Bloom
Shane Nichols – I Am Invincible x Tabulated
Shane Nichols – More Than Ready x Delaluna
Shane Nichols – Pierro x Heigl
Shane Nichols – Wordsmith x Perfectly Poised
Shea Eden – Bel Esprit x Dance Across
Shea Eden – Magnus x Kusha
Shea Eden – Magnus x Zipstream
Sheamus Mills Bloodstock – Fighting Sun x Spectrum's Image
Sheamus Mills Bloodstock – Zorpo Rapedo Foxwedge x Bardego
Sheamus Mills Bloodstock – Nadeem x L'Artiste
Sheamus Mills Bloodstock – Pursuader Zoustar x Fast Talker
Simon Miller – Artie Schiller x Ajaweed
Simon Miller – Sizzling x Kezzabelle
Simon Miller – Unencumbered x Litter
Simon Miller – Unencumbered x La Viscomtessa
Simon Morrish – Jakkalberry x Explosive
Simon Morrish – Master Of Design x Rodelinda
Simon Morrish – Medaglia D'Oro x Zaza Top
Simon Morrish – Nicconi x Garden Of Eden
Simon Morrish – Not A Single Doubt x Miss Opulence
Simon Morrish – Pins x French
Simon Morrish – Shamexpress x Hollywood Angel
Simon Morrish – Smart Missile x Zefta
Simon Morrish – Smart Missile x Musical Lady
Simon Morrish – Star Witness x Elle's Decree
Simon Morrish – Stratum x Mellow Elle
Simon Morrish – Testa Rossa x Lake Lynette
Snowden Racing – All Too Hard x Our Joan Of Arc
Snowden Racing – Epaulette x Loading Zone
Snowden Racing – Exceed And Excel x Anna Pallida
Snowden Racing – Exceed And Excel x Astrophysical Jet
Snowden Racing – Exceed And Excel x Dream Play
Snowden Racing – Exceed And Excel x Flavoured
Snowden Racing – Exceed And Excel x Rose Of Cimmaron
Snowden Racing – Exceed And Excel x Sharp Susan
Snowden Racing – Exceed And Excel x Vital Mist
Snowden Racing – Exceed And Excel x Zaheeya
Snowden Racing – I Am Invincible x Captivating Claire
Snowden Racing – I Am Invincible x Furline
Snowden Racing – I Am Invincible x Magdalena
Snowden Racing – I Am Invincible x Members Joy
Snowden Racing – I Am Invincible x Roulettes
Snowden Racing – I Am Invincible x Streetcar Stella
Snowden Racing – I Am Invincible x Walk With Attitude
Snowden Racing – Lonhro x Midnight Joy
Snowden Racing – Love Conquers All x Spring Bubble
Snowden Racing – Medaglia D'Oro x Al Anood
Snowden Racing – Medaglia D'Oro x Hoss Amor
Snowden Racing – Medaglia D'Oro x Maidel
Snowden Racing – Medaglia D'Oro x Mani Bhavan
Snowden Racing – Rio De Janeiro More Than Ready x Danehill Smile
Snowden Racing – World Force More Than Ready x Claws
Snowden Racing – Mossman x Brilliant Snitzel
Snowden Racing – Mossman x Shalimar Sky
Snowden Racing – Not A Single Doubt x Imoto
Snowden Racing – Not A Single Doubt x Joie
Snowden Racing – Legislation Not A Single Doubt x Golden Edict
Snowden Racing – Not A Single Doubt x More Stories
Snowden Racing – Not A Single Doubt x Royal Sapphire
Snowden Racing – Pierro x Blazing Snitzel
Snowden Racing – Pierro x Bobine
Snowden Racing – Pierro x Impetuous
Snowden Racing – Pierro x Majestic Music
Snowden Racing – Pierro x Satin Shoes
Snowden Racing – Redoute's Choice x Ballet Blue
Snowden Racing – Redoute's Choice x Secluded
Snowden Racing – Sebring x Dama De Noche
Snowden Racing – Sebring x Karuta Queen
Snowden Racing – Sebring x Notional Anthem
Snowden Racing – Sizzling x Catrille
Snowden Racing – Sizzling x Love's Great
Snowden Racing – Smart Missile x Ballet D'Amour
Snowden Racing – Snitzel x Bondi Blonde
Snowden Racing – Snitzel x Close Relation
Snowden Racing – Snitzel x Colorado Claire
Snowden Racing – Snitzel x Dazzledar
Snowden Racing – Snitzel x Disguise
Snowden Racing – Snitzel x Good Weekend
Snowden Racing – Snitzel x Hasna
Snowden Racing – Munich Snitzel x Quench The Thirst
Snowden Racing – Snitzel x Rare Insight
Snowden Racing – Snitzel x Silent Heir
Snowden Racing – Snitzel x Tara From The Cape
Snowden Racing – Snitzel x Tripled
Snowden Racing – Snitzel x Trista Rossa
Snowden Racing – Snitzel x Ultimate Fever
Snowden Racing – Star Witness x Touched In Flight
Snowden Racing – Stratum x Elucidate
Snowden Racing – Stratum x Royal Tower
Snowden Racing – Written Tycoon x Bloomingdale Miss
Snowden Racing – Written Tycoon x Brilliant Bisc
Snowden Racing – Written Tycoon x Pearl Goddess
Snowden Racing – Written Tycoon x Peppie
Snowden Racing – Written Tycoon x Summery
Snowden Racing – Written Tycoon x Talkin' About
Snowden Racing – Written Tycoon x Tuscan Haze
Stephen Brown – Bel Esprit x Dish
Stephen Brown – Fiorente x Pretty Flamingo
Stephen Brown – Shamus Award x Potential Princess
Steve Richards – Sebring x Sublimity
Steve Richards – Zoustar x Crystal River
Strawberry Hill Stud – Fastnet Rock x Joy Toy
Strawberry Hill Stud – Fastnet Rock x More Joyous
Strawberry Hill Stud – Frankel x Samantha Miss
Strawberry Hill Stud – More Than Ready x All Enfield
Strawberry Hill Stud – Redoute's Choice x Once Were Wild
Strawberry Hill Stud – Snitzel x Maritime
Strawberry Hill Stud – Snitzel x Sucker Punch
Stuart Webb – Camelot x Imperial Ballet
Stuart Webb – High Chaparral x Most Secretive
Stuart Webb – I Am Invincible x Kamarla Rose
Stuart Webb – Poet's Voice x Bells Will Ring
Stuart Webb – Star Witness x Coffee Shop
Stuart Webb – Unencumbered x Mergene
Stuart Webb – Written Tycoon x Umaquest
Tim Hughes – Crossing The Abbey Helmet x Music In The Park
Tim Hughes – Beamstar Starcraft x Beaming
Tim Martin – Exceed And Excel x Secret Admirer
Tim Martin – Exceed And Excel x Our Golden Dream
Tim Martin – Sepoy x Stella Grace
Toby Edmunds – Choisir x Mining Tycoon
Toby Edmunds – I Am Invincible x Spurs And Sashes
Toby Edmunds – Painted Wolf I Am Invincible x Brave Choice
Toby Edmunds – I Am Invincible x Bugaboo
Toby Edmunds – Sizzling x Big Birdie
Toby Edmunds – Star Witness x Leopard Skin
Tony McEvoy – Al Maher x Schiaparelli
Tony McEvoy – All American x Tuusula
Tony McEvoy – Unfair Dismissal All Too Hard x Up And Up
Tony McEvoy – Bel Esprit x Gazella
Tony McEvoy – Paradiddle Bel Esprit x Bon Ton
Tony McEvoy – Dawn Approach x Lady Frere
Tony McEvoy – Delago Deluxe x Affair
Tony McEvoy – Delago Deluxe x Hot Show
Tony McEvoy – Delago Deluxe x Routine
Tony McEvoy – Delago Deluxe x Sudden Fever
Tony McEvoy – Denman x Flying First Class
Tony McEvoy – Dream Ahead x Aspen Leaves
Tony McEvoy – Pay The Man Dundeel x Evidentia
Tony McEvoy – Duporth x Cupid Shuffle
Tony McEvoy – Equiano x Il Diamante
Tony McEvoy – Equiano x Becqu Adoree
Tony McEvoy – Eurozone x Real Special
Tony McEvoy – Exceed And Excel x Episode
Tony McEvoy – Exceed And Excel x Sayuri San
Tony McEvoy – Fastnet Rock x Smart Company
Tony McEvoy – Fastnet Rock x Port Augusta
Tony McEvoy – Fighting Sun x Magic Art
Tony McEvoy – Foxwedge x Golden Pedigree
Tony McEvoy – Foxwedge x Off The Canvas
Tony McEvoy – Foxwedge x Silver Tiara
Tony McEvoy – Frankel x Rostova
Tony McEvoy – Good Journey x Puppet
Tony McEvoy – High Chaparral x Miss Otto
Tony McEvoy – High Chaparral x Diamond Like
Tony McEvoy – I Am Invincible x Aroha Cat
Tony McEvoy – I Am Invincible x Bella Sunday
Tony McEvoy – Still Invincible I Am Invincible x Admirelle
Tony McEvoy – I Am Invincible x Vintage Triumph
Tony McEvoy – Makfi x Raneen
Tony McEvoy – Medaglia D'Oro x Roses All The Way
Tony McEvoy – More Than Ready x Danoise
Tony McEvoy – Nicconi x Boat Quay
Tony McEvoy – Not A Single Doubt x Allarizia
Tony McEvoy – Not A Single Doubt x Lake Mountain
Tony McEvoy – Not A Single Doubt x Fustaan
Tony McEvoy – Faayza O'Reilly x Mazarine
Tony McEvoy – O'Reilly x Rabsha
Tony McEvoy – O'Rielly x Bint Piavonic
Tony McEvoy – Pierro x Pane In The Glass
Tony McEvoy – Redoute's Choice x Court
Tony McEvoy – Rothesay x Extra
Tony McEvoy – Rothesay x Silken Appeal
Tony McEvoy – Rothesay x Ten Eighty
Tony McEvoy – Sebring x Just Our Girl
Tony McEvoy – Sebring x Kim Classic
Tony McEvoy – Sizzling x Abscond
Tony McEvoy – Sizzling x De Right Stuff
Tony McEvoy – Goodbye Again Sizzling x Cabernet Queen
Tony McEvoy – Snitzel x How Discreet
Tony McEvoy – Snitzel x Regrowth
Tony McEvoy – So You Think x Redaluca's Gaze
Tony McEvoy – Spirit Of Boom x Kinka Rhode
Tony McEvoy – Rimshot Testa Rossa x Lannaki
Tony McEvoy – Testa Rossa x Innishbeg
Tony McEvoy – Unencumbered x Victory Vein
Tony McEvoy – Written Tycoon x Lady Bligh
Tony McEvoy – Zoffany x Margaret River
Tony McEvoy – Zoustar x Icy Mist
Tony McEvoy – Zoustar x Solar Charged
Tony McEvoy – Zoustar x Swooning
Tony McEvoy – Denman x Pachanga
Tony Stevens – Fighting Sun x Rose Syrah
Tony Vasil – Choisir x Grand Excess
Tony Vasil – Not A Single Doubt x Rock Hit
Trent Busuttin – All American x Hold For Applause
Trent Busuttin – All Too Hard x Zalilia
Trent Busuttin – All Too Hard x Airlie
Trent Busuttin – Fastnet Rock x Delta Girl
Trent Busuttin – Fastnet Rock x Belleluia
Trent Busuttin – Fiorente x Crown Of Caitlin
Trent Busuttin – Redoute's Choice x Crystalised
Trent Busuttin – Redoute's Choice x Spanish Lake
Trent Busuttin – Shamexpress x Burlesque
Trent Busuttin – Shamus Award x Perfect Promise
Trent Busuttin – Smart Missile x Miss Dodwell
Trent Busuttin – Unencumbered x Denarii
Trent Busuttin – Written Tycoon x Fastfilly
Trent Busuttin – Written Tycoon x Rate The Choice
Trent Busuttin – Written Tycoon x Munchie
Ultra Thoroughbreds – Savabeel x Chandelier
Ultra Thoroughbreds – Shamus Award x Joontoo Gemini
Ultra Thoroughbreds – Shamus Award x Caserta
Ultra Thoroughbreds – Shamus Award x Parriwi
Ultra Thoroughbreds – Shamus Award x Pentatonic
Ultra Thoroughbreds – Shamus Award x Miss Ethics
Ultra Thoroughbreds – Shamus Award x Perfect Promise
Ultra Thoroughbreds – Shamus Award x Shattered Heart
Vinery Stud – All Too Hard x Gopana
Vinery Stud – All Too Hard x Radio Song
Vinery Stud – All Too Hard x Samaready
Vinery Stud – All Too Hard x Belscenica
Vinery Stud – One For Betty All Too Hard x Ready Miss
Vinery Stud – All Too Hard x Crossyourheart
Vinery Stud – All Too Hard x Champagne Run
Vinery Stud – Congrats x Regal Flute
Vinery Stud – Fastnet Rock x Pure Fun
Vinery Stud – Hinchinbrook x Rock On Madonna
Vinery Stud – I Am Invincible x Buxom Babe
Vinery Stud – More Than Ready x Heart Ashley
Vinery Stud – More Than Ready x She's Purring
Vinery Stud – More Than Ready x Touchy Greeley
Vinery Stud – Pierro x Irish Dream
Vinery Stud – Redoute's Choice x Montana Sunset
Vinery Stud – Snitzel x Divine Rebel
Vinery Stud – Snitzel x River Thames
Vinery Stud – Tapit x Touch Love
Vinery Stud – Zoustar x Dance Girl Dance
Warahtah Thoroughbreds – Shahala Bernardini x Bonifacio
Warahtah Thoroughbreds – Pierro x Dandesha
Warahtah Thoroughbreds – Pierro x Ephemera
Warahtah Thoroughbreds – Swiss Ace x Veva Girl
Warahtah Thoroughbreds – Key Factor The Factor x Lekhani
Warahtah Thoroughbreds – Zoustar x Carry On Beauty
Wayne Nichols – Turffontein x Oamaru Rose
Wendy Kelly – Harbour Watch x Invisible Coin
Wendy Kelly – Kaphero x Dawn Rising
Wendy Kelly – Redwood x Lady Mulroy
Wendy Kelly – Unencumbered x Just Dreamin'
Wilde Racing – Americain x Lorna's Lass
Wilde Racing – Eurosymbol Eurozone x So Delicious
Wilde Racing – Skilled x Amy May
Wylie Dalziel Roy Higgins Racing – Ambidexter x Forget Ima Lady
Wylie Dalziel Roy Higgins Racing – Anacheeva x Miss Ireland
Wylie Dalziel Roy Higgins Racing – Camelot x Pan's Flute
Wylie Dalziel Roy Higgins Racing – Choisir x Canicula
Wylie Dalziel Roy Higgins Racing – Dawn Approach x Saltator
Wylie Dalziel Roy Higgins Racing – Epaulette x Fromelles
Wylie Dalziel Roy Higgins Racing – Eurozone x Unapologetic
Wylie Dalziel Roy Higgins Racing – Fighting Sun x Bombira Blue
Wylie Dalziel Roy Higgins Racing – Fighting Sun x Miss Apps
Wylie Dalziel Roy Higgins Racing – Fiorente x Costanera
Wylie Dalziel Roy Higgins Racing – I Am Invincible x Zacushla
Wylie Dalziel Roy Higgins Racing – Moshe x Purple Storm
Wylie Dalziel Roy Higgins Racing – Mossman x Champagne Joy
Wylie Dalziel Roy Higgins Racing – Not A Single Doubt x On The Loose
Wylie Dalziel Roy Higgins Racing – Sebring x Hidden Charges
Wylie Dalziel Roy Higgins Racing – Sebring x Fleet Riane
Wylie Dalziel Roy Higgins Racing – Shamus Award x Special Favour
Wylie Dalziel Roy Higgins Racing – Shamus Award x Cuxiann
Wylie Dalziel Roy Higgins Racing – Sizzling x Sweet Revenge
Wylie Dalziel Roy Higgins Racing – Smart Missile x Atatood
Wylie Dalziel Roy Higgins Racing – Starcraft x Attire
Wylie Dalziel Roy Higgins Racing – Zoustar x Mokaraba