Trainer Matthew Williams groomed for success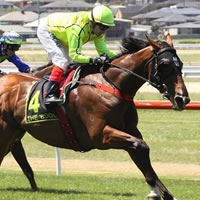 It seems getting married was the catalyst for trainer Matthew Williams to spark a rich vein of form for his Warrnambool stables, with regular winners flowing from his yard since tying the knot late last month.
Among those winners was talented Australian Thoroughbred Bloodstock galloper Ticket To Toorak who resumed with a classy victory at Geelong on Boxing Day.
Ticket To Toorak had a troubled campaign last time in and the decision was made to geld the promising son of ill-fated sire Northern Meteor.
Williams was elated with the win, especially as the horse was having his first run since the operation.
"It was good to get Ticket To Toorak back the other day," Williams said.
"He went off the rails a bit towards the end of his last prep and he was gelded."
"It was good to see him back under race conditions since being gelded."
"We were happy to see him race much more tractable and he hit the line well."
Another horse to excite Williams was smart Warrnambool winner Clairvaux, also owned by Australian Thoroughbred Bloodstock.
"Clairvaux was an exciting win," Williams said.
"He's always been a junior clone of Uxorious (Gr3 Spring Stakes & Wangoom Hcp winner) and just the way he hit the line gives you the impression he might be the ideal Wangoom horse in around 18 month's time."
The Williams stable has also scored multiple victories with another Australian Thoroughbred Bloodstock galloper Choisance in the past month and she was one of three  Williams runners engaged at Ararat today
Choisance finished second in a Benchmark 70 race and appears to need more distance now according to Williams.
"She may have felt the hard ground today but she never shirked the issue," Williams said.
"She's a very honest galloper and may be looking for more ground now."
Williams kept his winning run going with Dean Yendall guiding King Of Roses gelding Ardoy to a comfortable win in the last race on the card, while his other runner Royal Manner ran second earlier in the day in a maiden event.
The popular trainer was quick to point out the great job done by Racing Manager Jenna Primmer and the rest of his team at Warrnambool while he was enjoying his honeymoon in the Maldives with new wife Ultra.
"The girls have done an outstanding job and I've been copping it all over the place with the Primmer/Woodhouse training combination kicking goals while I was away," Williams said with a big smile on his face.
Australian Thoroughbred Bloodstock's Darren Dance was one of those giving it to Williams in his typical cheeky fashion.
"While Matty was away on his honeymoon those girls down there did a terrific job," Dance said.
"The stables really hit form and and I just hope Matty doesn't get too involved and upset the apple cart."
Let's hope the Matthew Williams Racing team can keep the winning run going for Australian Throorughbred Bloodstock, particularly with Choisance & East Star, two horses I have interests in.