ATB – The Immergence of Internationals
by Darren Dance.
By sheer chance ATB was able to procure a small share in 2011 in a horse called Unusual Suspect, an American import who was trained by Mick Kent.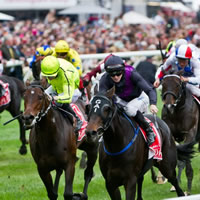 The opportunity was presented to us and we took up the chance to race this horse into the Melbourne Cup.
We only took a minor share and we found some willing clients to get involved and Unusual Suspect went on to run 9th in the 2011 Melbourne Cup, only beaten by 3 1/4 lengths.
Later on Unusual Suspect went on to win the 2013 Werribee Cup before being retired and sold to stud.
That experience of 2011 gave myself and those clients involved at the time a wonderful experience, realising what it was really like to have a runner in a Melbourne Cup.
I really truly believe that every person in racing would harbour a dream to have a runner in the Melbourne Cup and harbour a dream to win a Melbourne Cup.
I think as an Australian racing person, it is the ultimate dream.
At the end of 2011, we decided that we would pursue a new horse for 2012 and we set about devising a plan with our UK international agents to find us the right horse for the 2012 Melbourne Cup.
We sat down for many hours, in fact many nights, mapping out a criteria to use, and came up with a short list of horses that we thought might fit the bill.
We ended up being able to secure a horse called Jakkalberry in February 2012.
Jakkalberry was a champion in Italy, but was untested in the rest of the world.
By sheer chance, when trying to negotiate a deal with the Italian trainer and owner, we enlisted the services of Marco Botti through our agent to speak the language and we were able to secure a 50% stake in Jakkalberry.
We then decided to give the horse to Marco Botti to train, to thank him for his help, and Jakkalberry went on to run 3rd in the 2012 Omega Classic in Dubai before coming out to run a nice race in the Caulfield Cup, finishing midfield, and running a blinder in the Melbourne Cup where he flashed home for third.
That really set things in motion for ATB in international horses and after that time we really did expand, securing Tac De Boistron, and seeing Unusual Suspect going around in 2012.
Obviously our clients really enjoyed the day and those who came to our functions were all part of the journey really, enjoying the whole process at the event.
We then went on to secure a new horse for the following season for 2014 being Dandino, who obviously came out and ran 2nd in the Caulfield Cup, unlucky from a wide gate, and 5th in the Melbourne Cup, once again unlucky, just left with too much to do late, but ran a slashing fifth place.
Dandino will be back in 2014 as will be our latest puchase in Seismos, who won his last start the Geoffrey Frier beating Red Cadeaux to burst in contention for this year's Melbourne Cup.
In 2014, we will have Seismos and Dandino competing in the Caulfield and Melbourne Cup.
At this stage we will have the import Guest Of Honour competing in the Toorak Stakes and hopefully the Cox Plate, and with a bit more luck a horse that we brought out to Australia a few years ago, Crackerjack King, who ran a super race last week when 3rd in the Underwood Stakes, will maybe make it to the Cox Plate as well if he can win his next start.
Going forward, ATB hope to have two genuine contenders for the Caulfield and Melbourne Cup each year and maybe one or two genuine contenders for the Toorak Hcp, Cox Plate and Mackinnon Stakes.
The best laid plans are difficult to execute, but we believe with our proven formula over the last 3 or 4 years and our solid history, we are building up our depth of knowledge and understanding of the international form and what's required to get to the Caulfield and Melbourne Cup and these type of races.
We will continue to improve and continue to identify the right horses.
Obviously, there are a lot of people in the market trying to do the same thing and now we see a lot of international horses coming out and the whole field has changed to set weights and penalty type race and the Melbourne Cup is certainly getting stronger and stronger.
I think 2014 is going to be a tough year with the Japanese returning for the first time really since Pop Rock and Delta Blues were here and of course they seem to have some of the best stayers in the world.
But ATB will continue to strive to win this race and continue to invest with our owners in having a great carnival and being at Caulfield, Flemington and Moonee Valley on the biggest days of the year.
This year who knows, maybe it will be our year.
Article written by Darren Dance (Owner/Director of Australian Thoroughbred Bloodstock)