Facilities at Burrumbeet set to improve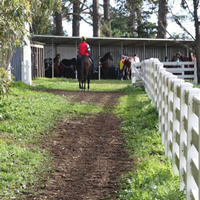 The hard working Burrumbeet Park & Windermere Racing Club had another successful day of jumpouts on Tuesday 8th July 2014 at the picturesque Burrmbeet racecourse in Western Victoria.
Almost 100 horses galloped on the course proper or contested jumpout heats on the day and a good crowd turned was on hand for the occasion.
Member for Western Victoria, Simon Ramsay, and Liberal Candidate for Ripon, Louise Staley, also attended the Burrumbeet jumpouts to celebrate funding from the Victorian Coalition Government to help purchase a storage shed for starting gates at the racetrack.
The facilities at Burrumbeet are set to improve with flow-on benefits for racing in the Ballarat region.
"This investment will see the Burrumbeet Park and Windermere Racing Club receive a second-hand set of barrier stalls from the Avoca Shire Turf Club and a new shed constructed to safely house them," Mr Ramsay said.
"Currently the race club has to borrow starting gates from the Ballarat Turf Club which can be a time and cost burden. This is particularly difficult considering the club is run by volunteers."
"This funding will mean the club can have its own starting stalls together with a new shed to store them in."
"As well as its big raceday on New Year's Day, Burrumbeet racecourse is an important venue for training and trialling of horses."
"In order to take the pressure off the Ballarat track during winter as many as 90 horses including those trained by Darren Weir and other prominent Ballarat trainers use Burrumbeet instead on scheduled jumpout days," Mr Ramsay said.
President of the Burrumbeet Park and Windermere Racing Club Rodney McKinnon said the Coalition Government's support was crucial to help the club offer more industry events through the year.
He said the purchase would benefit other race clubs' training facilities in the region.
"This will enable us to hold regular jumpouts throughout the winter months and allows other training facilities in the area to rest their tracks over the winter months," Mr McKinnon said.
Liberal candidate for Ripon, Louise Staley, said today's jumpouts were a great way to launch the Club's start gates.
"This is the perfect example of a local investment having a big, and positive, impact on the broader region. In this case, it will support racing clubs, club volunteers, horse owners and trainers across the region," Ms Staley said.
The Victorian Government will provide $13,959 from the Victorian Racing Industry Fund (VRIF) for the construction of the new storage shed, with the Burrumbeet Park and Windermere Racing Club providing a further $13,959.
This investment follows previous grants from the VRIF to Burrumbeet for a $7,100 horse wash upgrade and also the construction of 34 new stalls at a total cost of $20,000.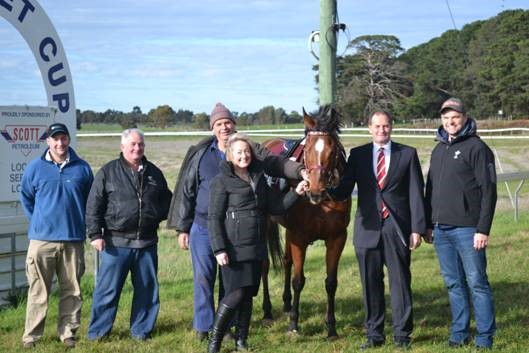 Member for Western Victoria, Simon Ramsay, and Liberal Candidate for Ripon, Louise Staley, with BP&WRC committee members and Ask The Boss (Forest Lodge) at Burrumbeet jumpouts.