Farewell Bill Quin
by Peter Morganti.
After eighteen years as Racing Victoria's Chief Judge, Bill Quin has officiated at his last Dunkeld Cup meeting after announcing his retirement last week.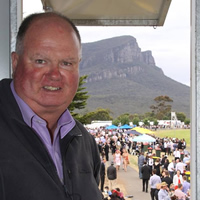 Quin's final day is today at Sale, completing over 40 years in the industry as a whole.
Loving the opportunity to get away from the hectic hustle bustle of the Spring Carnival, Quinn has loved the Dunkeld experience.
"Why wouldn't I enjoy my job, I've got the best seat in the house and with views like this it makes it very pleasurable," Bill said.
Making many friends over the years, it's this element he will miss the most.
"The people I have met over the journey are an undoubted highlight, I love chatting to people and racing has so many wonderful characters."
Quin's skill has also seen him call races during his career, something he still does to himself while watching all races he judges in.
"It's just the race caller coming out in me, it keeps me in the zone, and I'm comfortable doing that during a race until it's time to sort out some official placings.
I was fascinated to hear that dead-heats aren't a thing he looks for.
"No, as a judge I am always looking for a margin no matter how small."

"Today's technology is wonderful, but I'm still trying to find a winner in every race," he laughed.
Watching Bill at work was a treat and being able to photograph races from his vantage point was fantastic, and I thank him for that.
Quin won't be totally lost to racing as he plans to help out in a small way in Tasmania where he plans to settle in retirement.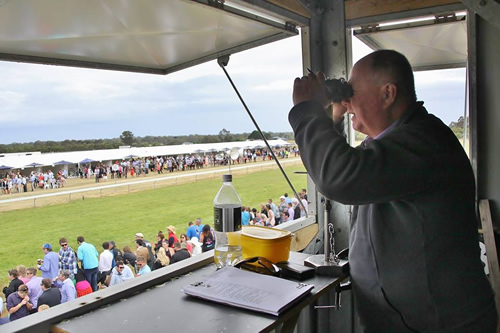 Racing Victoria's Chief Judge, Bill Quin working his last Dunkeld Cup meeting
Articles & photos by Peter Morganti – Morgz Racing @morgzracing