Peter Morganti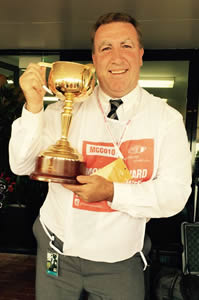 Peter 'Morgz' Morganti played football and cricket all his life until he turned 40 basically, after which he started to cover the local football league (Mininera) for the local paper (Hamilton Spectator).
From there he started to take a camera to games, before gaining social roles at local thoroughbred race meetings.
Since then he has met plenty of racing folk along the way and now has media accreditation with Racing Victoria.
Morgz writes a weekly racing piece for the paper as well as doing previews and reviews of meetings at Hamilton, Dunkeld, Casterton, Coleraine and Penshurst.
Along the way he has become a photographer for half a dozen or more Racing Stables supplying for their websites or running social media pages like Facebook.
Darren Weir Racing and Australian Thoroughbred Bloodstock syndications are the two major organisations he works for, but other trainers include Mick Sell, Dan O'Sullivan, Matthew Williams, Jarrod McLean, Brian McKnight, Patrick Payne, Symon Wilde, Terry Kelly, Mark Young and Josh Julius.
Another area Morgz covers is filming trials or jump-outs for the same trainers.
Photographing yearlings for sale is another area he's dabbling in, while also doing the odd weddings for people in the industry.
Basically Morgz is happy to try anything with his camera, but preferably in the racing game, while also continuing his role as a football correspondent.
Morgz lives in a small township called Glenthompson (1hr north of Warrnambool) with his partner, Rebecca and their two small kids, Jonah 7 & Marlee 14 months.
He has three older boys from a previous marriage, Joshua 18, Lachlan 16 & Benjamin 14 and they spend regular time together as well.
Morgz specialty is country racing and the racing folk behind the scenes who make it happen, and he shares his thoughts from time to time via our Racing News section.
Despite being a Carlton supporter Morgzs is actually a good bloke and always up for a chat at the races or footy, you might even get some good oil too.
Follow Morgz on Social Media
Facebook: Morgz Racing
Twitter: @morgzracing