Kingsley's tough winning day at 2014 Horsham Cup
by Peter Morganti.
Kingsley & Evelyn Peach raced many horses together for decades, probably hundreds.
The Macarthur couple rarely missed the opportunity to see one of their horses racing.
Only, maybe when they had more than one racing at different venues.
It was a union in every way and the couple were popular figures not only on the country circuit, but also in the big smoke.
Success came their way at different levels, but they deserved every bit of it, as huge supporters of the industry.
Unfortunately that union was broken recently when Evelyn passed away suddenly last month.
Naturally, it left Kingsley devastated.
Ironically, it has been the couple's love of the racing game that has helped him through the pain of losing his lifelong partner.
Last Friday at Horsham, Happy As Hell trained by Terry & Karina O'Sullivan provided him with another country cup.
It was fitting as the union between the O'Sullivan team & the Peach family has been a strong one for years too.
Sharing the winning experience with a group of Werribee bowlers, as well as others from the Stawell area was fantastic, but in a quiet moment it was obvious it wasn't quite the same.
Some reassurance that Evelyn had helped steer the horse home brought a teary smile to his face.
Kingsley was then quick to remind me that Evelyn's love of the number seven had also helped.
"He was number seven, in race seven and because of a scratching, jumped from barrier seven."
Sometimes winning results happen for a reason.
The race itself was run at a very quick tempo set by Magic Consol and race favourite, Rainbow Storm.
But the patience of jockey, Jack Hill won out as he steered a path between horses to arrive in time for a narrow victory.
For the horse, which has shown considerable promise including running in the Queensland Derby earlier this year, it was his second win in five days.
At the Peach's 'home track' at Hamilton he won on Cup Day last Sunday.
After a quiet moment with Kingsley he gave me the heads-up on the horse's next start.
"You better be going to Ararat, because he is running in that Cup next."
Racing has many aspects to it, and can throw up many variables, some great, some not so.
Last Friday was a day of jubilation and joy and no doubt for Kingsley all of that, but tinged with reflection and undoubted sadness!
2014 Horsham Cup Result
$50,000 Miller Contractors & Plant Hire Horsham Cup 1800m
1st: Happy As Hell (Jack Hill/Terry & Karina O'Sullivan) $4.60
2nd: Stratigraphy (Daniel Moor/Mick Price) $8
3rd: Rainbow Storm (Dean Yendall/Darren Weir) $1.80fav
Time: 1-49.65 Margins: nose x head
Jack Hill driving Happy As Hell to victory between runner-up, Stratigraphy (outside) and Rainbow Storm (inside).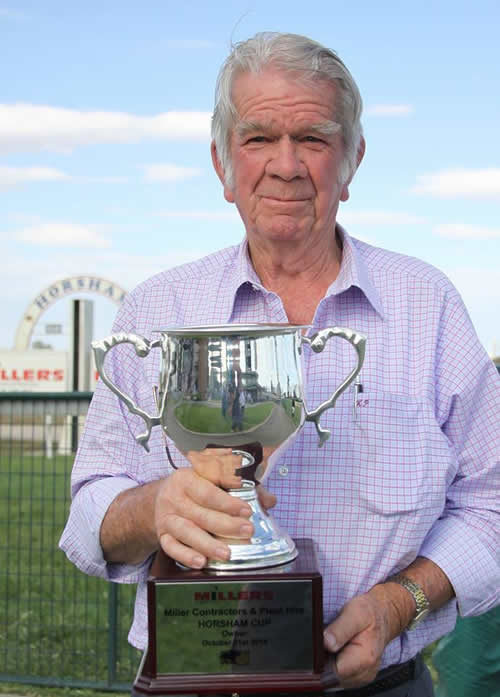 Kingsley Peach with the 2014 Horsham Cup.
Article & Photos supplied by Peter Morganti – Morgz Racing @morgzracing