When Irish names like Carraig Aonair are winning, owners smile with you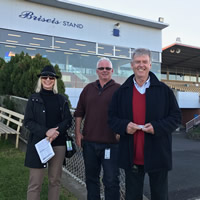 The Irish name Carraig Aonair mightn't be a name that rolls off the tongue as easily as some, but when "Carraig Aonair storms to victory" filters through the airwaves at Geelong racecourse on a wintery Tuesday afternoon, then it's his Aussie owners who are smiling, not the Irish.
Carraig Aonair, meaning 'lonely rock', in Irish, is the Australian Thoroughbred Bloodstock-owned and David & Ben Hayes & Tom Dabernig-trained son of Fastnet Rock, who is probably best known for being the older brother of stablemate and Group 1 Blue Diamond Stakes winner Catchy.
The improving three-year-old scored an effortless 2.5 length victory in the J.B Scott BM58 Handicap (1200m) at Geelong on Tuesday defeating Ella Violet and Kartem Around Boy.
Jockey Cory Parish summed the race up perfectly. The talented hoop allowed Carraig Aonair to settle back in the field to find his rhythm before positioning him to pounce on the home turn.
Upon straightening, Cory unleashed the horse down the middle of the track where he bounded away for the easiest of victories.
It was Carraig Aonair's second win for his excited owners and he scored in stylish fashion.
Carraig Aonair is a Magic Millions purchase
Out of the well performed mare Cats Whiskers, Carraig Aonair was purchased for $350,000 from the 2015 Magic Millions National Yearling Sale on the Gold Coast by Darren Dance from Australian Thoroughbred Bloodstock.
Darren was after a quality Fastnet Rock yearling and this horse fitted the bill.
"We were looking for a genuine high-class son of Fastnet Rock," Darren said.

"We've had good success with Fastnet Rock stock through Firehouse Rock, a winner of over $525,000, stakes winning mare Rockolicious, $250,000 plus, and Falago, currently around $418,000."

"Carraig Aonair is a full brother to smart Lindsay Park filly Catchy, plus the talented For Lulu, who was also trained by the Hayes & Dabernig team."
After a promising all the way Pakenham victory from a wide gate at just his second career start last September, Carraig Aonair stepped out again the following month at the same track to run a disappointing fifth place.
He was found to be suffering from a wind problem after returning to scale, which explained the poor effort.
Wind takes the sails out of Carraig Aonair
An operation was necessary to rectify the wind issue, and he was also gelded around the same time, compounding his problems for a return to racing.
A spell and patience was required before the horse could get back to the track.
"He showed a lot of promise early days with a good win on the synthetic at Geelong at just his second start," Darren added.

"Unfortunately, he developed a wind problem following his third start which required a minor throat operation."

"We weren't sure if it was going to be successful or not, but we were able to get him back into work and got him racing."
Carraig Aonair was like a bull at a gate at his first few outings, charging to the front and not settling as expected.
That was the case once again when he returned to racing early last month at Bendigo, finishing 9th of 12 at his first run since his operation.
He flew the gates and landed in front before finding little in the straight, eventually beaten over 6 lengths.
David Hayes sends Carraig Aonair back to go forward
A change of plan was required for him to reach his full potential. Trainer David Hayes suggested the horse be trained to relax behind the leaders where he could finish off late, rather than waste all of his energy early.
So, the horse was ridden from behind second-up at Geelong two weeks ago, where he ran home fairly for 6th, beaten 5.5 lengths on the line.
Darren Dance was buoyed by the effort and felt the horse had turned the corner.
"Early in his career he was blinkered up and charging to the front, being competitive that way," Darren said.

"David Hayes, to his credit, identified he was fairly one-dimensional and limited with this plan."

"So, we elected to change things around by taking the blinkers off to see if we could get him to settle ridden that way."

"Obviously the first outing when ridden this way the horse was a bit confused and over raced at Geelong two starts back."

"But he finished off reasonably well, showing we might be on the right track."

"Then on Tuesday this week back on the Geelong synthetic, he settled right back in the field and charged home to win running away by 2.5 lengths in a Benchmark 58 race."
It was a satisfying win for the hard-working syndicator, and he was quick to praise the Lindsay park combination of Hayes & Dabernig, along with jockey Cory Parish.
"Carrying 61.5 kilos to win that race was a really good effort by the horse, and also the team at Lindsay Park, who must take a lot of credit for getting the horse to settle and finish off so well in just two runs," Darren said.

"Credit to jockey Cory Parish too. He settled the horse back in the field and produced him at the right time."

"Gave the horse clear running in the straight where he was too strong for them. It was a great ride."
Now that Lindsay Park has the three-year-old worked out, plans are to take him through his grades.
Confidence levels rising with Carraig Aonair
How far Carraig Aonair can reach class wise is in the lap of the racing gods, but Darren Dance, as always, is full of optimism the horse can put a few more smiles on his owner's faces.
"The confidence levels in Carraig Aonair now are rising, and while we don't expect him to emulate the Group 1 winning deeds of his younger sister, it certainly gives you some confidence now that he could go on to win better races," Darren said.

"He'll step out next start in a Benchmark 64 at Geelong in three weeks' time and we plan to take him through his grades to see how far he can take us."

"There's no doubting this horse has got ability, it's just a question, that now they understand his preferred racing style, that he might be able to show us his value, and he might be able to return at least part of the purchase price outlaid for him as a yearling."

"Full credit must go to the Hayes & Dabernig combination for the way they've managed Carraig Aonair."

"They've given us owners the opportunity to snare a couple of wins, and moving forward, the confidence to see what he can do with more experience under the belt."
Fastnet Rock is a champion sire in Australia and has been for some time.
Our first horse with ATB was a son of the outstanding stallion, named Set Me Straight.
He was a huge, honest galloper who managed 4 wins and 4 seconds from ten starts before fate decreed his racing days over one fateful night at Moonee Valley.
Set Me Straight took a little time to find his way around a race track and one suspects Carraig Aonair is made of similar stuff, and Darren Dance was quick to agree.
"Since he's had the wind problem we have been very patient with him," Darren said.

"One would expect, that as this gelding develops and builds confidence, and gets older, he may well rise to greater heights than one would have initially expected following that throat operation."
Carraig Aonair has now had 9 career starts for 2 wins, 2 placings and $30,118 in prizemoney, and his pedigree suggests he'll peak at four-year-old and up over 1600 metres.
As for his owners, when Aussie eyes are smiling, sure all the winning owners smile with you!
And they'll certainly be smiling if Carraig Aonair can find the winner's stall again sooner rather than later!