Derby Tracker – Type & Pedigree: How do I know if he'll stay the trip?
by Dean Elliott.
Let's begin with Type.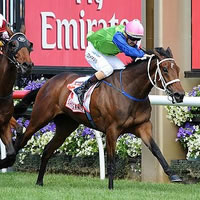 If you're going to be set on a path to compete in a Group 1 over 2500 metres as a spring three-year-old, you're going to need a big constitution to perform well in it.
If you're an immature type, not only will it be a very tough race to perform in, but it can also affect the remainder of your career, as pointed in my Record of those not suited/ready for Derby article.
It's the connections' prerogative to run or not, however as a punting proposition, be very wary, not only as a Derby contender, but also as a future racing prospect.
Here is where it pays to see horses in the flesh in the mounting yard, and just another reason to get to the track at this time of year!
Or at very least pay close attention to the mounting yard coverage on TVN.
Things to look for on type are:
Good length of rein (to help with length of stride)
Deep girth (plenty of room for heart and lungs)
Good overstep (a rough guide to length of stride)
Standing over plenty of ground (ie. the length between his near fore leg and off-hind leg)
Personality traits such as low head carriage and a relaxed demeanour are also vital.
Pedigree can also be a good guide in helping to determine whether or not a horse will run over ground, however it should not be used as an exclusive measure.
Of course you'd rather a Derby prospect by High Chapparal than not a Single Doubt, but many other factors including type, racing style/pattern, late sectionals, galloping action, etc. will also help determine their staying prowess.
NB: Don't be afraid to support a Kiwi bred horse (and why would you be in a staying race?).
They dominated the Derby from 2006-2011 winning 6 in a row.
Next up we look at 'Trainers and Jockeys'.
Article written by Dean Elliott (BDM at William Hill and Horse Racing & Breeding enthusiast)