Tasracing, Magic Millions and TasBreeders sign new three-year agreement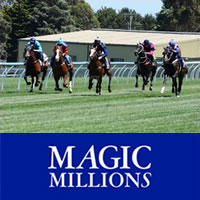 Tasracing, Magic Millions and TasBreeders have signed a new three-year agreement to conduct the Magic Millions Tasmanian Yearling Sale from 2016.
Tasracing chief executive officer Eliot Forbes said he was very pleased that all three parties could reach agreement to continue operating the sale in Tasmania.
"Magic Millions' decision is a strong vote of confidence in the state's breeding industry," he said.

"In addition, the fact that Australia's premier horse sales company is prepared to commit to Tasmania for a further three years sends an important and strong message to the market, both locally and interstate."
Dr Forbes said the delivery of the sale would be the responsibility of the Yearling Sale Working Group, a joint oversight committee comprising members of the three signatories to the agreement.
"Tasracing will continue to provide financial support for the sale through its ongoing support of the Tasmanian breeding sector," he said.
Magic Millions managing director Vin Cox said he was delighted that Magic Millions would continue its successful partnership with Tasracing and TasBreeders to conduct the sale at Inveresk during the Betfair Tasmanian Summer Racing Carnival.
"Tasmania has a proud history of producing high-class horses, including The Cleaner, Lady Lynette, Like A Carousel and Triple Asset," he said.
TasBreeders acting president Rob Dixon said the new three-year deal provided certainty to Tasmanian breeders that they had the backing and support of Magic Millions.
"The sale gives breeders an opportunity to showcase and market Tasmanian yearlings nationally through the Magic Millions organisation," he said.
Mr Dixon said 121 yearlings had been catalogued for the 2015 sale.
"This is a slight increase compared to the previous year but at a level that should allow strong clearance rates," he said.

"Tasmanian racehorses have continued to race well on the national stage, and recent performances by horses like The Cleaner will see interstate trainers return to the Tasmanian sales looking for a 'tough' racehorse."

"The offering of a three-quarter brother to The Cleaner in 2015 will attract strong interest."
The 2014 sale achieved a record clearance rate of 87.4 per cent.
It also delivered the equal highest lot ever sold at a Tasmanian yearling sale when a Teofilo Colt was sold to leading Victorian trainer Darren Weir for $85,000.
More information, when available, on the 2015 Tasmanian Yearling Sale will be visible here.