Records smashed on Day Four of 2018 Magic Millions Gold Coast Sale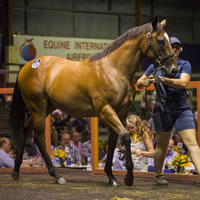 The Magic Millions Gold Coast Yearling Sale has smashed all records for its Book One auction with previous benchmarks obliterated during the action packed four day event.
A filly by Snitzel became the ninth individual lot to sell for $1 million or more when she was knocked down to New South Wales trainer Mark Newnham during the night session for $1.1 million.
She was the standout performer on Day Four and helped elevate the 2018 Magic Millions Gold Coast Yearling Sale as the highest ever grossing yearling auction in Southern Hemisphere history.
Presented by Arrowfield Stud, as agent, the filly attracted a flurry of bids before Newnham traded blows with David Lucas of Phoenix Thoroughbreds to secure the much admired youngster.
"That's the one we were waiting for for the last three days," Newnham said. "It's nice we were able to get her."
"She just looks a natural. She's got a really good, strong pedigree behind her and you'd nearly give up if she couldn't run."

"We thought she'd be pretty dear – for us she was the best one here. You've got to pay for them."

"This is the first time I've gone past half a million (dollars)," Newnham added. "That's how much we liked her, so hopefully she can repay us."
No fewer than five other yearlings sold for over $500,000 during an action packed sale closer for Book One of the country's most popular auction.
As is usually the case, the Magic Millions Sales Complex attracted thousands to the Saturday night session with a great buzz from the first lot to last.
The Book One sale rounded out with a gross of almost $156 million – over $22.6 million higher than last year. The average soared to exactly $228,000 while the clearance rate was a record equalling 89 per cent.
"We've closed out with the highest grossing yearling sale ever in the Southern Hemisphere," Magic Millions Managing Director Vin Cox said.

"The previous record was back in 2008. It's been a wonderful sale and it's a wonderful result for Magic Millions and obviously a massive result for our breeders."

"A lot of people came to town to support us. Many of the breeders brought us their best horses to support us and I guess in a way the perfect storm was created – everyone played their part and played it very well."

"We're in a wonderful position being the number one sales company in the Southern Hemisphere for a while now and with this sale being as strong as it is, really gives us a great platform going forward to attract even better horses and quality buyers," Cox added.
Former Gold Coast Yearling Sale purchase Snitzel edged out I Am Invincible as leading sire by average (for three or more lots sold), while James Harron Bloodstock was leading buyer and Arrowfield Stud (by gross) and Yarraman Park Stud (by average) led the way for the vendors.
Day Five of the 2018 Magic Millions Gold Coast Yearling Sale comprising a quality Book Two catalogue will commence at 11am (Qld time) on Sunday.
To view the results and to make an offer on a passed in lot click here.
SALE STATISTICS (After 4 Days)
(2017 in brackets)
Lots Catalogued: 853 (816)
Lots Sold: 684 (649)
Lots Passed In: 87 (100)
Lots Withdrawn: 82 (67)
Sale Aggregate: $155,952,000 ($134,292,500)
Top Price: $2,000,000 ($1,300,000)
Average Price: $228,000 ($206,922)
Median Price: $170,000 ($160,000)
Sold %: 89 (87)
DAY FOUR TOP SELLERS
$1,100,000 – Snitzel x Intimate Moment filly (Lot 830)
Vendor: Widden Stud (As Agent) / Buyer: Mark Newnham Bloodstock (NSW)
$625,000 – Written Tycoon x Hill Street Blues colt (Lot 803)
Woodside Park (As Agent) / Aquis Farms (Qld)
$625,000 – I Am Invincible x Harlem Heat filly (Lot 792)
Yarraman Park Stud (As Agent) / Gollan Racing/John Foote Bloodstock (Qld)
$575,000 – Snitzel x Just Dancing filly (Lot 852)
Arrowfield Stud (As Agent) / Belmont Bloodstock Agency (Vic)
$525,000 – I Am Invincible x Impressions filly (Lot 821)
Yarraman Park Stud (As Agent) / Boomer Bloodstock (Qld)
$525,000 – Tapit x Inventive filly (Lot 831)
Sun Stud (As Agent) / Boomer Bloodstock (Qld)
BOOK ONE SALE TOP SELLERS
$2,000,000 – I Am Invincible x Tai Tai Tess colt (Lot 373)
Vendor: Yarraman Park Stud (As Agent) / Buyer: Reg Inglis/Jon Kelly/Paul Frampton (NSW)
$1,900,000 – I Am Invincible x Electric Dreams colt (Lot 686)
Segenhoe Stud Australia (As Agent) / James Harron Bloodstock (NSW)
$1,800,000 – Snitzel x Flidais filly (Lot 733)
Arrowfield Stud (As Agent) / Reg Inglis/Jon Kelly/Paul Frampton (NSW)
$1,600,000 – Snitzel x Admirelle colt (Lot 480)
Milburn Creek / Phoenix T'breds/Aquis/Yulong/Ciaron Maher B'stock
$1,450,000 – I Am Invincible x Commanding Jewel colt (Lot 624)
Vinery Stud (As Agent) / Jadeskye Racing/B K Racing & Breeding/Brad Widdup Racing
$1,100,000 – Snitzel x Intimate Moment filly (Lot 830)
Widden Stud (As Agent) / Mark Newnham Bloodstock (NSW)
$1,050,000 – Pierro x Dance Card colt (Lot 647)
Bhima Thoroughbreds (As Agent) / James Harron Bloodstock (NSW)
$1,000,000 – Redoute's Choice x Cat by the Tale colt (Lot 591)
Arrowfield Stud (As Agent) / James Moore Racing (Macau)
$1,000,000 – Fastnet Rock x Risk Aversion colt (Lot 239)
Element Hill / Tom Magnier/John O'Shea (NSW)
$900,000 – Snitzel x Madame Andree colt (Lot 52)
Arrowfield Stud (As Agent) / James Harron Bloodstock (NSW)
LEADING BUYERS
(ranked by total spend)
$7,240,000 – James Harron Bloodstock – 10 lots
$6,585,000 – Gai Waterhouse/Adrian Bott/Blue Sky – 27 lots
$5,435,000 – Reg Inglis/Jon Kelly/Paul Frampton – 6 lots
$5,005,000 – McEvoy Mitchell Racing – 17 lots
$4,270,000 – China Horse Club/Newgate/Winstar – 10 lots
$3,795,000 – Orbis Bloodstock – 9 lots
$2,995,000 – Godolphin – 8 lots
$2,390,000 – Ciaron Maher Bloodstock – 10 lots
$2,295,000 – Guy Mulcaster Bloodstock – 11 lots
$2,200,000 – Blue Sky Bloodstock – 9 lots
LEADING SIRES
(ranked by average – 3 or more sold)
$483,788 – Snitzel – 33 sold
$478,649 – I Am Invincible – 37 sold
$405,667 – Redoute's Choice – 15 sold
$349,167 – Pierro – 12 sold
$340,000 – Fastnet Rock – 28 sold
$320,000 – Lonhro – 3 sold
$316,250 – Savabeel – 8 sold
$280,357 – Exceed and Excel – 14 sold
$278,913 – Written Tycoon – 23 sold
$277,045 – Zoustar – 22 sold
LEADING VENDORS
(ranked by average – 3 or more sold)
$427,143 – Yarraman Park Stud – 21 sold
$416,250 – Eureka Stud – 4 sold
$409,211 – Segenhoe Stud Australia – 19 sold
$395,909 – Bhima Thoroughbreds – 11 sold
$336,875 – Vinery Stud – 16 sold
$333,889 – Milburn Creek – 9 sold
$328,125 – Cressfield – 8 sold
$326,875 – Attunga Stud – 8 sold
$318,750 – Glenlogan Park – 4 sold
$304,412 – Element Hill – 17 sold
LEADING VENDORS
(ranked by total gross)
$13,680,000 – Arrowfield Stud – 46 sold
$8,970,000 – Yarraman Park Stud – 21 sold
$8,140,000 – Coolmore Stud – 38 sold
$8,085,000 – Baramul Stud – 45 sold
$7,750,000 – Segenhoe Stud Australia – 19 sold
$7,490,000 – Widden Stud – 29 sold
$6,955,000 – Newgate Farm – 37 sold
$6,310,000 – Sledmere Stud – 29 sold
$5,390,000 – Vinery Stud – 16 sold
$5,175,000 – Element Hill – 17 sold