Pierro steps up on Day 3 of 2016 Gold Coast Magic Millions Yearling Sale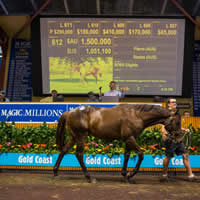 A former champion graduate of the Magic Millions Gold Coast Yearling Sale made his presence felt on Day Three of the 2016 edition of the sale when two of his youngsters sold for over a million dollars.
Pierro, the former champion two-year-old of Australia, filled the top two spots on the leaderboard of the day's top sellers with a colt selling for $1.5 million and a filly earlier in the day for $1.4 million.
The top seller was Lot 612, the bay or brown colt from Skates – making him a half brother to three stakes winners – two at Group One level including the reigning Golden Slipper winner Vancouver.
Consigned at the auction by Segenhoe Stud Australia on behalf of the Camilleri family's Fairway Thoroughbreds, the colt attracted an opening bid of $500,000 and after a flurry of bids from around the auditorium his price had quickly smashed through the seven figure barrier.
When the hammer fell it was Coolmore Australia who held the bid – the team led by Tom Magnier delighted to snare the prized colt.
"He's got loads of quality," Magnier said. "He's a great mover and he reminds me a lot of his brother."

"That's what drew us to the horse and a lot of top people liked the horse – I just hope we're right!" "It's a great family and he's a lovely individual by a very hot young stallion so we knew we would have to pay for him."

"The Pierros are very exciting and to get one out of Skates – we're just delighted," Magnier added. "We just need a bit of luck."
Earlier in the day it was Coolmore in the selling seat with a million dollar lot by Pierro – with the filly from blue hen Monsoon Wedding who sold for $1.4 million.
The filly is a half sister to four stakes horses and is from a sister to Redoute's Choice. James Harron bidding with Hubie De Burgh secured the youngster for international interests.
"She's a beautiful filly," Harron said. "She's got a huge, huge page and these families are hard to get into. There is a massive amount of residual value there with her."

"It's a family now with a couple of sisters in America being bred to War Front and Medaglia d'Oro and other mares in Europe going to Galileo. It's one of the best families in the world now – it's international."
Harron also secured the day's third million dollar sale – the Snitzel colt from the stakes winning Elusive Quality mare Nocturnelle.
Offered by Arrowfield Stud the brown colt is the first foal of his dam and he sold for an even million dollars.
"He was my number one pick of the sale," Harron said. "He's my favourite colt – just a beautiful type and we've had a lot of luck with Snitzel."

"She was a very good mare Nocturnelle so I'm really glad to get him," Harron added.
Late in the afternoon the sale gross passed the magical $100 million barrier and by close of play it had reached $102,760,000 – up 32 per cent on last year's sale. The clearance rate is an impressive 88.45 per cent. The average is also up 20% on 2015.
"It really is an outstanding result," Cox said. "We're sitting on average of around $200,000 which is spectacular in every sense of the word."

"It's the stuff dreams are made of. To get past $102.7 million is great – we closed the sale last year on the Saturday night at $92 million – so we're $10 million above that and we've got the night session to come."
Cox said he was also delighted to see the leaderboard of top sellers and see that each of the five million dollar sellers are by graduates of this sale.
"Every million dollar horse is by a Magic Millions graduate. We've got three by Snitzel and two by Pierro. It means our systems are working and it's great to have our graduates coming to the fore on sale day."
China Horse Club is the sale's leading buyer on outlay with a spend of $6.6 million on 20 lots. Gai Waterhouse in partnership with Julian Blaxland has secured 23 lots at $5.775 million. James Harron is third with $4.08 million spent on 8 lots.
The leading sire on average (for three or more sold) is Exceed and Excel with 11 sold at $364,545. Snitzel (43 sold at $343,605), Street Cry (12 sold at $340,417), Fastnet Rock (27 sold at $309,815) and Redoute's Choice (14 sold at $285,000) round out the top five.
In the highly anticipated sale ring clash of former racetrack rivals All Too Hard and Pierro it was the latter who shot to the front with an average of $263,750 compared to $232,031 for All Too Hard. Animal Kingdom splits the pair with three sold at an average price of $250,000.
To view the results and to make an offer on a passed in lot click here.
Day Four of the Gold Coast Yearling Sale will commence at 6pm (Qld time) on Saturday evening following the running of Australia's first $10 million raceday at the Gold Coast Turf Club.
2016 Gold Coast Magic Millions Day 3 Top Sellers
$1,500,000 – Pierro-Skates bay or brown colt (Lot 612)
Vendor: Segenhoe Stud Australia (As Agent for Fairway T'breds) / Buyer: Coolmore (NSW)
$1,400,000 – Pierro-Monsoon Wedding bay filly (Lot 448)
Coolmore Stud (As Agent) / James Harron Bloodstock/De Burgh Equine (NSW)
$1,000,000 – Snitzel-Nocturnelle brown colt (Lot 476)
Arrowfield Stud (As Agent) / James Harron Bloodstock (NSW)
$775,000 – Exceed and Excel-Set for Fame bay filly (Lot 592)
Segenhoe Stud Australia (As Agent) / Shadwell Australasia (UK)
$700,000 – Exceed and Excel-Strawberry Field bay colt (Lot 631)
Kitchwin Hills (As Agent) / James Harron Bloodstock (NSW)
$700,000 – Redoute's Choice-Rendzina bay colt (Lot 538)
Baramul Stud / China Horse Club (China)
$650,000 – Not a Single Doubt-Miss Sharapova bay filly (Lot 441)
Arrowfield Stud (As Agent) / Tim Stakemire (Vic)
$525,000 – I Am Invincible-Rivers Secret bay colt (Lot 543)
Yarraman Park Stud (As Agent) / Jackie Chan/Little Kwok Hing Hung/Bahen B'stock (HK)
$525,000 – Snitzel-Sabanci bay colt (Lot 567)
Arrowfield Stud (As Agent) / China Horse Club (China)
$510,000 – Savabeel-On Broadway bay colt (Lot 484)
Sledmere Stud (As Agent) / Prime Thoroughbreds (Vic)
2016 Gold Coast Sales Day 3 Statistics
(2015 in brackets)
Lots Catalogued: 648 (600)
Sale Gross: $102,760,000 ($75,012,500)
Average Price: $200,312 ($166,694)
Median Price: $150,000 ($135,000)
Top Price: $1,600,000 ($1,050,000)
Lots Sold: 515 (450)
Lots Withdrawn: 67 (57)
Lots Passed In: 69 (93)
Sold %: 88.45 (83.2)
2016 Gold Coast Sales Day 3 Leading Sires
Dalakhani (1 sold) $370,000 (highest) $370,000 (average) $370,000 (total)
Exceed And Excel (11) $800,000 $364,545 $4,010,000
Snitzel (43) $1,600,000 $343,605 $14,775,000
Street Cry (12) $725,000 $340,417 $4,085,000
Ocean Park (1) $330,000 $330,000 $330,000
Fastnet Rock (27) $800,000 $309,815 $8,365,000
Zoffany (1) $300,000 $300,000 $300,000
Redoute's Choice (14) $700,000 $285,000 $3,990,000
Savabeel (5) $510,000 $271,000 $1,355,000
Pierro (36) $1,500,000 $263,750 $9,495,000