Once, twice, three times a 4 Tracks 4 Kids walk for Tony 'Chips In' Edser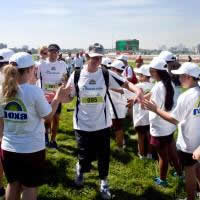 Tony 'Chips In' Edser is a lover of all things racing, but he also loves giving back when the opportunity arises.
That's why, for the third year in a row, he is doing the 4 Tracks 4 Kids walk to raise money for the people that need it the most, the sick little children.
Tony is travelling all the way down from from Newcastle in New South Wales, to do the Melbourne 4 Tracks 4 Kids walk on Monday 9th March 2015, and will be walking a total of 40 kilometres.
Tony recalls the very first time the 4 Tracks 4 Kids was held in Sydney.
"The first year the event was held I watched Richard Calendar struggle up the Randwick home straight after completing the arduous 70km and I remember chuckling at him battling," Tony said.

"It wasn't until they showed the sick Children at the Randwick Children's Hospital and the parents who are going through an unenviable nightmare that it hit home like at tonne of bricks."

"Having a six month old boy at the time I remember sitting their crying thinking about firstly the children who aren't having a childhood and secondly for the parents who are on a daily rollercoaster."
Tony raised $1,500 dollars for the Sydney 2013 event and hit $2,500 in for the 2014 Melbourne event last autumn, and he's hoping to do the same this year.
"The biggest fear for any parent is serious injury or illness to their child," Tony said.

"I am grateful that I have a happy and healthy child Desmond, and I guess it is my way of showing it by generating donations and awareness for parents and children who need our help.

"I have always been taught to help people, especially those who need it the most."

"There will be a time in your life when you need help from a stranger."
4Tracks4Kids is dedicated to helping the kids of Australia through raising funds to help develop medicines and cures for kid's diseases, training medical personal and purchasing important medical equipment.
The 4Tracks4Kids event was founded by racing identity Richard Callander and has grown to be one of the most anticipated days of charity raising on the Sydney and Melbourne racing calendar for the racing industry.
"It is a professionally organised event and an enjoyable day full of passionate people," Tony said.

"From the top jockeys and trainers in the country to form analysts from Newcastle the walk brings people from the racing industry together who want to help and make a difference."
We encourage everyone to get behind Tony to help raise as much money as possible for a great cause.
Click the following link to donate – Tony Edser 4 Tracks 4 Kids donation page
The Melbourne 4 Tracks 4 Kids walk commences from Sandown, before travelling to Caulfield, then on to Flemington, ending at Moonee Valley down the home straight.
This year the Melbourne 4 Tracks 4 Kids walk will be supporting 4 charities, The National Jockeys Trust, Doxa Youth Foundation, Very Special Kids and Pancare Foundation.