Missrock tops Day One of 2019 Magic Millions National Broodmare Sale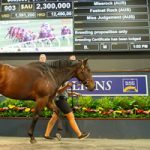 Outstanding racemare Missrock will head to England after topping Day One of the Magic Millions National Broodmare Sale on the Gold Coast today.
The mare was one of five individual lots to sell for $1 million or more during a spirited opening to the Southern Hemisphere's number one broodmare auction.
Missrock attracted immense interest from bidders and in the end it was John and Jake Warren who were bidding via telephone that secured the star mare for $2.3 million.
John Warren is known around the world as the Racing Manager for Her Majesty Queen Elizabeth II and in recent years has teamed up with his son Jake and the pair are leading buyers right around the world.
The Warrens spent recent days on the Gold Coast and were struck with Missrock when they inspected her on the grounds.
"She is one of those mares who doesn't take much inspecting – she's an absolute beauty," Jake Warren said.

"She fit the bill for us on conformation, she's a lovely sized mare. She's very strong and powerful and she has a great action."

"We were just in awe of her and thought she was a lovely type and when you married that up with her pedigree, race record and the fact she is by a top sire – she really floated our boat on all aspects."

"She has been bought for a private client of Highclere Stud and she is going to come back up to the UK and she will be based at Highclere Stud, where the intention will be to use the best available European stallions with a view to try to breed Classic horses."

"The Danehill blood in Europe mixed with the Sadler's Wells line has been so successful and so that's where we're thinking – it's very exciting," Warren added.
Presented at the auction by Kingstar Farm for an ownership group headed by Ray and Susie Montague, Missrock was able to make her last major Australian appearance at the same place she made her first – she was a $500,000 Gold Coast Yearling Sale buy for her former trainer Robbie Laing.
"I thought $2 million would be tops for her," a delighted Ray Montague said. "I thought somewhere between $1.5 and $2 million – there'd been incredible interest in her."

"To go that high above our expectations is quite incredible. We're not only pleased for ourselves but we also had six or eight friends come on the journey with us and they've had so much fun."

"I have so much belief in Robbie Laing. His ability to judge horseflesh is second to none in my opinion," Ray added.

"I was quite sad this morning when I gave her a last pat," an emotional Susie Montague said. "But what just happened – that's a Group One win."

"We are so excited to be able to be here on the Gold Coast to sell Missrock. Katie Page-Harvey and all of the Magic Millions team are world leaders and they couldn't have been more helpful in helping us present the mare to a worldwide audience," Montague added.
The second top seller on the day was former sprint sensation Invincible Star who was knocked down to James Bester and Tom Magnier for $1.45 million. That mare was consigned by Yarraman Park Stud.
"She was a very good two-year-old who trained on to virtually win the Coolmore to our own $30 million horse Merchant Navy," Bester said.

"She showed herself in every start to be one of the finest fillies in Australia. She's by I Am Invincible from a strong family – a no brainer!"

"It was probably a little more than we had expected, but mares of that quality make their money," Bester added while confirming she will be covered by American Triple Crown hero Justify this spring.
Former WA based star Whispering Brook, also offered by Yarraman Park Stud, sold for $1.1 million to leading Japanese breeder Katsumi Yoshida.
"What a great result," her former managing owner Alan Macalister said. "It was great to have her back on the Gold Coast where our trainer Simon Miller purchased her as a weanling."

"She was a really wonderful mare for us and it's just been a magnificent ride with Whispering Brook," Macalister added.
Two other mares on the day sold for $1 million – former Melbourne prepared star Oregon's Day (Amarina Farm to Tony Fung) and New Zealand champion filly of her generation Savvy Coup (Attunga Stud to Tom Magnier and James Bester).
The day's selling rounded out with seven stallion nominations sold on behalf of injured jockey Tye Angland. Tye's wife Erin and eldest daughter Lexi were present to see the nominations sell for a total of $283,500.
"What a way to round out the day," Magic Millions Managing Director Barry Bowditch said. "Kudos to the breeders – Harry Mitchell from Yarraman Park Stud came to us with the idea about six weeks ago and we ran with it and a lot of other farms came on board."

"The buyers certainly got involved and it's great to be able to support the Angland family in any shape or form."
All across the day over $28.3 million was traded on 168 lots sold at an average price of $168,646 – slightly up on last year's opening session. The clearance rate grew throughout the day and currently sits at over 81 per cent.
"The average is up on last year and the clearance rate is over 80 per cent so we're thrilled with that," Bowditch said.

"All in all it was a fantastic day of trade. It's one of those days we look forward to and we've had such pleasing results."

"We start on the broodmares tomorrow and there will be great buying across all levels of the market – opportunities for all buyers to step in and purchase quality lots," Bowditch added.
To view the results of the sale so far or to make an offer on a passed in lot click here.
Day Two of the 2019 Magic Millions National Broodmare Sale will commence at 10am tomorrow (Wednesday) with an outstanding line up of broodmares on offer.
Sale Statistics
(2018 Day One in brackets)
Lots Catalogued: 246 (257)
Lots Sold: 168 (190)
Passed In: 39 (33)
Lots Withdrawn: 38 (34)
Sale Gross: $28,332,500 ($31,727,500)
Top Price: $2,300,000 ($2,600,000)
Average Price: $168,646 ($166,987)
Median Price: $70,000 ($51,000)
Sold %: 81 (85)
Day One Top Sellers
$2,300,000 – Missrock (Lot 903)
Vendor: Kingstar Farm (As Agent) / Buyer: John and Jake Warren (UK)
$1,450,000 – Invincible Star (Lot 872)
Yarraman Park Stud (As Agent) / Tim Magnier/James Bester B'stock (NSW)
$1,100,000 – Whispering Brook (Lot 986)
Yarraman Park Stud (As Agent) / Katsumi Yoshida (Japan)
$1,000,000 – Oregon's Day (Lot 917)
Amarina Farm (As Agent) / Tony Fung (Qld)
$1,000,000 – Savvy Coup (Lot 1905)
Attunga Stud (As Agent) / Tom Magnier/James Bester B'stock (NSW)
Article courtesy of Magic Millions.