Horse Racing Shares Community Bowl – Share in up to $5000 on 2015 Burrumbeet Cup Day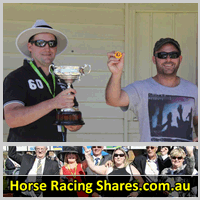 Horse Racing Shares is excited to be involved in the 2015 Burrumbeet Cup Day Community Bowl on New Year's Day where local communities can share in up to $5000 in prizemoney on the second last race of the day
The first Burrumbeet Community Bowl held on New Years' Day 2011, helped the Burrumbeet Park & Windermere Racing Club (BP & WRC) win the Country Racing Victoria Event of the Year.
The communities previously involved have included Beaufort, Ballan, Lexton, Learmonth, Waubra, Clunes, Carngham Linton, Springbank, Dunnstown, Bungaree, Rokewood Corindhap, Wendouree and Creswick. We are now planning for our fifth Community Bowl.
The concept is based around local communities in the Ballarat area coming together in a traditional manner on a family race day.
Sporting clubs are the heart and soul of most communities in Victoria and the BP & WRC encourages at least 50 people representing your community or club to pre-purchase a membership and attend the race day on New Years' Day.
Communities may decide to bring more than 50 people if available or less.
Have a great day out at the 2015 Burrumbeet Cup Day on New Year's Day and raise funds for your sporting or community club club along the way!
Each membership for the Community Bowl package is $25 and includes race day entry, a stubby holder, 2 heavy beer tickets, and it also provides reciprocal rights to Ballarat mid-week racing throughout the year.
Alternatively, gate entry tickets are $20 per person. There are also options for marquee and/or designated areas should you desire.
A representative of your club will be involved in a draw on race day (immediately following race 1), for one horse to run on your behalf in the Horse Racing Shares.com.au Community Bowl race on the day.
Share in up to $5000 in Prizemoney!
Should your horse win the Horse Racing Shares.com.au Community Bowl race, in addition to cheering it home with the rest of your friends and family, you will receive $2,500 prizemoney for use in your community or club and a presentation will be at the end of the race.
Second place will be worth $1,500 and third place $750.
This is a great opportunity to enjoy a day at the races with members of your community or club and provide a great boost to your fundraising efforts for the year ahead at the same time.
The BP&WRC expect many clubs to return from last year and participate again, with strong demand being felt from other communities in the area.
If you are unable to sell all 50 tickets, then you can still be involved. Should you win, you would receive a pro rata amount of any prize money.
For further details or confirmation please contact Steve Biggin on 0418 125 069 or bigginsteve@hotmail.com.
Payment options:
Cheque / Money Order Payable to:
Burrumbeet Park & Windermere Racing Club PO Box 4040, Alfredton. Vic 3350
Payment via Direct Deposit – Bendigo Bank:
Account Name: Burrumbeet Park & Windermere Racing Club Inc. BSB: 633 108 Account Number: 1423 55486
Get involved in the Horse Racing Shares.com.au Community Bowl on 2015 Burrumbeet Cup Day!