Inaugural Saturday stand-alone Ballarat Cup meeting hailed a success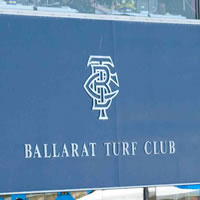 Last Saturday's stand-alone Ballarat Cup meeting at Ballarat has been hailed a great success from Racing Victoria (RV) Chief Executive, Bernard Saundry.
The Ballarat Turf Club's inaugural Saturday race day recorded strong growth in attendance and wagering after being moved from its previous Sunday timeslot to assume the mantle of Victoria's main city meeting.
A crowd of 10,320 attended the 2014 Ballarat Cup on Saturday, compared to 6,306 for the 2013 Ballarat Cup meeting last year on a Sunday.
Turnover across all operators was up 13%, with Ballarat having 10 races and 109 starters this year compared to 8 races and 95 starters for the 2013 Moonee Valley last year.
It was a highly successful day according to Bernard Saundry.
"The official attendance and wagering results further demonstrate it was a highly successful debut for Ballarat's Saturday stand-alone meeting and I'd like to congratulate all involved at the Ballarat Turf Club for their achievements in executing a successful event," Saundry said.

"To have more than 10,000 fans trackside and realise growth across the weekend in wagering with Ballarat's figures more than matching those produced at the equivalent metropolitan meeting last season, provides a great platform for the Club and industry to further develop the meeting in future years."

"The Club should be congratulated for securing the support of Magic Millions, Sportsbet and VOBIS Gold which allowed prizemoney and bonuses on the day to be boosted to a total of $1 million, something which was instrumental in the growth of the meeting."

"The atmosphere on-course was vibrant, with the Club selling 5,000 hospitality packages this year, an increase of 2,000 on last year, as well as 117 marquees and market umbrellas – up from 48 sold for the Club's Sunday Cup meeting in 2013."

"Moving the meeting to a Saturday also provided a significant boost to local tourism operators and the opportunity is now there to cement Ballarat Cup Day as a real showpiece for the region's social and sporting calendar."
A summary of the success of Ballarat Cup Day, which doubled as the finale meeting of the 2014 Spring Racing Carnival, follows with comparisons made against the Moonee Valley meeting which assumed the same Saturday afternoon timeslot in 2013.
2014 Ballarat Cup Day Summary
Attendance
2014 Ballarat Cup (Saturday) – 10,130
2013 Ballarat Cup (Sunday) – 6,306
2014 Ballarat Cup Day
Turnover across all operators up 13%
Total turnover all operators $30.8 million
Total turnover-per-starter equal year-on-year (Ballarat 10 races, 109 starters compared to 2013 Moonee Valley Saturday, 8 races, 95 starters)
2014 vs 2013 Weekend Wagering Comparison (including Friday night)
Turnover across all operators up 2.6% year-on-year
Total turnover all operators $51.5 million
The strong growth across attendance and wagering has cemented the Ballarat Cup meeting's Saturday placement in the 2015 racing calendar.