Feature race trainers set to prosper at 2015 Warrnambool May Carnival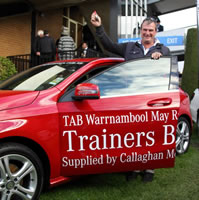 The Warrnambool Racing Club is offering a new bonus scheme for the country's best trainers at next year's Warrnambool Cup carnival in May.
The club has two all-up bet bonuses on offer for trainers during the 2015 Warrnambool May carnival: one for the feature jumps races and one for the feature flat races.
Over the past 15 years, a new car has been award to the trainer who won a designated number of races during the famous May carnival, with leading trainer Darren Weir the recipient last year.
Any trainer who can win all of the 3YB Scotty Stewart Brierly Steeplechase, the Sovereign Resort Galleywood Hurdle and the Wheelie Waste Grand Annual Steeplechase at the carnival will receive the jumps bonus.
Any trainer who can take out the Midfield Group Wangoom Handicap and the Sungold Milk Warrnambool Cup will get the flat bonus.
The Club has a $5000 prize pool on offer for each bonus, but those figures could increase significantly pending sponsorship.
The trainer's bonus will create plenty of extra interest in the May carnival according to Warrnambool Racing Club chief executive John Green.
"We're looking to drive participation, drive the quality of horses running in the races and stimulate turnover," John said.

"That's fairly critical to us. We see that as our immediate challenge for jumping racing, to get people interested in betting on the sport."
The Warrnambool May racing carnival will be held over three days from Tuesday 5th May to Thursday 7th May 2014 at Warrnambool racecourse in Western Victoria and the
Visit the Warrnambool Racing Club website for all ticketing & dining options.