Derby Tracker – Moonovermanhattan (Mick Price)
by Dean Elliott.
First cab off the rank is Moonovermanhattan.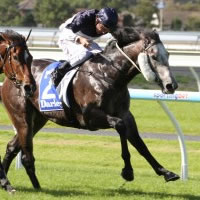 Let's take a look at some of the key chances, along with a few from left-field, to see how well they fit the VRC Derby winners profile that we've created in previous sections…
MOONOVERMANHATTAN
(Manhattan Rain – Lunasong by Flying Spur)
Moonovermanhattan ticks a lot of boxes as a genuine Derby contender.
Moonovermanhattan Credentials
This powerful grey colt appears as though he has the credentials to go deep into the spring and produce a personal best on Derby Day. He looks to have a great constitution (bigger and better each time I see him in the yard) which is critical to being able to stand up to any big campaign, let alone one for spring three-year-old that culminates in a 2500m Group 1.
Trainer Mick Price made mention on TVN's Trackwork program that he continues to improve and thrive at a time of the season when many three-year-olds might be going a bit soft. That's music to the ears of Moonovermanhattan fans.
Moonovermanhattan Performances
In terms of racing performances and having a profile that's consistent to previous Derby winners, there is also plenty to like.
Moonovermanhattan had just the one run as a 2yo, which is a touch on the light side when looking at previous winners of the Derby, however this run was a stakes race in Adelaide which he won in a hard fought finish against the talented Not A Happy Camper over 1200m.
The interstate travel would have really bought him on physically and mentally; perhaps the equivalent of a 2 or 3 runs prep without the travel/stakes level opposition. The 16 weeks between 2yo/3yo campaigns is also spot on according to history.
So taking that into account, he gets another tick in regards to setting the right foundation (more on this here).
Moonovermanhattan Current Form
From foundation to current form…to date, his three runs this campaign couldn't have worked out any better for a horse on a Derby preparation.
First-up no luck/soft run over 1200m, 2nd up tough effort at Flemington (tick) when battled on well in the inferior ground against a couple of smart ones Merion and Chivalry over 1400m.
Third-up he then ran an unlucky 2nd behind Almalad in the Stutt Stakes where he was strung up in traffic on the rail in a stop-start affair.
For a horse looking to stretch out over further, this represents a good level of class.
At the moment he is one of few three-year-olds in that 'sweet spot' of competing very well in the better grade of races, that also appears that he'll be better over a Derby distance. Tick!
At the time of writing this, it seems likely that Moonovermanhattan will run in the Guineas and back up in the Caulfield Classic, in preference of going straight into the Classic en route to the Derby.
NOTE: Moonovermanhattan has drawn barrier 7 in the 2014 Caulfield Guineas on Saturday 11th October 2014 at Caulfield and Craig Newitt has taken the ride.
You could argue that bypassing the Guineas could help him from a Derby perspective, as it's one less Grand final run in the prep.
However, one thing he does have in favour of some unsuccessful past Derby runners that came via the Guineas is that he's already had one run over the 1600m (Stutt Stakes), which means the grounding is there after the Guineas to handle the quick progression to the 2500m.
If Moonovermanhattan does go Guineas and Classic, he'll have 2 weeks leading into the Derby which is another advantage others haven't had in the past coming via the Guineas.
Although I'm not a huge fan of backing up in 7 days mid-preparation, most three-year-olds will have to do this en route to the Derby, so I'm not overly concerned.
The key will be listening to Mick Price after the Caulfield Classic to hear how he's come through both races and if he's still on the up.
Moonovermanhattan Pedigree
Pedigree wise, Moonovermanhattan is a very interesting case.
He's from the first crop of Manhattan Rain, whose better progeny seem to enjoy getting over ground (for example Crafty, who is on an Oaks path).
His dam Lunasong (Flying Spur) was a winner at 2 over 1000m and trained on to win up to 1600m. She has produced a couple of smart Hussonet fillies that have won up to 1500m, including G2 winner Colorado Claire.
Second dam Lunaliona (by Caerleon) is part of a successful Aga Khan family that has thrown plenty of good winners over a middle distance in Europe.
Being by Caerleon also means we get a high quality gender balanced 4×4 cross of Nijinksy (which appears through Manhattan Rain via Dancing Show, the dam of Shantha's Choice).
This pedigree gets even more interesting when you consider that Manhattan Rain's sire Encosta De Lago and dam sire Flying Spur are closely related.
Obviously this was a mating that had plenty of thought go into it, so it's no surprise to a talented horse emerge as the end product.
Moonovermanhattan Final Word
You can't have a well-balanced view without addressing any concerns.
In this case, my main concern for Moonovermanhattan lies in a dominant staying type of horse emerging from different form lines that will be a superior 2500m horse (like a Plastered or Kibbutz type of horse that emerged in October from slightly left of field).
Time is running out for that scenario to occur, but I'll still be on the lookout over the coming weeks!
Overall, I believe Moonovermanhattan is currently one of the best credentialed gallopers heading towards the VRC Derby.
He's currently mixing it with some very handy milers, and should come into his own over 2000m and beyond.
The Caulfield Classic run (including how he comes through it) will be the most pivotal step in his program as he tries to become Mick Price's first VRC Derby winner.
Moonovermanhattan is currently equal 5th pick for the VRC Derby.
Article written by Dean Elliott (BDM at William Hill and Horse Racing & Breeding enthusiast)