Bunchloch snares 2014 BetEasy Hamilton Cup
By Peter Morganti.
A masterful ride by Nikita Beriman enabled the Terry & Karina O'Sullivan trained gelding Bunchloch to win yesterday's $60,000 BetEasy Hamilton Cup.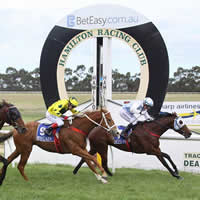 Starting a $9.00 chance, he staved off late challenges from local hope Sudden Moment $4.60 and Dean Yendall, with Count Encosta $1.80f and Damian Lane finishing third.
Witnessed by a good crowd enjoying the beautiful weather, Beriman stole inside runs throughout the race to basically only go around one horse in a sensational piece of horsemanship.
It prompted high praise from co-trainer, Terry O'Sullivan during the Cup presentations.
"That was a 10 out of 10 ride; no it was an 11 out of 10 effort!"
Jumping from a middle barrier, the pair positioned on the rail a little better than midfield behind the Wayne Walters trained leader, Blue Highway.
Passing the 1000m mark gaps opened along the rail with Beriman taking every advantage to creep closer to the front.
Knowing race favourite, Count Encosta and eventual runner-up, Sudden Moment were outside and directly behind her, Bermian was able to dictate when she made her move.
Approaching the home turn it was apparent Blue Highway was tiring and Beriman was able to get off the fence and hit the front on straightening.
While Count Encosta was trying to wind up four wide and Sudden Moment was looking for room inside the winner, Beriman was able to pinch a winning break.
The long neck margin to Sudden Moment with Count Encosta a further neck back third showed how crucial a good ride was to enable the victory.
On face value the Darren Weir trained Count Encosta appeared disappointing, but the run of Sudden Moment was solid, considering he had dropped back in distance from his start winning effort over 2600m at Morphettville.
It capped a day of placings for Hamilton trainer, Ron Daniel.
For Bunchloch and his owner Bill Gee it was their third country cup this year.
Three weeks earlier they took home the Murtoa Cup, following up on an early year win in the Colac Cup which was ran at Camperdown.
The 5YO has now won seven races with career earnings of over $150,000.
Wilde Day of Multiples
Riding and training doubles were the order of the day, but it was Symon Wilde who stole the show with a training treble.
The young trainer has only recently branched out by himself after a successful union with father Bill.
The day started with a bang for Wilde when Jolly Jack $2.25f nailed the locally trained Rangry $9.00 in the Hamilton Spectator Maiden over 1100m.
It took the entire home straight to get his nose in front, but under the urgings of Nikita Beriman he prevailed from the unlucky Rangry trained by Brittany Raymond.
Ridden by Christine Puls the runner-up had to endure pressure early in the race before rallying well in the home straight.
For Beriman it was the first of her double.
Wilde's second winner was a little easier when Canyoukeepasecret $3.00 scooted clear in the home running before holding off Super Daph $7.00 in the Walker's Earthworks F&M Maiden Plate over 1400m.
It proved to be the first of a riding double for the popular Jack Hill.
He also rode the Archie Alexander trained Gambaccini $2.60f to win the Sinclair Wilson BM64 Handicap over 1200m.
It bloused local hope Happy Valentine $4.40, trained by Allan Clark in the shadows of the winning post, and also denied Nikita Beriman a riding treble.
Wilde's final leg of the treble would have satisfied him the most.
Mannopoly $13.00 was first-up after over two years off the scene with injury, and to win against a handy field of sprinters in the Ace Radio Hensleigh Showcase BM78 over 1200m is testament to Wilde's skill and also his owner's patience.
Now a 7YO he last raced at Caulfield in July 2012.
A winner of five races, he has now earned his connections over $135,000 in prizemoney.
A great rails-hugging ride by Jarrod Fry also capped his day with a riding double.
Early in the day he won on the Kathryn Durden trained Night Wolf $2.15f in the Patrick of Coonawarra Maiden Plate over 1600m.
Cup winning trainers, Terry & Karina O'Suillvan also had a double with Happy As Hell $8.00 storming home to win the Callaghan Motors Showcase BM70 over 1600m.
Apprentice Luke Londregan piloted the gelding to a narrow win over race favourite, Ungrateful Ellen $2.00, which also denied Jack Hill a winning treble.
Finally improved stayer Linka $9.00 made it three consecutive wins with victory in the Midfield Group BM64 Handicap over 2200m.
The Wayne Walters trained 6YO has certainly clicked under the guidance of apprentice Caitlin Jones, who has been aboard in all three wins.
Finally compliments goes out to the club who provided a wonderful day of family activities and a race track that received high praise from jockeys and trainers.
2014 Hamilton Cup Day Results
Race 1: The Spectator Maiden Plate (1100m)
1st: Jolly Jack (Nikita Beriman/Symon Wilde) $2.25f
2nd: Rangry (Christine Puls/Brittany Raymond) $9.00
3rd: Hard At It (Jack Hill/Terry & Karina O'Sullivan) $17.00
Race 2: Walker's Earthworks F&M Maiden Plate (1400m)
1st: Canyoukeepasecret (Jack Hill/Symon Wilde) $3.00
2nd: Super Daph (Damian Thornton/Glenn Thornton) $7.00
3rd: Hammering Home (Damian Lane/Saab Hasan) $7.00
Race 3 Patrick of Coonawarra Maiden Plate (1600m)
1st: Night Wolf (Jarrod Fry/Kathryn Durden) $2.15f
2nd: El Jax (Damien Thornton/Glenn Thornton) $10.00
3rd: Without A Pop (Josh Cartwright/Ron Daniel) $15.00
Race 4: Sinclair Wilson BM64 Handicap (1200m)
1st: Gambaccini (Jack Hill/Archie Alexander) $2.60f
2nd: Happy Valentine (Nikita Beriman/Allan Clark) $4.40
3rd: Gem of Kingston (Jordan Childs/Allan Clark) $18.00
Race 5: Callaghan Motors Showcase BM70 Handicap (1600m)
1st: Happy As Hell (Luke Londregan/Terry & Karina O'Sullivan $8.00
2nd: Ungrateful Ellen (Jack Hill/Robert Smerdon) $2.00f
3rd: Millie's Mann (Beau Mertens/Jarrod McLean) $5.00
Race 6: BetEasy Hamilton Cup (2200m)
1st: Bunchloch (Nikita Beriman/Terry & Karina O'Sullivan) $9.00
2nd: Sudden Moment (Dean Yendall/Ron Daniel) $4.80
3rd: Count Encosta (Damian Lane/Darren Weir) $1.80f
Race 7: Midfield Group BM64 Handicap (2200m)
1st: Linka (Caitlin Jones/Wayne Walters) $9.00
2nd: Monte Carlo (Jarrod Fry/Geoff Withers) $5.00
3rd: The Wild Thing (Nikita Beriman/Ron Daniel) $11.00
Race 8 Ace Radio Hensleigh Showcase BM78 Handicap (1200m)
1st: Mannopoly (Jarrod Fry/Symon Wilde) $13.00
2nd: Koe (Luke Londregan/Terry & Karina O'Sullivan) $9.00
3rd: Conidel (Caitlin Jones/Jamie Opperman) $4.60
2014 Hamilton Cup Finish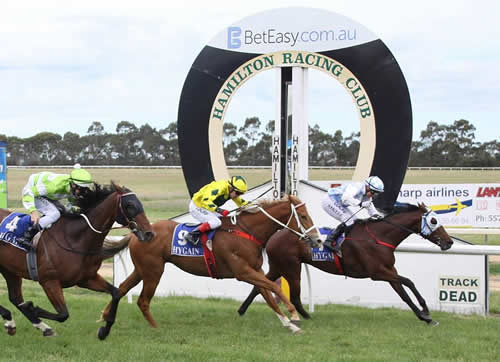 Bunchloch (Nikita Beriman) defeats Sudden Moment (Dean Yendall) and Count Encosta (Damian Lane).
Article & photo courtesy of Peter Morganti (Morgz Racing).