$10M Race Day announced for 2016 Magic Millions on the Gold Coast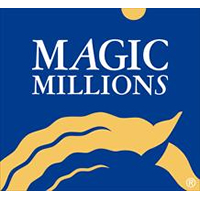 December 19, 2014 will be remembered as a ground breaking day for Australian racing after Racing Queensland and Magic Millions announced the country's first ever $10 million raceday.
The Jeep Magic Millions Raceday on Saturday January 9, 2016 will become Australia's richest racemeeting and ranked in the world's top 10, as part of a seven-year partnership (2016-2022) to take the summer program to unprecedented heights with the Magic Millions Racing Queensland Summer Carnival.
Magic Millions Managing Director Vin Cox recognised the significance of the partnership and the immense support Racing Queensland is delivering to every facet of the thoroughbred industry from breeders, owners and trainers to buyers and vendors at Magic Millions sales.
"The phenomenal support and foresight of Racing Queensland, in concert with Magic Millions, has created the Magic Millions $10 Million raceday. The combined vision is a game-changer for Queensland racing, for the Gold Coast and for the Australian thoroughbred industry as a whole," Mr Cox said.

"The partnership with Racing Queensland is long-term, which invigorates thoroughbred racing for the current generation of industry stakeholders, as well as creating momentum and motivation for the next generation of Queenslanders and Australians committing to a thoroughbred industry career," Mr Cox added.
Racing Queensland Chairman Kevin Dixon said the prizemoney boost would set the bar in Australian racing, attracting the best horses and the attention of the racing world.
"This is a monumental day for the Queensland racing industry and the partnership with Magic Millions leaves no doubt as to where we want to take our racing product," Mr Dixon said.

"Over the past six months we have built a strong platform with base level and feature prizemoney increases and this partnership is the next phase in our vision to take Queensland racing to the world. Today's announcement is just one part of an overall program to continually improve all three codes of racing in Queensland."

"As part of the new partnership, the summer program will be reviewed to develop clear pathways for horses to what will essentially be our grand final on Magic Millions Raceday."

"Another clincher will be the addition of wild card entries into four $1 million races on Jeep Magic Millions Raceday, which will be granted to the eligible winners of four selected races during the summer carnival and potentially give four non-Magic Millions horses a chance to race on the day."
Mr Dixon said as part of the partnership, there would also be a one-off opportunity for older Magic Millions Graduates who were not previously registered for the series to register.
Minister for Racing Steve Dickson said Magic Millions was already a huge contributor to the Gold Coast economy but the new partnership would deliver a significant boost to the state's racing and tourism industries.
"We want to grow tourism, as one of the four pillars of the economy, and events like the Magic Millions really help put our state on the map," Mr Dickson said.

"Where else can you watch top quality horses compete for $10 million in stakes just a stone's throw from some of the world's most beautiful beaches?"

"The Newman LNP Government made a strong plan to reinvigorate the industry, and it's clear that it's working, with today's news the latest in a string of racing successes, including the recent 30-year wagering deal.

"The industry can continue to look to the future with confidence under a Newman LNP Government."
Magic Millions $10M Raceday Program – January 2016
– $2,500,000 Magic Millions 2YO Classic – 1200m (including a $0.5M guaranteed Racing Women's Bonus)
– $2,000,000 Magic Millions 3YO Guineas – 1400m
– $1,000,000 Magic Millions Sprint 1100m
– $1,000,000 Magic Millions Cup 1400m
– $1,000,000 Magic Millions Trophy 1800m
– $1,000,000 Magic Millions Fillies and Mares 1300m
– $1,000,000 Magic Millions QTIS All-Aged Hcp 1300m* (*distance to be confirmed in consultation with Qld Industry)
– $250,000 Magic Millions Maiden – 1200m
– $250,000 Magic Millions Country Cup – 1200m (Special Country Cup Conditions)
Prizemoney Distribution Schedule
Prizemoney will be distributed from 1st to last position in all races programmed on Magic Millions Raceday, according to the following distribution:
– $2M races: 1st – $1.2M; 2nd – $370k; 3rd – $180k; 4th – $90k; 5th – $50k; 6th to 16th – $10k.
– $1M races: 1st – $600k; 2nd – $185k; 3rd – $90k; 4th – $45k; 5th – $25k; 6th to 16th – $5k.
– $250k races: 1st – $150k; 2nd – $46,250; 3rd – $22,500; 4th – $11,250; 5th – $6,250; 6th to 16th – $1,250.
For any races with less than 16 starters or a field limit less than 16, unused money from the above allocations will be evenly spread between the first three placegetters of that race.
 Magic Millions Race Series Nomination
There will be a one-off opportunity provided for owners of eligible horses offered through a Magic Millions Yearling sale held in 2014 or earlier, and which had previously not nominated to the Magic Millions Race Series, to pay the Race Series Nomination fee via a late registration.
The late registration of older horses will be available until 31 July 2015 and will not be offered again. Horses subject to a late registration will qualify to nominate to race on Magic Millions Raceday excluding the Magic Millions 2YO Classic and Magic Millions 3YO Guineas. The late registration fee will be $4,950 (inc GST).
Race Series Nomination Fee – 2015 Magic Millions Yearling Sales
The Magic Millions Race Series Nomination fee for yearlings offered at Magic Millions Yearling sales in 2015 will be $4,950 (inc GST). This nomination will make your yearling purchase eligible for its lifetime to compete in the full national series of races including the annual $10M Gold Coast Raceday.
In a special offer to buyers at the Gold Coast March Yearling Sale, the Race Series nomination fee for horses purchased at this sale will be $3,300 (inc GST), which is capped for seven years under the new partnership.
Further information in relation to Magic Millions Race Series nominations and eligibility will be available on the Magic Millions website prior to the 2015 Gold Coast Yearling Sale.
The Magic Millions national program of races now offers $11.19M in prizemoney each year.