The best is yet to come for 2014 Victoria Derby chance Firehouse Rock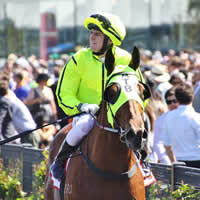 When Australian Thoroughbred Bloodstock's Darren Dance says to get involved in a young racehorse because he thinks it might grow into something pretty smart, then you have to listen first and worry about the price later.
And that's how it was with the dashing Fastnet Rock * Bird Of Fire colt that would go on to become Firehouse Rock.
He wasn't cheap, and it took some convincing to get the other half on board to grab a share in him, but the track record of Darren Dance spotting a good horse and enjoying the successes with his owners is a more than handy one.
Sometimes you just have to trust your gut and go along for the ride, even if the fare is going to be an expensive one.
1st Start – 2nd Geelong (1300m) Aug 26, 2014
Darren sent Firehouse Rock to David Hayes to be trained and after a thorough learning preparation he made his racetrack debut at Geelong in late August over an unsuitable 1300m on the synthetic track.
Expectations were that he would be finding the line nicely.
He hit the line very nicely indeed to finish just over a length behind Mihany, his stablemate from the David Hayes & Tom Dabernig stable, a horse who would go on to run fifth in the Group 2 Stutt Stakes the following month.
The run was better than we expected and the form around the race proved to be very good in the weeks to come.
2nd Start – 3rd Bendigo (1500m) Sep 10th 2014
Two weeks later he went to Bendigo over 1500m and expectations were that he should be winning this from his good inside draw.
If all went to plan he would be sitting on the pace and finish too strongly for them.
Sometimes the best laid plans can go astray and after settling midfield he loomed up in the straight to look a big chance, but his run plateaued about 100m out and he found a couple better on the day.
He hit the line stylishly though to finish third, beaten less than 2 lengths, and the winner Manhattan Avenue ventured to town to perform very admirably, finishing runner-up twice at Flemington & Caulfield at his past two starts.
Manhattan Avenue is engaged on Derby Day in the first. I hope he wins to frank the form.
3rd Start: WON Caulfield (1700m) Sep 20th 2014
David Hayes decided to send Firehouse Rock to town for his next start as there was a good race on offer over 1700m at Caulfield with VOBIS & Inglis bonuses that were very enticing indeed.
The extra distance would suit him and the race itself would also provide a good barometer to where he could progress to from here.
Racing in town we were expecting to be up on the speed and top three would be a great result.
It turned out to be a very smart move by our trainer as Firehouse Rock jumped beautifully and raced on the pace before bounding to the lead in the straight and kicking away.
He defied all challengers in the run to the line, and despite getting a little wobbly in the final 50m, he held on to score his very first win for his elated owners, picking up a $100,000 Inglis Bonus and some very nice Super VOBIS bonuses along the way, to sweeten the victory that much more.
Unfortunately the planets didn't align for this owner as I found myself at the George Main Stakes meeting in Sydney where I watched the race on a small TV with a lovely group of Betfair folk who all enjoy a bet, and a drink, and they were on board Firehouse Rock with me.
Didn't really make up for not being there to witness his first victory with all the other owners, all lovely people, but no matter where you are, it's always a joyous moment when your racehorse wins.
The Betfair table at Randwick made a bit of a killing on Firehouse Rock after we snared $15 on course by a very generous bookmaker.
The bookie needn't have worried, he was always going to get some back over the course of the day, and he did.
Wouldn't be a day at the races if the planets didn't align for the bookmaker.
After three starts Firehouse Rock had one win and two placings with around $175,000 in prizemoney.
Not a bad return on investment so far, and David Hayes now thinks he's a Derby horse because he's so relaxed in his races and developing a turn of foot.
Think Darren Dance knew what he was talking about, glad I listened.
4th Start – 8th Flemington (1800m) Oct 4th 2014
For his next start, David Hayes chose to test Firehouse Rock again, and he stepped up to listed class in the UCI Stakes over 1800m at Flemington in early October.
He found himself up against some potential Derby types and from his wide gate would need to be ridden for luck early.
It was a windy day at Flemington and up on the speed was the place to be.
Not many horses were coming from behind so the plan was to go forward and find a spot where he could be produced at just the right time to pounce, a repeat of what he did last start at Caulfield.
Firehouse Rock jumped well again but jockey Nick Hall elected to go back to give him cover from the wind, a decision that would ultimately give the horse no chance in the race as he got too far back in the run.
On paper it was the worst effort of the horse's short four start career, but it was a run that can best be forgotten.
With the Derby in mind, the logical choice was to go back to Caulfield for his next start, to the scene of his first win, to tackle the $750,000 Group 3 Caulfield Classic, formerly the Norman Robinson Stakes.
If Firehouse Rock could win this race he would pay for himself in just five starts and Darren Dance would be leaning over our shoulders with a wry smile on his face saying he told us so.
As owners, we would be happy to just see his wry smile after the race.
5th Start – 3rd Group 3 Caulfield Classic (2000m) Oct 18th 2014
The Classic assembled much of the field that contested the UCI Stakes, with a couple of Guineas horses thrown into the mix, along with a couple of talented fillies taking on the males following strong Group 2 performances against their own kind.
Firehouse Rock jumped from barrier two and again got away well.
Nick Hall always had him nicely placed in the run, around three back on the outside, and he made his move at the 600m mark.
The horse surged forward three wide around the leaders to eventually find the lead in the straight before being run down in the final stanza by those two talented fillies.
He finished a gallant third, beaten around one length, and was the first male home, beating the rest on his merits.
Third in a $750,000 Group 3 race at just his fifth start, Darren Dance was on the money.
After five starts Firehouse Rock had managed one win, three placings, and earnings of $244,750.
Not a bad start to his career, and his best is still 6 months away.
He was now off to the 2014 Victoria Derby at Flemington on the biggest feature race day of the year.
As an owner it doesn't get much better than that, only a Caulfield Cup or Melbourne Cup perhaps, but ATB had already fulfilled that dream with Dandino last spring.
Now Darren Dance has given myself, and all of my fellow owners, a Victoria Derby runner for the first time.
One that has a live chance, coming through the race that has provided two of the past three Derby winners.
Firehouse Rock ticks many boxes and he is $26 around some places.
No doubt he will be better odds come Saturday, ATB horses always are, we just take them.
As for Darren Dance, the man that said get into this horse because it might grow into something pretty smart, he's finding it a bit surreal having his first Victoria Derby runner.
"It's a bit surreal having a runner in the Derby," said Darren.

"It's something that's just happened."

"When we brought that Fastnet Rock colt we never, ever thought he'd be a Derby horse."

"I guess we thought he might be a Caulfield Guineas horse because his mother only won up to 2000m, and we thought he would be more of a 1600m horse maybe."

"Obviously by Fastnet Rock, super sire, and it's amazing how it has transpired, but for me personally to have a runner in a Derby, it's one of the big races of the Melbourne spring."

"You know we've had Cup runners before but we've never had an Oaks or Derby runner."

"It's very exciting for us and very exciting for all the owners."
One of Darren Dance's favourite sayings is "Follow the experts and you'll go broke" and the so called 'experts' are giving little chance to Firehouse Rock in the Victoria Derby.
This is what he had to say on the horse's chances on Saturday.
"Well since his last run David Hayes has said Nick went too early in the Caulfield Classic and he got to the front too soon and then he wandered around."

"He was probably half looking for his mates, he was waiting, and those two fillies got him and only beat him a length."

"Nick said to me that he thought he was a bit of a grinder so he took off at the 600m and thought he would grind to the line and win."

"He rode him to win and he took the chance and the horse surprised him with his turn of foot, he just got there too quick and went bang, then he was a sitting shot."

"This time you'll find that over this distance we will hold him up to the 400m, or even the 300m, and then use that turn of foot to try and power to the lead to get away from them."

"He's really gone on from his last run and David Hayes is really happy with him."

"David can't believe he's a $21 shot, he thinks he should be an $8 to $10 shot, and he's told everyone who'll listen that he's a $10 shot and should back him each way."

"We are going there excited, we are going there thinking we are a chance to win a Victoria Derby."
Win, lose or draw in Saturday's Victoria Derby, it's been a fantastic first prep for Firehouse Rock, and much more than we could ever have expected as owners.
His best is yet to come, and we have Darren Dance to thank for getting us involved.