Derby Tracker – Stayers Theory
by Dean Elliott.
The aim of the Derby Tracker is to provide an accurate and in-depth analysis of the VRC Derby in order to narrow down and evaluate this year's Derby candidates.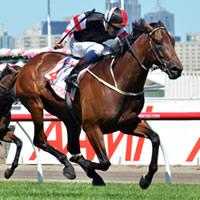 A race steeped with tradition, the Derby out-dates the Melbourne Cup by six years.
Since the turn of the new Millennium, the Derby has somewhat taken shape and produced some significant and unique trends which we'll delve into in detail.
As you'll soon discover, this process will be done with one eye to the past and another towards the future.
Here you will eventually have full access a database of contenders in addition to a 'checklist' of emerging and current trends.
First cab off the rank is Stayer's Theory
Stayers Theory
This 2500m affair has recently been run with large fields and genuine speed.
The VRC Derby is now a race for stayers, not classy milers as might have been previously. Some recent history to back up this thought:
2013 – Polanski
Polanksi defeats Complacent, Thunder Fantasy, Criterion and Tupac Amaru. These first 5 home (in what proved to be a strong form reference for the Autumn) were all set on staying preparations; none raced in the Guineas and none of these 5 backed up from the Vase a week prior.
2012 – Fiveandahalfstar
Fiveandahalfstar defeats Super Cool. The winner would go on to win a BMW (2400m) against the older horse in the Autumn and the runner-up was the 3rd 'Aussie' home in the 2013 Melbourne Cup.
2011 – Sangster
Genuine stayer Sangster wins at $12 whilst $2.50 favourite Manawanui runs 6th, coming into the Derby as a specialist miler that beat a very weak field in the Vase (2040m). More on the Vase and Guineas shortly.
2010 – Lion Tamer
Genuine Stayer Lion Tamer wins at $13, whilst $3.80 favourite Rekindled Interest, a very good horse up to 2000m runs 5th beaten 12 lengths. Rekindled Interest came into the Derby via the Guineas and Vase.
2009 – Monaco Consul
Subsequent Caulfield Cup placegetter Monaco Consul beats what turns out to be a relatively weak VRC Derby field
2008 – Rebel Raider
The genuine stayer Rebel Raider ($101) runs the legs out of classy Guineas winner Whobegotyou ($1.75)
2007 – Kibbutz
Talented staying pair Kibbutz and Littorio quinella the Derby ahead of $2.90 favourite and classy miler Marching, who came via the Guineas
2006 – Efficient
A freakish effort was a sign of things to come. It takes the quality of a future Melbourne Cup winner to do what he did in his first racing preparation.
Other Victoria Derby Notables:
2004 – Plastered
Plastered beats Cox Plate winner Savabeel. Stamina and a less strenuous preparation defeats the classy Cox Plate winner
2003 – Elvstroem
A future Caulfield Cup winner is the last horse to win a Derby coming through the Guineas
2002 – Helenus
Wins in what was the last Derby to be run at a moderate pace (all 11 since have been run at genuine tempo)
2001 – Amalfi
Wins with a perfectly timed preparation. Cox Plate-almost-giant killer Visount can only manage 7th
NB: 1993 – Mahogany
The freakish Mahagony wins. He won at the top level from 1000m-2500m. One would be foolish to use this uniquely gifted galloper, who won the Derby over 20 years ago, as a reference point and counter-argument to say that sprinter-milers are not disadvantaged in the Derby.
From the 'War Horse' types of Fiveandahalfstar (2012), to gifted clean-winded Efficient (2006) and Plastered (2004), the Cups performed Elvstroem (2004) and Monaco Consul (2009) and the 'What Could Have Been' of Lion Tamer (2010) and Polanski (2013); the past 10 years' winners of this great race is littered with genuine, bonafide stayers, especially when big fields and genuine pace is part of the equation.
Next up we will look at 'Field sizes and tempo'.
Article written by Dean Elliott (BDM at William Hill and Horse Racing & Breeding enthusiast)