Stars young and old shining brightly for ATB's Darren Dance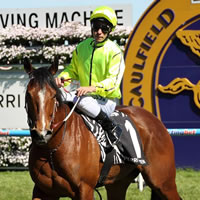 Australian Thoroughbred Bloodstock's Darren Dance is rarely still, so when the opportunity presents itself to grill him about his current crop of stars, then you have to grab it.
That moment in time came about this morning at the Ballarat Turf Club jumpouts where Darren had a handful of horses going around with the state's leading trainer, Darren Weir, including dual Group 1 winner Platelet.
So what better place to start than the daughter of Strategic, who was syndicated by Darren at just $4,500 for a 10% share and has earned $1,335,100 in prizemoney for her lucky connections, along with two Group 1 victories!
Platelet
Trained by Darren Weir (Ballarat)
"Platelet trialled this morning at Ballarat on the course proper and Michelle Payne rode her."

"She ran second in that trial and it was an outstanding effort."

"This is her farewell tour and she has only got four runs left in her career before she goes off to stud later on in the year and she trialled very impressively this morning."

"She has been a bonnie mare, winner of over $1.4 million and looking forward to seeing her kick off at Moonee Valley next Friday night in a 955m open before attacking those three races that she loves so much in Adelaide."
Tac De Boistron
Trained by Marco Botti (Newmarket, UK)
"Tac is in work with Marco Botti in the UK and has been aimed at the Yorkshire Cup and then if the track is wet at Ascot he will run in the Gold Cup and then go to the Irish St Leger and back to France."

"He has been a revelation since he has gone back to England and he has been claimed as one of the best wet track stayers in the world which is pretty exciting."
Dandino
Trained by Darren Weir (Ballarat)
"Dandino is in work with Darren Weir at his Ballarat stables."

"He is on the rehab path and he will have four runs leading to the Caulfield Cup and he is a genuine superstar horse and it would be great if we can get him back to somewhere to his best."

"He deserves to win a Group 1 in Melbourne in the spring and we would be pretty excited if we can achieve that, so far so good."

"First up he is likely to start at the end of August probably and our main goal would be the Caulfield Cup."
Taiyoo
Trained by Darren Weir (Ballarat)
"I just picked him up and took him to the paddock this week after a wonderful preparation."

"I think the start of the prep we would have been happy to win two races in Melbourne, but he certainly exceeded all expectations winning race after race after race, and every time we stepped him out in distance and up in class he just continued to win."

"Just a super galloper and a dream horse to own."

"To have 13 wins from twenty seven starts and win almost $600,000 is an owner's dream."

"He was very brave with 59kgs in his final run this prep in the Adelaide Cup over two miles and he only just got beat in the last stride."

"It was interesting to listen to Greg Carpenter's comments about Taiyoo as a possible Melbourne Cup horse this week on RSN."

"Look he is just a wonderful animal and it's a pleasure to have him back home and just looking forward to what he does next."
Guest Of Honour
Trained by David Hayes (Lindsay Park, Euroa)
"I'm really excited about this horse."

"His first up run for David Hayes was very good a couple of weeks ago and just looking forward to seeing him on Saturday at Flemington in the Blamey Stakes."

"He has drawn well and he has trained on and his fitness has really improved."

"He is a genuine Group 1 horse and I think he will show Australia that on Saturday."

"I'm really pleased he has drawn well and got Dwayne Dunn on board."

"He will give him the run of the race and I think we will see the real Guest Of Honour on Saturday, and a good run there would see him go up to Sydney and maybe even be a sneaky chance to get into the Doncaster."
ATB UP AND COMERS
Australian Thoroughbred Bloodstock also has a few up and coming types who appear likely to go on to bigger and better things, including Black Velveteen and Tintaglia, but Darren says there are a lot of good, young horses at ATB that haven't yet been exposed to the general public.
Here's who Darren Dance suggests we should keep an eye on for the future.
Black Velveteen
Trained by Mick Kent (Cranbourne)
"One of the ones we are really excited about would be a filly called Black Velveteen, who is by Domesday."

"She has only had the two starts for a fourth and a first, and her win at Sandown last week was very impressive, coming from last and basically dominating the race."

"I think she is a high class filly, as does her trainer Mick Kent, and hopefully she will develop into Oaks style filly later in the autumn."

"She will go round next Wednesday at Sandown and really looking forward to seeing her take the next step and show everyone that she is has potential to be a group filly."
Tintaglia
Trained by Darren Weir (Ballarat)
"Tingtaglia has been a real find for us."

"She was a filly that we purchased for only $8,000 at the Magic Millions – a very cheap filly, and we actually used her as a free replacement for the clients who had a horse that didn't make the track unfortunately."

"She looks like she has been a real nice buy."

"Her debut first-up win was super and she was unlucky at Moonee Valley last Monday."

"She has a staying pedigree and I am sure she's going to be winning in city within the next week or two and she is going to go on to being a very very good middle distance filly."
Firehouse Rock
Trained by David Hayes (Lindsay Park, Euroa)
"Firehouse Rock is another one of our up and coming horses."

"I know he's a winner of $284,000 already but he has only won the one race."

"Look he is a nice 2000m horse that I think will get better with racing and better with age."

"He had no chance in the Australian Guineas the other day when he went back to last from a wide gate, but I think at his next start at Moonee Valley in a couple of weeks in the Group 2 Alister Clark Stakes I think you will see the real Firehouse Rock."

"It won't be a big field and with the slower tempo I think you will see him really attack the line."

"He's a really nice colt and as I said. I think he is just going to get better with racing and better with time."

"He is still an outside chance to go to Sydney for the autumn."
Rockolicious
Trained by Chris Waller (Rosehill)
"Rockolicious is a very promising three year old filly by Fastnet Rock."

"She has only had the one start where she ran third at Canterbury and did a lot wrong."

"We have given her a good spell and she is back in work now and looking great."

"She is about four or five weeks away from having a trial and she'll probably show up later in the autumn."

"Hopefully she can go through and win a couple of races and then play a part in the spring."

"She is a beautiful type of filly, well bred, high class, just taking a little bit longer to mature than most, but I think she is the real deal and she's a potential group winner in the spring of this year."
We're Sure
Trained by Peter & Paul Snowden (Randwick)
"We're Sure is a horse that we haven't seen on the track and is trained by the Snowdens in Sydney."

"The reports from the stable last time were very. very good and they were impressed with his work."

"Unfortunately he went shin sore, something a lot of two year olds do, and we had to tip him out.

"He's back in work now and back in the stables and he is certainly, according to the trainer, going to feature in some of the group races later in the autumn and certainly later in the spring."
ATB's Best Up and Comer – Rockolicious
Being lucky enough to have a few shares in the above horses ourselves, it would be remiss of us not to ask Darren who he thought was the best of ATB's up and coming horses.
Hopefully it is one we are involved in.
"There is a lot to look forward to with some of those up and coming horses and I could probably give you two to follow, but I will give you just the one."

"I do believe that some of things that Rockolicous has done in track work you only see in group fillies."

"Running those sectional times, she is an excitement machine."
We thanked Darren for sharing his thoughts and after his momentary lapse in time he was off again in the ATB truck delivering horses to the pretrainers.
It never stops for ATB's Darren Dance, and he wouldn't have it any other way!