ATB Bar ready to make some noise on Caulfield Guineas Day
by Darren Dance.
Spring is an important time of year for ATB and our owners, and following the great success of the 'Dandino Bar' on Caulfield Cup Day last year, we decided to double the fun this year and have turned the Dandino Bar into the 'ATB Bar', and are hosting our owners on both Guineas & Cup Day.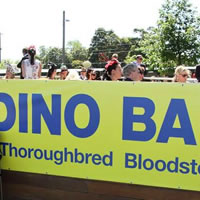 The Dandino Bar provided a memorable day last year, especially after Dandino ran second in the Caulfield Cup, and then there was Fluro Man, who certainly enjoyed the day and caused a stir with the ladies.
We are trying to extract Fluro Man from the jungles of Borneo in time for the Caulfield Cup next week. Wish us luck!
The Dandino Bar was all made possible thanks to Josh Rodder and the Melbourne Racing Club, and we can;t thank them enough for allowing us the use of the 'ATB Bar' to give our owners the chance to enjoy a fantastic day of racing together.
ATB has three runners at Caulfield tomorrow, Platelet in the Group 2 Schillaci Stakes, Guest Of Honour in the Group 1 Toorak Handicap, and Crackerjack King in the Group 1 Caulfield Stakes.
Liz and I are as excited as our owners to have runners in two Group 1 races and one in a Group 2 event on Caulfield Guineas Day at Caulfield.
To have so many owners on hand to experience the full gamut of emotions together will make it a special day for us all.
Here's my thoughts on ATB's three runners at Caulfield tomorrow.
Platelet – Schillaci Stakes (R4)
Platelet is in good form going into the Schillaci. I've been really pleased with her trials this time in and her coat looks terrific. She looks fit and well and she's trialled up really nicely.
She looks to be really enjoying her work and I was really impressed with her trial at Ballarat last week.
Most people think the 1000m will be too short and they might be right.
First-up she has got a fair record but she normally does takes a run to come to her best, but I think as she has got older Darren Weir has got to know her better.
There's only seven runners in the race tomorrow and one of them is first-up for a long time, while Rubick, I'm just not sure how good he is, he could be a superstar or might not.
She's over the odds at the $8.00 and I give her a huge chance if the tempo is on and she can run over the top of them.
She's going to be hitting the line strong and running her usual race. It's a good race and I give her an each way chance.
Crackerjack King – Caulfield Stakes (R6)
Well we all saw his last run at Caulfield where he was 6 and 7 wide the trip and he was game to run on and hold on to third spot and only be beaten a length.
Look he's fitter now, and we've always thought fourth or fifth run in he's going to be around the 100% fitness mark.
I think he has improved a little bit from his Caulfield run which is a scary.
Once again we've drawn wide in 11, so we really haven't spoken to David Hayes (Trainer) or Michael Walker (Jockey) talked about the tactics for tomorrow, but wow, what a race it is, the Caulfield Stakes, it's like a mini Cox Plate.
I'm sure whoever wins tomorrow will become the favourite for the Cox Plate, and I'm sure the first three home will be hard to beat in that race, so let's hope Crackerjack King is one of them.
He's a genuine star and a very, very good 2000m horse, and he's at his right distance.
The stable know him really well now and he's at a good level of fitness now at his fourth run in, probably close to peak fitness, and I think he gets his chance tomorrow to win a Group 1 in Australia.
I'm sure he'll run in the top 3 and be disappointed if he doesn't, but he's in good form.
Guest of Honour – Toorak Handicap (R7)
This horse has not put a foot wrong since coming to Australia off a Group 2 win in the UK where he beat Mull Of Killough and Long John, the Caulfield Guineas winner from last year.
He travelled well and didn't lose any weight and he's settled in really well.
Every day his coat looks better and he's certainly licking his bin out and his work has been very good.
I was really happy with his work yesterday where he was just effortless in his gallop.
He just seems to do the work so easily and has such a good temperament, and Damien Oliver riding him at Caulfield is a big advantage.
Top weight, he's around $13-$14 in the market, but he's a bit of a query horse as it's hard to line his form up.
He's a firm track horse and we've been really happy with him in his work.
Our vets are saying he is as sound as a bell and in good form and I think you'll find he'll run a big, bold race tomorrow.
I know he's going to take a bit of improvement out of the run as he hasn't raced for a long time and he's a big, gross stallion.
He will tighten up but I expect him to run really well tomorrow at Caulfield and I'm sure Damien Oliver will have him in the right spot to give him every chance in the run.
It's not an easy field, but these Group 1 races never are, and a win tomorrow would see him go on to the Cox Plate.
In Summary
We're there with three live chances tomorrow and I think they can all run top four in their races, and I'll be disappointed if they don't.
They're all in good order and we'll be trying our best to win, so good luck to all our owners tomorrow.
It should be an exciting day, and let's hope a winning one!
Article written by Darren Dance (Owner/Director of Australian Thoroughbred Bloodstock)