Redoute's Choice Colt tops Day 3 of 2017 MM Gold Coast Yearling Sale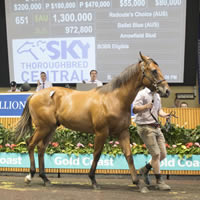 Champion sire Redoute's Choice topped Day Three of the 2017 Magic Millions Gold Coast Yearling Sale on Friday with a quality colt purchased by James Harron Bloodstock.
The colt joined Thursday's top seller, the full brother to Sebring, at the top of the leaderboard for the auction when he was sold for $1.3 million.
Leading Sydney based bloodstock agent James Harron purchased the colt who was offered by Arrowfield Stud as Lot 651.
"He's a beauty," Harron said. "He's a neat Redoute's. He's not too big but he has a nice girth and is a nice mover."

"He handled the whole sale like a real pro. I can't wait to get him back to Peter's to see what we've got."

"We had him rated one of the top colts of the sale and he's by a champion sire in Redoute's Choice. We'd pegged him as a million dollar colt, but we just hope he didn't go too far past it."

"A beautiful horse with a great pedigree and beautiful physique. He fits in very well with what we're trying to do," Harron summed up.
The Redoute's Choice colt is the third foal for the unraced Stravinsky mare Ballet Blue – a half sister to six stakes horses and from the family of Group One winner Imananabaa,
The second top price of the day was $925,000 for Lot 549, the Snitzel x Ultimate Fever colt from Luskin Park.
The China Horse Club teamed up with Newgate and Winstar Farm to secure the colt, a full brother to recent stakes winner Le Cordon Bleu – an exciting short course performer who ran fifth in yesterday's $1 million Magic Millions Sprint.
"This was a colt we really didn't want to leave behind," China Horse Club bloodstock agent Michael Wallace said. "The physical attributes he has are what we really look for in a horse."

"It's a global game and Australia has a very buoyant stallion market and if you get the right Snitzel colt you get really well paid at the end of it."
Another lot to attract plenty of interest was Lot 607 – Milburn Creek's I Am Invincible half brother to Group One winner and promising young sire Sizzling.
In the end it was South Australian trainer Tony McEvoy who secured the good looking bay colt with a $900,000 bid.
"I was hoping to get him for under a million," McEvoy commented. "If we could have got him between six and eight hundred thousand I thought he would have been the buy of the sale."

"He's a quality horse. I was actually under bidder on his brother Sizzling. I loved Sizzling and we just missed him and I didn't want to miss this colt."

"I'm so excited about him, he's a beautiful, beautiful colt," McEvoy added.
So far the auction has seen almost $120 million traded on 574 lots sold at an increased average price of $208,824 and impressive clearance rate of 87 per cent.
"The market certainly consolidated from yesterday," Magic Millions Managing Director Vin Cox noted.

"The numbers are all but the same as yesterday. The average is sitting around the $208,000 mark which we're obviously very pleased with and the turnover is just wonderful."
Check out all sale results here.
2017 MAGIC MILLIONS DAY THREE TOP SELLERS
$1,300,000 – Redoute's Choice-Ballet Blue colt (Lot 651)
Vendor: Arrowfield Stud (As Agent) / Buyer: James Harron B'stock (NSW)
$925,000 – Snitzel-Ultimate Fever colt (Lot 549)
Luskin Park Stud (As Agent) / China Horse Club/Newgate/Winstar (China)
$900,000 – I Am Invincible-Admirelle colt (Lot 607)
Milburn Creek / McEvoy Mitchell Racing (SA)
$850,000 – Snitzel-Your Life Style filly (Lot 583)
Newgate Farm (As Agent) / Rick Worthington as agent (Vic)
$700,000 – Fastnet Rock-Cats Whisker filly (Lot 703)
Coolmore Stud (As Agent) / Alan Bell Racing (NSW)
2017 MAGIC MILLIONS SALE STATISTICS
Lots Catalogued: 720 (648)
Lots Sold: 574 (512)
Lots Passed In: 87 (69)
Lots Withdrawn: 58 (67)
Sale Gross: $119,865,000 ($102,760,000)
Top Price: $1,300,000 ($1,600,000)
Average Price: $208,824 ($200,312)
Median Price: $160,000 ($150,000)
Sold %: 87 (88)
2017 MAGIC MILLIONS LEADING BUYERS
$4,615,000 – James Harron B'stock – 11 lots
$3,155,000 – Gai Waterhouse & Adrian Bott Racing – 16 lots
$2,895,000 – Shadwell Australasia – 7 lots
$2,700,000 – Waller Racing/Mulcaster B'stock – 8 lots
$2,540,000 – China Horse Club/Newgate TS/Winstar – 5 lots
$2,460,000 – McEvoy Mitchell Racing – 7 lots
$2,450,000 – Ciaron Maher Racing – 10 lots
$2,120,000 – Hong Kong Jockey Club – 9 lots
$2,030,000 – Boomer B'stock – 4 lots
$2,020,000 – Little Kwok Hing Hung/Bahen B'stock – 3 lots
(ranked by total spend)
2017 MAGIC MILLIONS LEADING SIRES
$371,364 – Redoute's Choice – 11 sold
$350,714 – Snitzel – 35 sold
$327,714 – I Am Invincible – 35 sold
$320,556 – Exceed and Excel – 9 sold
$307,500 – Written Tycoon – 8 sold
$305,909 – Fastnet Rock – 22 sold
$300,714 – More Than Ready – 21 sold
$292,308 – Not a Single Doubt – 16 sold
$272,500 – Dundeel – 10 sold
$264,231 – Medaglia d'Oro – 13 sold
(ranked by average – 3 or more sold)