Some impressive youngsters at Seymour Breeze Ups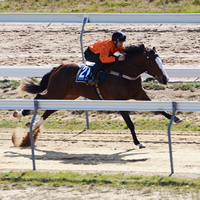 A Beneteau colt was the quickest youngster during a successful breeze up session at the Seymour Racing Club on September 3rd 2014 in the lead up to this month's Magic Millions Gold Coast 2YOs in Training Sale.
A lovely line up of 23 ready made two-year-olds were put through their paces during a session which was streamed live over the internet in a great initiative for buyers.
Lot 217 – the Beneteau-Hussta la Vista colt from Donnybrook Estates stopped the clock in 10.23 seconds – the quickest breeze during the morning.
The colt is the third foal of the former quality Hussonet mare Hussta la Vista, a four time winner and earner of over $200,000.
Other youngsters to impress included Laceby Lodge Stud's Red Arrow-Yahero colt (10.61 seconds) and the Robyn Wise's Econsul-Desert Finch colt (10.69 seconds) and Husson-Mavi colt (10.7 seconds).
Another Laceby Lodge lot, the Savabeel-Our Melodious colt stopped the clock in 10.7 seconds to round out the top five times of the morning.
Meanwhile, a lovely colt by Sebring impressed onlookers with his 10.45 second breeze at Warwick Farm recently.
Catalogued as lot 164, the colt is from the Hussonet mare Chinner Street and is being prepared for the sale by Portelli Racing, as agent.
The next set of breeze ups in preparation for the sale will be held at the Gold Coast on Monday with approximately 150 lots – breezes will commence at 9.30am (AEST) and this session will also be streamed live.
To view the online catalogue with all completed breeze up times to date and progressively updated clips click here.
Five Quickest Seymoure Breeze Ups
10.32 seconds – Lot 217 – Beneteau-Hussta la Vista colt
Vendor: Donnybrook Estates (As Agent)
10.61 seconds – Lot 137 – Red Arrow-Yahero colt
Vendor: Laceby Lodge Stud
10.69 seconds – Lot 184 – Econsul-Desert Finch colt
Vendor: Robyn Wise (As Agent)
10.70 seconds – Lot 42 – Husson-Mavi colt
Vendor: Robyn Wise (As Agent)
10.70 seconds – Lot 68 – Savabeel-Our Melodious colt
Vendor: Laceby Lodge Stud