Master of Design colt tops Day 2 of Magic Millions Adelaide Yearling Sale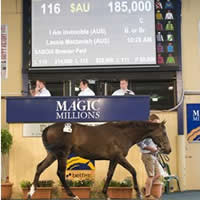 A colt by Master of Design has topped Day Two of the Magic Millions Adelaide Yearling Sale and in doing so shared the honours of the highest selling lot of Book One of the auction.
Leading local trainer Lloyd Kennewell went to $220,000 to secure the Mill Park offered youngster who is a half brother to his smart sprinter El Magico.
Bidding for the youngster kicked off at $100,000 and no fewer than three parties bid on the colt before Kennewell's $220,000 bid was not beaten.
"I've trained the majority of the family," Kennewell said.

"(Half brother) El Magico was one of the best sprinters I've trained and I've got the sister who's on the way up and looks very promising – she won her first start by five lengths."

"He was purchased on behalf of some Melbourne clients – Ozzie Kheir and a few of the boys are involved. It should be a good ride. I thought he was probably the best colt in the sale."
Kennewell rounded out the Book One auction with six purchases at $412,000 while stable client Luke Koumi, the owner of Magic Millions 3YO Guineas winner Deiheros purchased two for $38,000.
Melbourne Cup and Cox Plate winning trainer Mark Kavanagh also spent $412,000 on six purchases headlined by today's I Am Invincible-Lassie Mactavish colt from Mill Park who was sold for $185,000.
"He's by a great sire and he comes from a great winning family," Kavanagh said.

"He looks like he's going to be an early goer so he could be a good Magic Millions type."

"I've bought my best horses out of this sale actually – four Group One winners I've bought out of this ring – so hopefully this guy is the same."
With today's trade Book One of the sale rounded out with a gross of $6,680,500 with 205 lots sold at an average price of $32,588 – both the sale gross and average price are up marginally on last year's corresponding sale.
The clearance rate increased today to finish at a healthy 80 per cent.
"To get another horse over $200,000 is just fantastic news," Magic Millions Managing Director Vin Cox noted.

"Those two prices (of $220,000) are the highest two prices we've sold in about a decade. It proves that here in Adelaide you can get very, very good money for quality horses."

"The figures are very much in line with last year. One of the things we want to do in the coming years is to attract those better quality lots because we know we can get the money. The money is here and they are prepared to spend."
To view the results of Book One and to make an offer on a passed in lot click here.
To view a video review of Day Two click here.
Book Two of the sale will complete the 2015 Magic Millions Adelaide Yearling Sale from 10am (SA time) tomorrow.
There will be plenty of quality youngsters going under the hammer during a day which is renowned for its value.
DAY TWO TOP SELLERS
$220,000 – Master of Design-Swiss Vault colt (Lot 233)
Vendor: Mill Park (As Agent) / Buyer: Kennewell Racing/Ozzie Kheir (SA)
$185,000 – I Am Invincible-Lassie Mactavish colt (Lot 116)
Mill Park (As Agent) / Mark Kavanagh (Vic)
$145,000 – Lope de Vega-Up'n'doing colt (Lot 251)
Donnybrook Estates (As Agent) / Peter Morgan/Dean Hawthorne Bloodstock (Vic)
$110,000 – Magic Albert-Jewel Vault chestnut colt (Lot 103)
Attunga Stud (As Agent) / Macdonald Gluyas Racing (SA)
$100,000 – Artie Schiller-Relativity filly (Lot 189)
Little Hills Pastoral Co / McDonald Racing (Vic)
BOOK ONE STATISTICS
(2014 in brackets)
Lots Catalogued: 290 (284)
Lots Sold: 205 (207)
Lots Withdrawn: 33 (30)
Lots Passed In: 52 (47)
Sold %: 80 (81)
Sale Gross: $6,680,500 ($6,645,500)
Average Price: $32,588 ($32,104)
Median Price: $25,000 ($25,000)
Top Price: $220,000 ($140,000)