Magic Million figures rise in Perth as Street Cry colt stars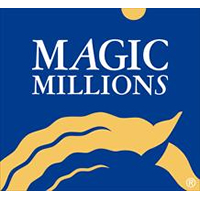 After missing out on the top lot at last year's Magic Millions Perth Yearling Sale leading Sydney trainer Gary Moore struck in 2016 buying the star offering of the sale.
The Rosehill based horseman in conjunction with client Chong Bin Wu went to $300,000 to secure the Street Cry-Verse colt from Yarradale Stud.
The colt is a half brother to former outstanding Sydney galloper Lamasery and Moore said he was thrilled to be able to secure his number one pick of the Belmont Park based auction.
"I'm very excited," Moore said. "He's got a great pedigree and he reminds me a lot of the great colts I rode in Europe."

"He's got a great bottom line. His second dam is a relation of Written Tycoon who's probably one of the hottest sires in Australia."

"He'll go back to Sydney and be syndicated among some friends of mine and hopefully one day he will return and run in the Western Australian Derby and if we get to that level he can come back here and stand at Yarradale Stud which I think will be fantastic for the Western Australian breeders."
The second top seller on the day and the leading filly overall was the Commands-Flight Path filly from Dawson Stud who was knocked down to leading local trainer Neville Parnham for $210,000.
"She's a beautiful filly," Parnham said. "I inspected her on the first inspection day and then I got a couple of clients to come along and have a look and we thought she was one of the star lots of the sale."

"She's a little bit bum high at the moment, so we can see she's got a fair bit of growth in her and the family's been so good."

"Flight Path was a pretty handy sort of mare in her own right," Parnham added. "And then further back on the page you have Scenic Shot – it's just a great Western Australian family and hopefully we can do pretty well with her."
The third top seller on the day was the Oratorio-Agribiz colt from Western Breeders Alliance who sold to John Chalmers Bloodstock for $170,000 and he will head to the Wally Mitchell stable.
"I went through quite a few and I had him on top," Mitchell said. "His x-rays were real good."

"He's out of a Key Business mare and most of those are two-year-olds and the Oratorios are real two-year-olds . We've run second in the Magic Millions (WA 2YO Classic) three times so we're going to try and have another go," Mitchell added.
The gross of the sale rounded out at over $10.4 million – up more than $1.2 million on last year's sale when 50 more yearlings were catalogued. The average rose almost 10 per cent and the clearance rose from 68 per cent last year to 80 per cent this year.
The leading sire by average (three or more sold) was Commands on $108,000, the leading buyer on spend was John Chalmers Bloodstock (17 lots at $762,500) and the leading vendor on average was Amelia Park Racing & Breeding ($93,167 for 6 sold) and gross was Mungrup Stud ($1,229,000 for 36 sold).
"It's just been a fantastic result," Magic Millions Managing Director Vin Cox said. "A lot of hard work has gone into this sale and to finish with a gross of $10.4 million – up $1.2 million on last year – we've sold 80 per cent of horses through the ring."

"Full credit to the industry in Western Australia as a whole. They have got right behind this and recognised that the breeding industry and the racing industry in the state was in a bit of trouble and if they didn't get in and support it, it could have been catastrophic."

"They way that RWWA really pushed it along, Charlotte Mills and her team, was just fantastic and not to put too finer point on it our own David Houston and Cassie Norris, they worked their guts out to make sure it was the success it has been," Cox added.
Australia's bloodstock focus now switches immediately to Launceston for Thursday's Magic Millions Tasmanian Yearling Sale at the Inveresk Showgrounds.
A catalogue of 126 yearlings has been assembled for the sale with the first lot to enter the ring at noon on Thursday.
On sale eve (Wednesday night) all eyes will be on the quality racecard from Mowbray Racecourse featuring the $50,000 Brooklyn Park Magic Millions 2Yo Classic and $50,000 TasBreeders Magic Millions 3YO Classic.
To view the sale results and to make an offer on a passed in lot click here. To see a video review of today's sale click here.
SALE STATISTICS
(2015 in brackets)
Lots Catalogued: 349 (397)
Lots Sold: 254 (245)
Lots Passed In: 63 (114)
Lots Withdrawn: 32 (38)
Sale Gross: $10,429,000 ($9,221,500)
Top Price: $300,000 ($340,000)
Average Price: $41,059 ($37,638)
Sold %: 80 (68)
DAY TWO TOP SELLERS
$300,000 – Street Cry-Verse colt (Lot 193)
Vendor: Yarradale Stud / Buyer: Gary Moore Racing/Chong Bin Wu (NSW)
$210,000 – Commands-Flight Path filly (Lot 312)
Dawson Stud / Neville Parnham Racing (WA)
$170,000 – Oratorio-Agribiz colt (Lot 214)
Western Breeders Alliance / John Chalmers Bloodstock (WA)
$150,000 – Snitzel-For Your Eyes Only colt (Lot 315)
Gold Front Thoroughbreds / AG Williams Bloodstock/Robbie Laing (Vic)
$140,000 – Written Tycoon-Dual Rock colt (Lot 296)
Gervase Park Stud / Gangemi Racing (WA)
$140,000 – Choisir-Golden Act colt (Lot 324)
Touchstone Farm / Trevor Andrews (WA)
$135,000 – Not a Single Doubt-Amelia's Secret filly (Lot 217)
Amelia Park Racing & Breeding / Todd Harvey (WA)
$135,000 – So Secret-Tribulot colt (Lot 178)
Rangeview Stud / Commercial Bloodstock Services (WA)
$130,000 – High Chaparral-Dalkeith filly (Lot 278)
Western Breeders Alliance / Beamish B'stock Intl/Spicer T'breds (Vic)
$120,000 – Choisir-Windstruck filly (Lot 199)
Dawson Stud / Boomer Bloodstock/Lindsey Smith (WA)
$120,000 – Written Tycoon-Illustre colt (Lot 343)
Gervase Park Stud / Belmont Bloodstock Agency (Vic)
$105,000 – Blackfriars-Crossed Wires colt (Lot 276)
Scenic Lodge / John Chalmers Bloodstock (WA)
$100,000 – Oratorio-Atavism filly (Lot 228)
Mungrup Stud / Trevor Andrews (WA)
$100,000 – Alfred Nobel-Aces for Amber colt (Lot 212)
Dawson Stud / Astute Bloodstock (NSW)
$100,000 – Star Witness-Danecay colt (Lot 281)
Western Breeders Alliance / Trevor Andrews (WA)
LEADING SIRES
(ranked by average – 3 or more sold)
$108,000 – Commands – 3 sold
$98,000 – Snitzel – 5 sold
$90,500 – Written Tycoon – 6 sold
$74,000 – Choisir – 4 sold
$67,500 – Al Maher – 3 sold
LEADING BUYERS
(ranked by total spend)
$762,500 – John Chalmers Bloodstock (WA) – 17 lots
$610,000 – Trevor Andrews (WA) – 7 lots
$597,000 – Neville Parnham Racing (WA) – 10 lots
$516,000 – Morton Racing (WA) – 8 lots
$300,000 – Gary Moore Racing/Chong Bin Wu (NSW) – 1 lot
LEADING VENDORS
(ranked by average – 3 or more sold)
$93,167 – Amelia Park Racing & Breeding – 6 sold
$63,500 – Western Breeders Alliance – 14 sold
$61,533 – Dawson Stud – 15 sold
$60,500 – Gervase Park Stud – 12 sold
$55,200 – Oakland Park Stud – 5 sold
LEADING VENDORS
(ranked by total gross)
$1,229,000 – Mungrup Stud – 36 sold
$1,140,500 – Yarradale Stud – 22 sold
$923,000 – Dawson Stud – 15 sold
$889,000 – Western Breeders Alliance – 14 sold
$863,000 – Scenic Lodge – 21 sold