Fastnet to another $1M Lot as records tumble at 2016 Gold Coast Sale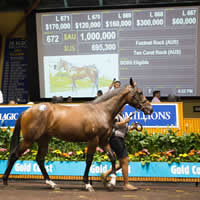 A filly by champion sire Fastnet Rock topped Day Four of the Magic Millions Gold Coast Yearling Sale on Saturday night and played a part in a record breaking auction.
Selling for an even $1 million the filly became the sixth at the auction to sell for seven figures – a new record for the auction in its 31st year.
The Book One gross, average and median prices were also records with impressive lifts across all sections of the auction.
Emerging Victorian trainer Brent Stanley was delighted to purchase tonight's top seller – the impeccably bred Fastnet Rock x Ten Carat Rock filly – with his Cloud 9 Thoroughbreds operation linking with CB Bloodstock to secure the prized youngster.
"She's a package racehorse," Stanley said. "You're not just buying a page. When you go and look at her she's a grouse horse."

"She's a top shelf horse. She's a great mover – a great athletic horse with good bone and good muscle – all of the things I look for in a horse."

"You see a lot of big priced horses who don't really make it to their next level – most of the time they're buying the page here the page sold itself but you've got to also price the horse and I thought she was well priced after the page," Stanley added.
The top selling filly, catalogued as Lot 672, was consigned by Newgate Farm and is the second foal of Ten Carat Rock, an unraced Rock of Gibraltar sister to Sliding Cube (dam of Rubick), three quarter sister to Redoute's Choice and Platinum Scissors and half sister to Manhattan Rain.
Well over $12 million was traded on 72 lots sold on Saturday night to help push the Day One to Four sale average price to a record of $195,618.
The gross was the highest ever achieved at the auction and the clearance rounded at an a near record 89 per cent.
China Horse Club retained its place as the leading buyer of the auction on spend with 21 lots purchased for $6.69 million. Gai Waterhouse and Julian Blaxland led the way on individual lots with 23 purchases at an outlay of $5.945 million.
This year's 2YO Classic winning buyer James Harron was successful on eight lots at a spend of $4.08 million.
Exceed and Excel rounded out the Book One sale as leading sire (ranked by average for three of more sold). His 11 lots sold averaged $364,545
Other in demand sires included:
Snitzel (48 sold at $329,688)
Fastnet Rock (30 sold at $328,333)
Street Cry (14 sold at $323,214)
Redoute's Choice (16 sold at $272,500)
Former star sale graduate Pierro was the leading first season sire on average (three or more sold). Some 37 of his 38 lots sold at an average of $262,568.
Animal Kindom ($250,000 for 3 lots) and All Too Hard ($221,842 for 31 lots)
"It's been a fantastic four days," Magic Millions Managing Director Vin Cox said.

"After the night session tonight we're closing out at $115,806,000 which is the highest grossing yearling sale in the Southern Hemisphere since 2008."

"The sale is up 26 per cent which in anyone's business is a tremendous result. The average is over $195,600 which is up 15 per cent on last year. It really has been a very, very good sale."

"The Fastnet Rock-Ten Carat Rock filly was our sixth million dollar for the sale which we are over the moon about. It is a sale now that we can prove we can get well and truly into the seven figure mark and also have multiple numbers of them."

"The confidence the breeders showed us by giving those quality horses and to be able to turn around and sell them as we have is very satisfying from a Magic Millions point of view."
To view the results and to make an offer on a passed in lot click here.
2016 Gold Coast Sales Day 1-4 Stats
(2015 stats in brackets)
Lots Catalogued: 746 (692)
Lots Sold: 592 (539)
Lots Passed In: 76 (90)
Lots Withdrawn: 78 (63)
Sale Gross: $115,806,000 ($92,022,500)
Top Price: $1,600,000 ($1,200,000)
Average Price: $195,618 ($170,728)
Median Price: $150,000 ($130,000)
Sold %: 89 (86)