Francesca Cumani has a soft spot for Dandino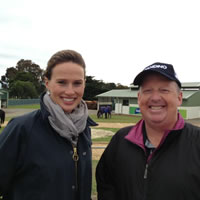 It's rare a boy from Ballarat gets to mix with racing royalty such as Francesca Cumani, but that's exactly what happened to me this morning when I went down to Werribee to see Dandino do early morning work in preparation for next week's Melbourne Cup.
As fate would have it, the daughter of leading European trainer Luca Cumani was at Werribee to see her father's horse Mount Athos gallop and she graciously gave me a few moments of her time to talk about Dandino, Mount Athos and some of the other internationals out here for the Melbourne Cup.
As a part owner of Dandino the first thing I asked Francesca was what she thought of his gallop this morning.
"Dandino I thought he looked great," Francesca said.
"Such a lovely, big, strong looking horse. He's such a professional, travelled a lot, and knows what he is doing."
Of her father's horse Mount Athos, Francesca was very happy with his progress since arriving at Werribee.
"He's really good and we're very happy with how he came out here," Francesca said with a gleam in her eye.
"He's a bigger, stronger, better looking horse than he was last year and he copes with travelling very well."
"His work here at Werribee has been very good."
"Hopefully over 2 miles he will come into his own and we seen how well he ran last year."
Outside of Dandino and Mount Athos, I asked Francesca who were the other international horses to impress her for the Melbourne Cup.
"Never understimate the French. Dunaden has been here and done that."
"Verema, the filly, her form in France is good and she can quicken off a slow pace."
"Voleuse De Coeurs, if you look back at her Irish St Leger win she was very impressive."
When I asked Francesca who she would back if Mount Athos was not in the field, it was the black beast Dandino who was very much at the forefront.
>>> View the full Francesca Cumani interview here
Having only ever seen Francesca on TV where her glamourous presence and outstanding racing knowledge only enhanced this viewer's experience, in person she oozes warmth and charm and her passion for racing is obvious.
If someone as knowledgeable and passionate about horse racing as Francesca Cumani thinks Dandino is the one to beat in this year's Melbourne Cup, outside her own horse Mount Athos, then that's fine by me.
If Dandino was not in the race then I would be very happy to see Craig Williams ride Mount Athos to victory for Luca and Francesca Cumani, that would be a fitting result for me.