Entries set to close as Magic Millions confirm National dates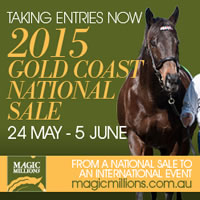 Entries close on Monday for the Southern Hemisphere's leading breeding stock auction with Magic Millions confirming an updated selling schedule.
The auction, comprising the National Weanling, Broodmare, Yearling and Racehorse Sales, is now due to commence on Sunday, May 24th and conclude on Friday, June 5th 2015.
Entries, excepting racehorses, close on Monday and already the sale has been the subject of outstanding nominations with the usual quality packed catalogues to be released in the coming weeks.
Vendors have targeted the National Sale as a highly commercial sale to trade their best weanlings, race fillies and broodmares, with the sale sitting comfortably as an integral source of bloodstock for the national and international racing community.
Over 600 individual buyers were active at the 2014 National Sale and the overall top price at the auction was the highest paid for any lot at auction in the Southern Hemisphere last year.
The sale in 2014 boasted outstanding clearance rates and notched records with increases across the board in almost all areas.
For more information, to enter online or to download an entry form click here.
Any questions should be directed to the Bloodstock Department of Magic Millions on (07) 5504 1200 or email here.
2015 National Sale Schedule
National Weanling Sale
Sunday 24th May – Monday 25th May 2015
National Broodmare Sale
Wednesday 27th May – Friday 29th May 2015
National Yearling Sale
Tuesday 2nd June – Thursday 4nd June 2015
National Racehorse Sale
Friday 5th June 2015
Visit the Magic Millions website for more information.