Derby Tracker – 2014 Victoria Derby Preview
by Dean Elliott.
The big race is finally upon us!
This year's line-up is rather unique, so let's take a look in more detail.
2014 VICTORIA DERBY – Overview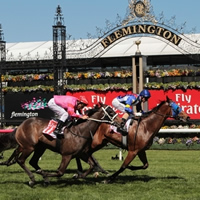 The 2014 VRC Derby field looks and even bunch, and is intriguing for several reasons.
Firstly there are 4 major form lines, with 3 of them having little crossover reference.
Secondly, and perhaps more noteworthy, is that based on my research, a good portion runners under $26 are not going to put in their best run for the campaign, due to several reasons.
Therefore, we are likely to have a scenario where there is a full field of runners going to 2500m for the first time and not many PB (Personal Best) efforts recorded.
I'm basing this from the original posts (feel free to go back and read to refresh your memory) that have outlined some key ingredients of what it takes to win a Derby.
All in all, this has made the Derby a difficult betting race. Let's go through the race profile and each key runner in more detail in order to find our winner.
2014 VICTORIA DERBY – Pace/Speed Map
Each year in recent history, when we have 16 runners in the Derby, it translates to a genuine temp. Things shouldn't be any different this time around.
I expect Royal Standing and The Mighty JRod to press forward and sit 1,2, with plenty of others wanting to take a forward spot including Moonovermanhattan, Lotion, Nozomi and Cuban Fighter. The likes of Hampton Court and Magicool are going to have to make a quick decision as to where they want to be in the running, and may both push forward as well. This could make for a good charge out of the straight and ensure a genuinely run race.
Bondeiger, Preferment, Gouldian, San Padre and to a lesser extent Firehouse Rock and Light Up Manhattan, won't be having anything to do with the early charge for the lead, and will be interesting to see how far back they settle. Ideally, the best spot might be midfield, with Preferment and San Padre most in need to be one off the rails so they can wind up in clear galloping room.
I'd expect after a solid first 400m-600m the pace might steady for about 1000m, but then will pick up again around the 1000m point to ensure a genuine staying test. It is hard to imagine a scenario where the race will be a sit and sprint affair.
2014 VICTORIA DERBY – Major Chances
#1 HAMPTON COURT
For: Group 1 winner last start, coming off a very solidly run 2000m. Good grounding as a 2YO, time to develop at 3, right trainer/jockey combo, looks likely to run distance, improving as distances increase, good type with a solid constitution.
Against: Did he only win G1 because the favourties raced each other and went too soon? He's been revved up in shorter races to lead, will this backfire as he goes up in trip? Started his prep in August in Sydney, which is very early for a Derby horse, has he got another PB in the tank? First run in Melbourne? Pedigree doesn't scream stayer
Summary: To be honest, this horse was not on my initial watch list, as he looked the type early in his career that was hunted up on the pace to lead races over shorter distances. The turnaround in his form from the Spring Stakes to now has been nothing short of incredible.
His last start win over First Seal and Sweynesse was a great staying effort. If you take that on face value, he's going to be very hard to beat (bit it's too late for me to tip him now at $2.65 – there's no value in that). In a stronger year, I would be risking him more, but there is a query whether some of his key rivals are seasoned enough to win.
Deserves favouritism partly for what he's done, and partly due to the profile of his opposition.
#2 MOONOVERMANHATTAN
For: The first horse I wrote a profile on, he was always shaping as a Derby prospect. Strong through line in the Vase, ran really well at Flemington previously, tough and powerful type with a good constitution.
Against: The last horse to run in the Guineas and Vase to then win the Derby was Elvstroem, who not only won a weak Derby, but was good enough to go on and win a Caulfield Cup amongst other feature Group 1 races. Will he run the trip? Can he produce a PB at his 6th run for the prep? Barrier 12?
Summary: To be a real contender, I would have preferred bypassing the Guineas and going into the Caulfield Classic, which would have been 1 less run for the prep and 2 weeks between runs to get him ready for the Derby. From gate 12, he could have some difficulty getting a the ideal box seat run he probably needs to run his best.
One of a few horses here that carry the 'intangibles' of distance query and degree of fitness/ability to produce a PB that will ultimately rule how he runs. On history, you'd have to say he's a small risk, which might sound strange seeing as he was one of the earliest horses we identified for the race.
#4 FIREHOUSE ROCK
For: First colt home in the Caulfield Classic, has continued to improve with each run, stable is bullish of his prospects. Maps perfectly for this to get every chance in running.
Against: Still in his first racing prep, the last horse to do that and win the Derby was Efficient, who was also good enough to win the Melbourne Cup. Can he produce a PB at run 6 of prep 1?
Summary: I have a thing about horses running in the Derby in their first prep. History says it's very hard to do. But given the evenness of this field, will this be the year we see it happen once again? I haven't got him in my top 4, so I might be regretting this decision!
#5 MAGICOOL
For: Stable targeted this for a long time, win in UCI Stakes was sensational, no luck last start, bred to be a genuine stayer with turn of foot, back to Flemington suits, 2 weeks x 2 weeks prep over 1800m, 2000m has built a good foundation
Against: Wide barrier, betting drift during the week, is he still 6-12 months away from fully furnishing into a stayer of this class? Still does a bit wrong in his races
Summary: The first 400m might dictate the outcome here. For a horse still learning his trade, the outside gate with plenty of speed on his inside, with a short run out of the straight is not ideal. I believe Magiccol has a very bright future, and I want to tip him with confidence, but the reality is that he will need a lot of luck. Again, another intangible element that will dictate the outcome.
For: Was on the radar since his first run as a 2YO. Always had Derby written all over him. Has had a solid foundation and really good prep for this.
Against: Class factor; is he good enough? An on-pacer from gate 13; how much petrol does he spend early to take up a position?
Summary: What he lacks in class, he makes up for by having a really slid preparation for this event. If he can take up a nice spot early without spending too many tickets, he could be thereabouts at the business end.
#8 LIGHT UP MANHATTAN
For: Has had the PERFECT Derby build up. 3 runs as a 2YO, decent break into 3YO season, broke maiden early in prep, 4 runs evenly spaced, 2 weeks into Derby. Should run the trip out. Blinkers have switched him on.
Against: Class factor, 6 lengths off Magicool at Flemington, couldn't beat the girls last time.
Summary: If Gouldian, Preferment and Bondeiger has a perfect lead up like this, they would dominate the Derby. This is how to prepare a horse for the race, according to 1) recent history and 2) the success of the 'gradual build' trainers in recent times such as Waller, Hawkes, Moody, Snowden, etc.
For this reason I expect him to run better than the $21 chance he is.
#9 BONDEIGER
For: The 'flashing light' runner in the Vase. Has a turn of foot, which not many others in this field have. Has been well supported this week.
Against: All too soon? Trying to take the same path as Efficient ad Super Cool that went 3 runs over 1600m, 2000m, 2500m in 17 days.
Summary: It's hard not to like this bloke. He's not your typical scopey staying type – more of a low to the ground, plenty of strength with a great turn of foot. My query is whether it is all coming to soon for him, as outlined above. His brilliant turn of foot at the end of a middle distance will win him plenty of races in the future, but can it will win him a VRC Derby?
I don't know if he can win if the pace is frantic and he gets a long way back and needs to make a searching run. But if the pace is just steady and he is within striking distance on the turn, he can produce the fastest last 600m.
#11 ATMOSPHERE
For: Loads of talent, earmarked as a Derby horse some time ago, ran super at only Flemington run. Great draw, gun jockey who can produce miracles, trainer knows what it takes to win a Derby.
Against: In his first prep, still a maiden, had a setback for his Vase run
Summary: Another with a bright future, but a query on whether he'll produce a PB. Had a setback before last start in the Vase, and just floated to the line in the last 50m. Was that because he needed the run, or because he was coming to the end of his prep? I'm going to risk him, but would not be surprised if he won. A nice Autumn 3yo in the making, as are a few others.
#12 GOULDIAN
For: In my opinion Gouldian will prove himself in time to be the best stayer to come out of this race. Refer to my article on him leading into the Vase.
Against: Missed a crucial run in the Vase with a slight cough and now has to go into the race a month between runs and jumping from a 1600m maiden to a 2500m Group 1. Surely this is almost impossible?
Summary: Missing a run in the Vase has effectively caused this horse to go from my clear top pick (and nearly good thing) to almost no chance at all. I'll be cheering for him with my futures ticket, but the expectations are not high. To go into a Derby without a run in a month and leap up to 2500m is nothing short of a herculean task. Running him in the race demonstrates the opinion that the stable must have of him.
#13 PREFERMENT
For: He was the second horse I profiled some time ago as a Derby contender. Refer to my article on why I liked him so much, and what small queries I had.
Against: All too soon? Still immature and learning his trade. Will the set of winkers and spacious track be enough to overcome this?
Summary: Hit the line hard at Geelong, but he would have wanted to, as he needs to step up a few notches here. Very well documented how green Preferment is and how much better he'll be with the experience. In a race where most chances have a query over them, maybe his raw class could be enough to see him in the finish.
#15 SAN PADRE
For: Crying out for some luck, 2500m, plenty of pace up front and a big track. On that basis, the Derby looks very suitable. Berry to ride, inside draw. This guy has impressed me in 3 career runs and I expect a big spike in his effort on Saturday, compared to some that will plateau, or drop away.
Against: Another runner in his first prep. But we know that Mick Kent can do what others can't and I would suspect he's had a few solid preps at home as a 2YO without going to the races.
Summary: I like San Padre as a staying prospect and something tells me he could run a really big race. If there is plenty of pace on, and he can get off the rail from the 800m he'll be hitting the line as strong as anything.
2014 VICTORIA DERBY – Race Summary & Tips
Best lead-up run: Hampton Court (Spring Champion) and Magicool (UCI Stakes)
Best foundation/build up: Light Up Manhattan
Most suited to Flemington/2500m/genuine speed: San Padre
Most improvement to come after the Derby:  Gouldian, Preferment, Magicool
X Factor: Bondeiger
Possibly the most open and even Derby since Benicio won in 2005. A larger than normal portion of the result will be attributed to each runner's ability to handle the final step of their Derby preparation, along with luck in running.
I expect a genuine tempo and staying test. Hopefully every horse has their chance and there is no interference and no runners left on a limb 3 or 4 deep without cover. On that basis, my tips are the following:
2014 VICTORIA DERBY TIPS
1. Magicool
2. San Padre
3. Hampton Court
4. Light Up Manhattan
If going wide in multiples, it might be smart to play Bondeiger (X factor runner) and Preferment (talented stayer in the making).
Unlike previous years, I am somewhat reserved in my Derby selections for reasons given above and in earlier posts. Perhaps if Gouldian ran a fast finishing second in the Vase(rather than missing due to a cough), my selection and opinion in the race would be much firmer.
I must also give a shout out to the ATB runner Firehouse Rock. Thanks for letting me use one of your websites as a vehicle for my Derby tracker. I really hope he can run a great race for you. It might be a blessing that I don't have him in the top 4!! (only just missed out)
Hopefully we've been able to identity a few horses not only for the Derby, but for future reference as staying stars of 2015 and beyond. In addition, I hope I've added some insight to how these trends became trends, by digging a few layers beneath the raw statistics.
I look forward to adding the 2014 results to the Derby Tracker, and will be doing my best in 2015 to identity a few early contenders for next year.
Enjoy your Derby Day whether you're watching it from a BBQ at a friend's house, at the pub with mates, on track in a car park, or up close and personal from the stands. It's one of the great days on our racing calendar.
Happy punting
Dean
Article written by Dean Elliott (BDM at William Hill and Horse Racing & Breeding enthusiast)