Dandino runs 2nd in 2013 Caulfield Cup
The Dandino Bar was certainly rocking at Caulfield on Saturday as a large contingent of Australian Thoroughbred Bloodstock owners celebrated the second place finish of Marco Botti trained Dandino in the 2013 Caulfield Cup.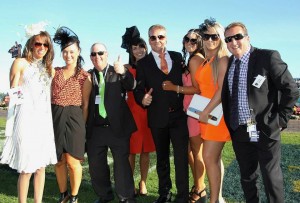 As a part owner of a piece of his backside, like many of my fellow owners, it was an exhilarating experience to watch the son of Dansili came from an impossible position on the home turn to storm home and finish within 1.3L of the winner Fawkner.
You knew in your heart he was too far back to win, but he gave a glimmer of hope halfway down the straight before finishing a gallant runner-up behind a pretty good horse.
Owning a racehorse doesn't get much better than this, well apart from winning the race I guess, but you only get one shot at it when the time comes and the breaks went the winner's way during the run and he was too good on the day.
That's racing for you, and for most of us, it felt like we won the race anyway.
We had just ran second in the biggest staying race in the country behind the Melbourne Cup,  and there was a huge ATB buzz in the mounting before and after the race.
There were Dandino owners crying, screaming, living the dream, and for me personally, it was one of the best days I have ever had on a racecourse.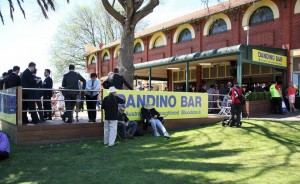 The Dandino Bar was a brilliant location for Dandino's owners to congregrate for Caulfield Cup day and it created a great atmosphere for everyone in there, even more so when Fluro Man made is way in during the day.
A big thank you to Darren & Liz Dance for organising the Dandino Bar for us owners and a special thanks to Josh Rodder from the Melbourne Racing Club for thinking outside the box and allowing it to happen.
Dandino now heads to the Melbourne Cup on the first Tuesday in November and we get to do it all again. What a day that's going to be!
Hopefully we can go one better this time and the fluro yellow of ATB can take centre stage and hold the Melbourne Cup aloft.
No-one deserves it more than Darren & Liz who put so much into racing and much of the hard work they do goes unnoticed.