Cup full of Diamonds at Dunkeld
by Peter Morganti.
The Bill Cerchi trained Diamonds At Noon ($8) was a very popular winner of the $25,000 Royal Mail Hotel William Thomson Dunkeld Cup on Saturday.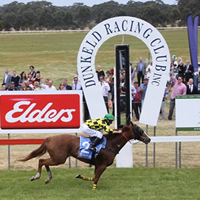 Witnessed by another big crowd, the 8YO warrior gunned down the pacemakers before surging away with victory
Superbly ridden by Steven Vella, the injury-plagued galloper won running away by more than a length after being last on the rail with 500m to run.
Vella was at his very best, pinching inside runs then peeling off the fence in the home running before going on to easily defeat equal favourite Orientaped ($3.60f) with early leader Henshaw ($11) holding on for third.
The win makes up for unlucky fourths in the two previous editions of this race.
As good as the ride was, the training performance was equally as impressive.
Cerchi who formerly trained at Coleraine before heading to Colac around 2006, was able to get the gelding fit enough to win first-up over the 1800m trip.
And that's a remarkable effort considering he has bowed two tendons during the past couple of seasons.
Similarly in June, Cerchi was able to produce him first-up on the first day of the Swan Hill carnival, before backing him up two days later to take out that Cup.
While he is a race to race, or day to day proposition, an excited strapper and daughter of the trainer, Bonnie said all going well he will follow the country cup circuit.
"We will see how he is over the next few days, but all going well we might head to Traralgon for that Cup," Bonnie said.
It was his ninth career victory for almost $220,000 in earnings for his owners.
The disappointment from the race was the other equal favourite, Lightinthenite trained by Warrnambool's Jarrod McLean.
After settling worse than midfield, but in the running line, jockey Nikita Beriman was never able to get the gelding into the race and he dropped out to finish a poor last.
It mystified McLean, who could offer no explanation.
"I'm shocked; I really thought he would win, not sure what has happened," Jarrod said.
Meech, Mallyon Take Honours
On a day that five favourites saluted, two jockeys stood out riding half the card between them.
Linda Meech and Andrew Mallyon are regular visitors to Dunkeld and both left on happy terms with a double each.
Mallyon got the ball rolling early and kept favourite punters happy with the opening two winners.
The Luke Oliver trained Gottakeepthefaith ($2.60f) was a solid winner of the 1000m Gold 3YO Maiden Plate, while Black Cat Moan ($2.50f) was perfectly ridden to win the 3HA/MIXXFM Maiden for trainer Niall Phillips over the same distance.
Meech's double came at the opposite end of the program winning the last two races.
Spectator tip, Deduct ($3.50ef) narrowly got home in the Ararat Meat Exports 0-58 over 1800m to this punter's delight, while Stawell trainer David Noonan watched his mare, My Pinup Girl ($11) win the IGA Hamilton 0-58 Handicap over 1200m at good odds.
Deduct is trained at Ballarat by Terry Kelly.
2014 Dunkeld Cup Day results
Race 1 – 1:11PM XXXX Gold 3YO Maiden Plate – 1000m
1- $2.60 GOTTAKEEPTHEFAITH Luke Oliver 56.0 Andrew Mallyon
2- $4.60 CANELO Mick Cerchi 58.0 Dean Holland
3- $3.60 DELICACY QUEEN Mark Riley 56.0 Jarrod Todd
Margins: 3/4 len, head Time: 0:59.72
Race 2 – 1:46PM 3HA / MIXXFM Maiden Plate – 1000m
1- $2.50 BLACK CAT MOAN Niall Phillips 56.5 Andrew Mallyon
2- $8.00 BERGANZA Michael Kent 53.5 Beau Mertens (a3)
3- $3.50 QUEEN OF TIDES Clint Marshall 56.5 Ms Linda Meech
Margins: Len, 1 1/4 len Time: 0:58.80
Race 3 – 2:21PM Darriwill Farm Hamilton Maiden Plate – 1200m
1- $3.80 FORTHEFUNOFIT Mark Riley 57.0 Jarrod Todd
2- $1.90 WAYS AND MEANS Darryl Dodson 56.5 Jack Hill
3- $8.00 SARATOGA SONG Sue Ellis 58.5 Ryan Plumb
Margins: Nose, long neck Time: 1:13.72
Race 4 – 3:00PM DML Services Group Handicap – 1000m
1- $2.00 TYCOON TARA Symon Wilde 57.0 Ms Nikita Beriman
2- $5.50 TIDES OF FORTUNE Brent Stanley 57.0 Luke Londregan (a)
3- $15.00 MR SPEAKER Robert Linnell 54.5 Dean Holland
Margins: 2 1/4 len, 1/2 len Time: 0:58.48
Race 5 – 3:41PM BetEasy BM70 Handicap – 1200m
1- $1.90 APPLE THIEF Peter G Moody 58.0 Ms Linda Meech
2- $13.00 STRIKE BREAKER Chris Oxlade 59.5 Les Tilley (a2)
3- $21.00 CAPTURETHEDREAM Con Kelly 55.5 Jason Benbow
Margins: 3/4 len, len Time: 1:11.94
Race 6 – 4:20PM Royal Mail Hotel William Thomson Dunkeld Cup – 1800m
1- $8.00 DIAMONDS AT NOON Bill Cerchi 59.0 Steven Vella
2- $3.60 ORIENTAPED Mitchell Freedman 58.5 Jarrod Fry
3- $11.00 HENSHAW Mick Cerchi 54.0 Dean Holland
Margins: 1 1/2 len, 1 1/2 len Time: 1:50.69
Race 7 – 5:00PM Ararat Meat Exports Handicap – 1800m
1- $3.50 DEDUCT Terry Kelly 59.5 Ms Linda Meech
2- $6.00 SIERRA STORM Symon Wilde 60.0 Dean Holland
3- $3.50 ODYSSEO Michael O'Leary 60 – cd 58) Caitlin Jones (a2)
Margins: 1/2 neck, short neck Time: 1:54.47
Race 8 – 5:35PM Fishers IGA Hamilton Handicap – 1200m
1- $11.00 MY PINUP GIRL David Noonan 56.5 Dean Holland
2- $7.00 MAGICAL RUBY Leslie McDonald 57.5 Jason Benbow
3- $2.60 AUNTIE BEVERLEY Darren Weir 58.0 Jack Hill
Margins: Long head, 2 1/4 len Time: 1:12.12
2014 Dunkeld Cup Day Photos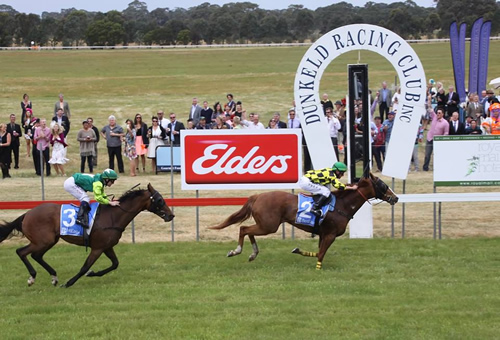 Diamonds At Noon wins the 2014  Royal Mail Hotel William Thomson Dunkeld Cup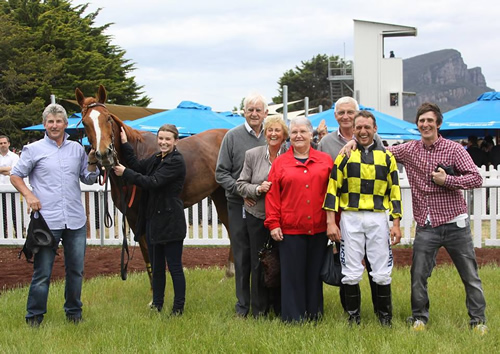 Trainer Bill Cerchi, strapper Bonni Cerchi, jockey Steven Vella and connections of Diamonds At Noon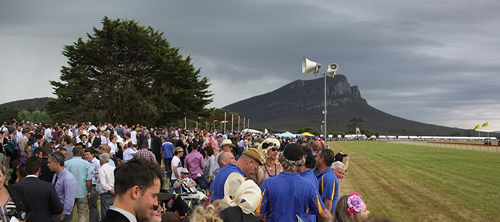 2014  Royal Mail Hotel William Thomson Dunkeld Cup crowd
Articles & pictures by Peter Morganti – Morgz Racing @morgzracing