Bendigo Bank East Malvern Charity Race Day at Caulfield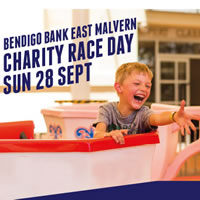 Caulfield racecourse will host the inaugural Bendigo Bank East Malvern Charity Race Day on Sunday 28 September 2014, with the Melbourne Racing Club donating all proceeds from general admission ticketing, hospitality and sponsorship sales to support fundraising and provide awareness for the 17 charities involved in the event.
It's a great opportunity for the Melbourne Racing Club to assist multiple local organisations in need according to club CEO Brodie Arnhold.
"It's extremely important for Melbourne Racing Club to support both national charities and local community organisations; particularly within the areas that our venues are located," Mr Arnhold.
"The Bendigo Bank East Malvern Charity Race Day is the first concept to be launched under The MRC Foundation, which was established to provide a centralised, co-ordinated approach to charitable activity to ensure our support and resources are utilised in the best way possible to support our communities."
"This year, Charity Race Day will aim to raise over $500,000 for our participating partners."
Bendigo Bank East Malvern Chairman, Peter Norman, said the business was thrilled to align with Melbourne Racing Club to assist in raising funds for the local community.
The 2014 Charity Race Day partners
– Camp Quality
– Cancer Council
– Down Syndrome Victoria
– Fight Cancer Foundation
– Leukaemia Foundation Victoria
– Living Legends
– Melbourne Legacy
– National Jockey's Trust
– Ovarian Cancer Research Foundation
– Pancare Foundation
– Red Dust Role Models
– Riding for the Disabled Association of Victoria Inc (RDAV)
– Ronald McDonald House Monash
– Rotary Club – Glen Eira
– SIDS and Kids Australia
– The Shane Warne Foundation
– Vision Australia
All charities involved will be allocated 1,000 general admission tickets each to sell in the lead up to the event, with the opportunity to raise up to $20,000 each through ticket sales. Charities are also able to raise additional funds through hospitality and sponsorship sales and will have a presence at Caulfield Racecourse on the race day.
In addition to profit from ticket sales, each organisation will also be allocated a horse running in the Group One Bendigo Bank East Malvern Sir Rupert Clarke Charity Cup on the race day, with the top three winning horse's charities to receive a share in the $30,000 charity prize pool.
Visit the Melbourne Racing Club website for all ticketing and dining options.