After a scintillating Rosehill victory We're Sure he has ability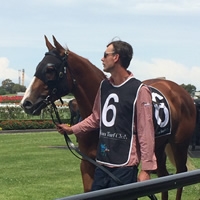 They just don't do that at their third start!
We're Sure, our Peter & Paul Snowden trained three-year-old with Australian Thoroughbred Bloodstock was slow out before mustering speed to settle second last in the run.
He was quietly ridden at the back of the field by the talented Winona Costin and was still second last turning for home.
As a part owner I was just hoping that he hit the line hard and managed a place at this point.
At the 300 metres he was still a mile back, with only two behind him and three horses off the fence, as both jockey and horse attempted to negotiate the quickest way home
Inside the 200 metres leader Lady Sniper was motoring along with second placed Perfect Dare about to lay down the gauntlet.
These two had put a space on the chasing pack and We're Sure was still about four lengths back, although he was about to run into third spot and had clear sailing one off the fence to mount the ultimate challenge.
As they hit the 100 metre mark Perfect Dare had reeled in Lady Sniper, while Winona Costin gave We're Sure his head and kicked him into gear.
Within the twinkling of an eye We're Sure went from third to first, all inside the final 50 metres, and he won running away on the line, in the manner of a good horse.
It was a scintillating finish and reminiscent of the grand old campaigner Campaign King when he sprouted wings to win the Caulfield Sprint in 1985 with a withering final burst.
Part owner Sam Lord as on hand to witness the exhilarating victory with his wife Sheradyn, and to say they were excited is an understatement.
"In 10 years of racing (including a few very good horses and group and listed wins), we've never experienced that level of shock and excitement before, Sam said.

"Horses just don't do that!"

"At the 100 metre mark we were cheering loudly in the hope he'd get third, and the the last 30 metres were a blur, partly through shock and partly because he was going so quick!"

"Considering Peter Snowden thinks 1400-1600m will be his go, it was an awesome performance."
And the ride of Winona Costin was not forgotten on the Lords either.
"Full credit to Winona Costin for a great ride and not giving the race away when it seemed lost, although she may have just been hanging on for dear life at the end," Sheradyn said.

"Perhaps even more impressive was the fact that 25 metres past the line he was 4 lengths in front."
After returning to scale Winona Costin was full of praise for the striking Not A Single Doubt gelding.
"What a turn of foot he's got," Winona said.

"He travelled really good in the run with the blinkers on today and it wa just a matter of getting the right run down the straight until the luck came.

"To pick them up as quickly as what he did, it was very impressive."
With 2 wins from three starts and $88,000 in prizemoney, including $25,000 in BOBS bonuses, We're Sure has had an impressive start to his career and will only improve with that run under his belt.
We're Sure is an exciting prospect for his connections.
Were Sure syndicated by Australian Thoroughbred Bloodstock
The Not A Single Doubt x Rock Diva three-year-old was syndicated by Darren & Liz Dance at Australian Thoroughbred Bloodstock and is a half brother to classy mare Rockolicious, herself a last start metropolitan winner in Sydney with 4 wins from seven starts.
If our horse is half as good as the brilliant Campaign King then we'll be having a lot of fun with We're Sure.
To think Darren Dance has a Wanted x Rock DIva yearling at home. Best give him a call, but be quick!