A Dandino job by Paul Francis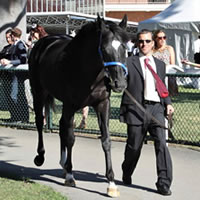 Marco Botti head lad Paul Francis flies out for Hong Kong tomorrow with Australian Thoroughbred Bloodstock's UK stayer Dandino to hopefully win the 2013 Hong Kong Vase on December 8th at Sha Tin.
I had the opportunity to catch up with him this morning to talk about his first Melbourne spring racing carnival experience.
My involvement as a part owner of Dandino has allowed me to spend some time with Paul since his arrival on AFL Grand Final day with Dandino and he's one of the most genuinely, likeable guys I have ever had the pleasure to meet.
Blessed with an infectious smile, a sparkling personality, and a giving nature, Paul has been a major factor in Dandino's owners experiencing a spring carnival adventure they will never forget.
More importantly, Paul's dedication to preparing Dandino to be in prime condition for both of his spring racing goals was nothing short of first class.
His love for the horse is obvious along with his respect for the Botti stable, together they make a great team.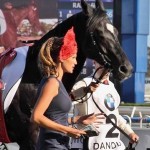 Dandino finished an unlucky second in the Caulfield Cup from a wide draw, followed by a gallant fifth in the Melbourne Cup from an inside draw.
There were many 'ifs' and 'buts' in the aftermath, but the one thing we all know for sure, is that Paul Francis produced Dandino in fantastic condition on race day, even catching the eye of CNN's Francesca Cumani in the mounting yard pre race for his 'outstanding appearance'.
So what did Paul think of his first spring carnival in Melbourne?
"It's been incredible, a real good experience," Paul said.
"Great people and a lovely country and I've totally enjoyed it."
Based in Newmarket in England and a native to the regality of the Royal Ascot carnival each June, I asked Paul what surprised him most about the Melbourne Cup Carnival.
"Just the build up to the Melbourne Cup. It's full on isn't it," Paul said.
"I've just enjoyed that side of it really. A lot of media attenton and everything just builds up to that day."
"Just an incredible atmosphere and the day itself, you've just got to see it to believe it. It's incredible."
From an owner's perspective Paul has been outstanding this spring with his welcoming attitude and he said it was a lot different to back home where class structures meant owners did not mingle as much with stable lads as they do here.
"ATB owners have been brilliant, very welcoming," Paul said.
"And I think they have enjoyed the ride all the way along in the past two months. It's been exciting."
"We've had a few shouts, a few drinks, and some good laughs."
Darren & Liz Dance from Australian Thoroughbred Bloodstock invited a number of Dandino's owners to Crown last night to give Paul a well deserved send off before he travels to Hong Kong tomorrow.
All invitees were asked to bring along something uniquely Australian to give to Paul to take home as a way of saying thanks for all his great work with Dandino.
To see the look on his face as one person after another gave him a remembrance of Australia is something I will always cherish.
We may be into an Ashes Series against the old enemy this week, but this is one Englishman you cannot help but like.
To Paul Francis, a big 'THANK YOU' for your part in making this a spring racing carnival that all of Dandino's owners will never forget.
Dandino is in great hands to give the Hong Kong Vase a mighty shake in a fortnight, Paul will make sure of it!